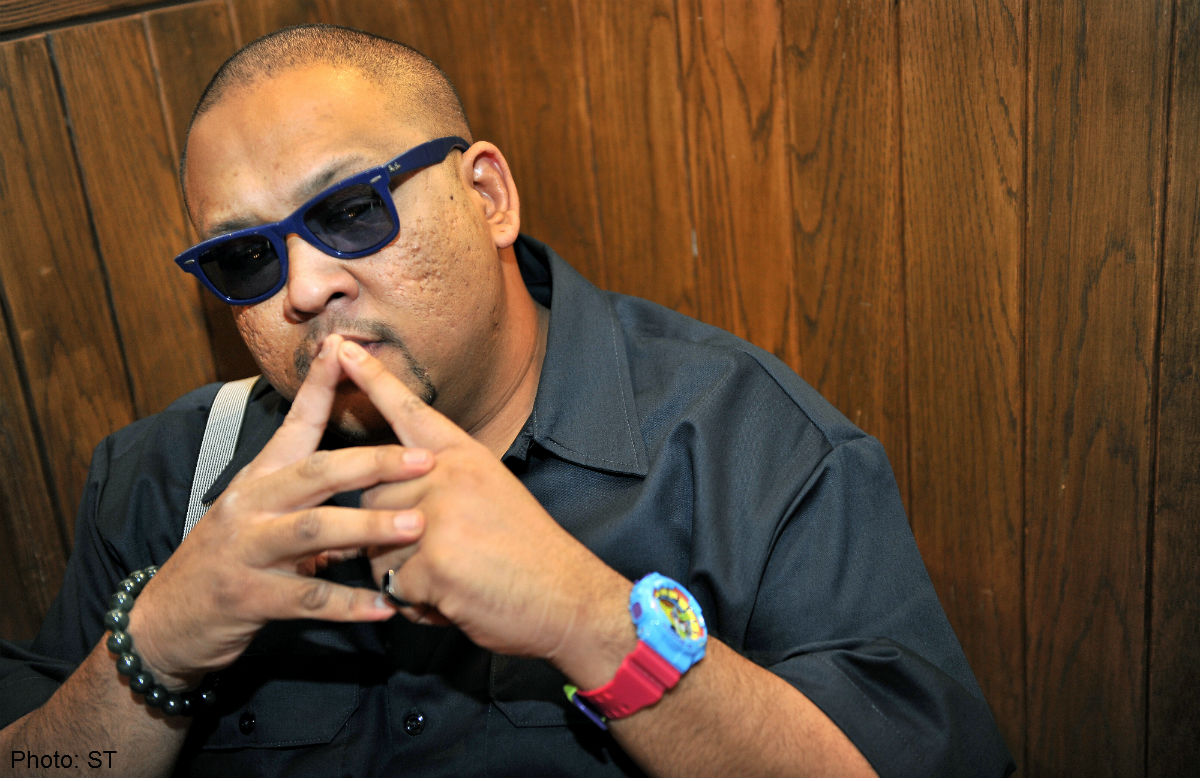 He received a death threat after criticising a contestant on the third season of Malaysian reality TV comedy search Maharaja Lawak Mega (MLM), on which he was a judge.
This prompted local actor-rapper Sheikh Haikel to engage a bodyguard from Johor Baru last month, reportedly after the 11th week of the competition for whenever he had to travel to the Hall MLM Vision in Jitra, Kedah, for filming.
The show was aired on Malaysian cable TV channel Astro Warna. It ended its run a fortnight ago.
"My wife and I have received a death threat (via social media) from a fanatic fan of one of the contestants of MLM.
"And that's not all. This particular fan has also threatened to run my kids down if we come to Malaysia. I was shocked," the 38-year-old told Malaysian daily publication Utusan Malaysia late last month.
He added: "In Singapore, I have a few personal bodyguards. I do this to ensure that my family is safe."
MLM features contestants perform a series of comedy showcases, either solo or in groups, after which the judges - including Malaysian film director Yusof Haslam, Indonesian actress Luna Maya and Malaysian actress-model Nora Danish - award scores.
The contestant with the lowest score each week is eliminated.
Haikel, who is married to local former actress Anna Belle Francis, with whom he has two children aged eight and nine, told Utusan Malaysia that he is "not sure which comment the fan was referring to".
He added that whenever he gave his critique, he did so "based on (his) views and not to just condemn them".
But having been in the public eye for the past 18 years, the recent incident comes as no surprise.
Haikel tweeted on Feb 3: "Please chill. Been going on for years! I've had threats when I was doing Football Crazy as a Liverpool fan by Man U and Arsenal fans."
TWITTER FOLLOWERS
To his Twitter followers, he replied on the same day: "Thank you all for the overwhelming concern. My family & I are fine. #maharajalawakmega is a fantastic show. Let's enjoy the finals."
Haikel and Francis declined to comment further on the matter when contacted by The New Paper.
Popular veteran host Najip Ali, who has judged MLM and Indonesia's Akademi Fantasia as well as local reality TV talent shows like Anugerah and Anugerah Skrin, told The New Paper: "When I judge in Singapore, this kind of reaction seldom happens. But...in Malaysia, the fans tend to get more critical, especially if you are a foreign judge criticising their local contestants."
Recalling his experience as a judge during the second season of MLM in 2012, he said: "The producers always take a step further in ensuring the safety of the judges by taking precautionary measures like arranging for traffic police officers to escort us around to ensure that we are not harassed."
The most heat Najib, 48, has taken so far was after he criticised a contestant on Indonesia's Akademi Fantasia.
He said: "I was loudly jeered at... It took 50 bodyguards to escort me from the (filming) location back to the hotel."
During Singapore Idol 3 in 2009, judge and Hype Records boss Ken Lim, 49, was accused by netizens of being racist.
He had told contestant Malaque Mahdaly that her rendition of Pussycat Dolls' I Will Survive/Hush Hush was "amateurish, it lacks quality, but you'll make a good Vasantham star".
Lim recalled: "I will stand by everything I say... No matter how you try, there will always be someone that will spin your comments out of control."
He agreed that it is not as bad in Singapore as it is abroad.
Said Lim, who has also judged other Channel 5 reality singing shows like The Final 1 and Live The Dream : "The furthest it gets is people giving opinions on the Internet... As far as threats are concerned, it is a little bizarre to get them...but Singaporeans generally are not overly passionate to do such things.
"At the end of the day, as a judge, you have to make sure every comment you make is on the performance and not on the person."
crobert@sph.com.sg

Get The New Paper for more stories.