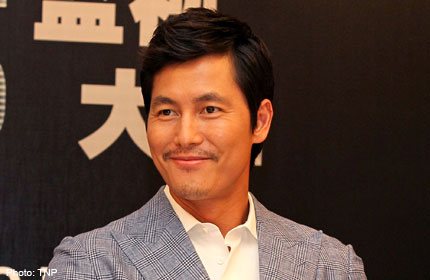 SINGAPORE - At 40, South Korean actor Jung Woo Sung still receives marriage proposals from diehard fans.
The suave 1.86m-tall bachelor, who was in town last yesterday to promote his latest thriller Cold Eyes, smiled and said in Korean through a translator: "From time to time, I receive a fax in my office from fans, which says: 'I've got approval from my parents and friends. Let's get married!'
"I don't have any stalker fans but this happens sometimes."
In addition to still being a chick magnet, Jung cuts a good figure for his age and even shows off his six-pack abs in a brief scene in the action movie.
He said: "I don't specially train my body for a particular role, but I work out regularly to keep fit. So, when there is a chance in any roles for me to show off my body, I am not shy to do so."
Jung plays James, the cold-hearted leader of an armed criminal organisation in Cold Eyes, which opens here on Sept 5.
He has to escape the Korean Police Forces Special Crime Department when his teammates are arrested after a crime bust and he goes on the run.
The movie also stars K-pop boy band 2PM member Lee Junho and Korean actress Han Hyo Joo, who both portray young police officers from the special unit tasked to track James down.
This is the first time Jung is playing a villain - he's often cast in romantic lead roles in sappy movies such as A Moment To Remember (2004) and Sad Movie (2005).
"I have no worries about portraying a bad guy as I don't want to confine myself to only a good guy's image in my career. I like this role and it allows me to try something new," he said.
Cold Eyes is a remake of the Hong Kong action film Eye In The Sky, starring veteran actors Simon Yam and Tony Leung Ka-Fai.
It topped the South Korean box office in its first week, after opening there on July 3, and has collected more than US$36 million (S$45.8 million) in Korea.
Jung did not face many challenges in portraying a calm, collected and cold-hearted killer.
"My actions are very minimal. I need to convey my emotions with just a tiny flicker in my eyes," he said.
"But having my actions restricted does not mean that I cannot bring out the expressions of my character fully. It wasn't very difficult."
Refreshing
After acting in countless mushy Korean dramas, Jung finds the plot of Cold Eyes very refreshing and interesting.
He said: "Usually, when I act opposite a female star, we would be acting as a loving couple. But in the scene when I met Han Hyo Joo, our characters were trying to figure out how to kill each other."
He added: "I was so curious and excited to see how the scene would turn out."
Given the success of the movie in Korea, Jung will not rule out the possibility of acting in a follow-up.
"I would love to make a sequel if the movie is well-received in the region," he said, before laughing and adding, "And of course, it will depend on how much they pay me."

Get The New Paper for more stories.