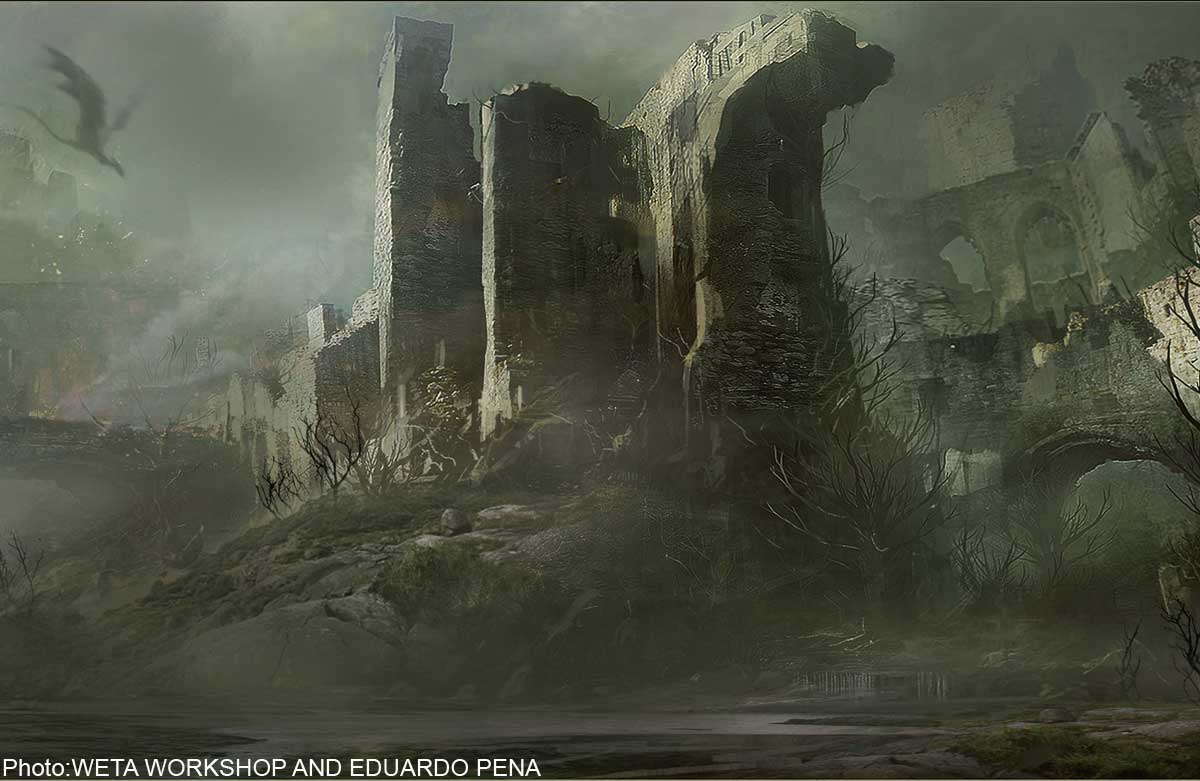 You may have seen a version of Mr Eduardo Pena's visual interpretation of J.R.R. Tolkien's The Hobbit on the big screen.
The Colombian concept artist illustrated some of the territories found in the fictional world of Middle Earth in the film series directed by Peter Jackson, which tells the story of a hobbit's quest to obtain treasures guarded by a fire- breathing dragon.
In particular, he had a hand in bringing to life cities such as Dale, Moria and Woodland Realm, inhabited by men, dwarves and elves.
He is one of the speakers at the inaugural digital design festival called State Of The ART (Start) taking place at the Star Performing Arts Centre from tomorrow to Saturday.
The event, organised by local private media school 3dsense, aims to increase awareness of digitally created visual media and inspire young people to pursue a career in the video game, entertainment and media industries.
Other speakers include Danny Janevski, a digital artist at Lucasfilm's Industrial Light & Magic; Alex Woo, story artist at Pixar Animation Studios, and Stanley Lau, co-founder of Imaginary Friends Studios, which has produced artwork for the likes of Japanese game developer and publisher Capcom and DC Comics.
The event includes a ticketed two-day conference, one day of masterclasses and a marketplace showcasing works from local and regional artists. The marketplace, which is free, is open to the public tomorrow and on Friday. A conference ticket costs $200 for two days while masterclasses, conducted by the speakers, are priced at $300 each. Some of the masterclasses are sold out.
Mr Pena, who lives in Singapore and runs Chino Rino Visual Lab, will be speaking on digital painting techniques.
He notes that the number of young people interested in the entertainment industry is growing, and adds that Singapore has a lot of potential, which is why he decided to base his company here. He is hoping to encourage aspiring digital artists to stay passionate, disciplined and professional.
His artwork for The Hobbit film trilogy focused on portraying mood and environment, which set the foundation for set design, visual effects and marketing materials for the trilogy.
The first two installations were released in 2012 and last year. The upcoming, final one is expected to open later this year.
"The challenge was to make The Hobbit look happier and more optimistic because the novel was written for a younger audience of 15-year-olds, compared with Lord Of The Rings," says Mr Pena, 30, who worked at New Zealand's special effects company Weta Workshop from 2010 to 2012.
He was part of a team of 25 who provided concept art for the series. The aesthetics were guided by the vision of the director and art directors, he adds.
Mr Pena painted the territories in the day instead of night and used a brighter colour palette so they appear less aggressive and claustrophobic. He read the book twice before embarking on the project and his sketches went through as many as 20 drafts over a span of eight or nine months.
3dsense founder Sen Lai , 38, tells Life! that he has invited artists such as Mr Pena to train the spotlight on the importance of concept and story development in the production workflow, rather than focus on computer graphics such as Start's predecessor CG Overdrive, held annually from 2006 to 2011.
He adds: "Singapore has seen a number of major visual effects studios such as Lucasfilm and Double Negative set up shop here in the last nine or 10 years.
"Our artists here have proven to be competent in terms of techniques and execution. They have worked on many Hollywood movies such as the latest X-Men movie, Pacific Rim and Rango. The next step is to come up with our own content and intellectual property which Singapore still lacks."
Mr Lai hopes that established artists such as Mr Pena will be able to inspire and educate young talents to come up with story ideas and character design for projects that will appeal to an international audience, be it films, television series, video games or comics.
He is expecting a crowd of about 300 for the conference, a number that is significantly smaller than the attendance for CG Overdrive which ranged from 1,000 to 5,000, but he thinks it is a good start for building awareness.

This article was first published on June 25, 2014.
Get a copy of The Straits Times or go to straitstimes.com for more stories.