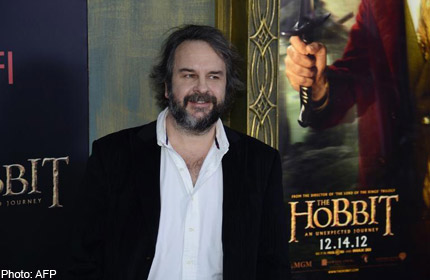 WELLINGTON - Director Peter Jackson gave fans a sneak peek of his latest Tolkien epic Tuesday, revealing he is working non-stop to get "The Hobbit: The Desolation of Smaug" ready to premiere next month.
Jackson took a break from his editing suite to host what was billed as a "world fan event", featuring question and answer sessions with stars from the movie streamed online from cinemas in Wellington, New York, Los Angeles and London.
Barefoot and relaxed, the New Zealander said contact with his fans, many of whom were dressed as Tolkien characters, helped re-energise him during the gruelling editing process ahead of the movie's December 13 debut.
"We haven't finished the movie, it's pretty intense at the moment," he told the audience at Wellington's Embassy cinema.
"I was up until 2am yesterday morning, working all night during the weekend - there's five weeks to go and an awful lot left to do. So this is really enjoyable, it's really good to hear your responses."
The highlight of the event was a 20-minute preview of the movie - the second instalment in The Hobbit trilogy - which was screened to cinema audiences but not streamed online because of piracy concerns.
The footage, which prompted cheers and applause from viewers, included a scene featuring Lost actress Evangeline Lilly as the elf Tauriel, who was a controversial inclusion in the movie for Tolkien fanatics as the character is not in the original novel.
"Don't hate, don't hate," Lilly joked from Los Angeles as she was introduced to the franchise's global fan base via the live stream, revealing she took inspiration for the character from Tinkerbell in "Peter Pan".
"Tink is a badass little fairy, she's tiny and she's cute but she's fierce, you don't want to get on the wrong side of Tink," Lilly said.
Orlando Bloom, speaking from New York, said he had "a riot of a time" reprising his role as the elf Legolas a decade after the original "Lord of the Rings'" trilogy.
"And my costume still fits," he said.
The first film in the series, "The Hobbit: An Unexpected Journey", was released in December last year with the final chapter "The Hobbit: There and Back Again" scheduled to come out in July next year.
According to the Hobbit website, production of the trilogy has so far cost $561 million (S$697 million).
"An Unexpected Journey" took more than $1 billion at the box office.