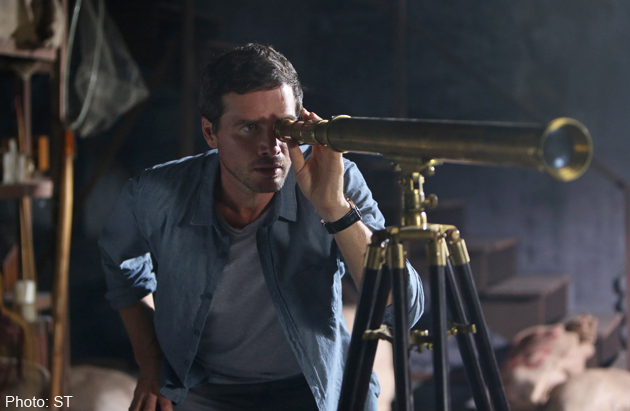 As soon as director Kelvin Tong yells "Cut!", crew members run to switch on the standing air coolers that are otherwise too noisy during filming.
People immediately start making their way to stand in front of them as they furiously wipe the sweat off their faces - especially those who are not used to the local weather, such as American actor Matthew Settle. He is spotted splaying his arms wide in front of one in the hope of getting maximum air.
The heat is unbearable in the stuffy non-air-conditioned warehouse located in south-west Singapore, where Tong is filming a number of scenes for his upcoming horror movie The Faith Of Anna Waters.
Budgeted at US$5 million (S$6.3 million), the movie, executive-produced by Hollywood's Ruddy Morgan Organisation, is the first Singaporean-directed movie to be backed by Hollywood funding. The company is working with Tong's production house Boku Films, as well as Hong Kong's Sun Entertainment Culture, to produce the film.
Other than Settle, who is known for his roles in mini-series Band Of Brothers (2001) and TV drama Gossip Girl (2007-2012), the film stars Hollywood actress Elizabeth Rice of TV drama Mad Men (2007-2014) as the lead.
She plays a crime reporter who travels from Chicago to Singapore to investigate the strange circumstances surrounding the death of her sister Anna, who lived here. Working with her ex-husband Sam (Settle) to uncover the mystery, they are beset by a series of spooky events.
On the warehouse set, a section in the corner has been transformed to look like a dark and forgotten basement, filled with dusty articles of yore the likes of kerosene lamps, old glass bottles and a telescope. Settle, 45, is shooting a scene here where his character discovers this basement for the first time, curiously looking around the room - until he is startled by strange noises.
Tong, wearing headphones and watching intently through the director's monitor outside the room, appears to be very much involved as he jolts in his seat at the same time that his leading man jumps on the screen.
The director tells Life! between takes that filming, which started just over two weeks ago, has been "smooth sailing" so far. But he admits it has also been rather exhausting.
"Usually, I make films for about $1 million. So to make something that costs $5 million means that everything is five times as big and there will be five times more things to worry about.
"But that also means that I'm five times as excited to make this movie, so the pain for a director is all worth it," he says with a grin.
Settle and Rice appear to be enjoying themselves on the production too, boiling heat notwithstanding.
In separate interviews, conducted in the comfort of air-conditioned cars parked outside, they have nothing but praise for the director and the 60-strong film crew, all of whom are local. Rice, 28, says that Tong is "very easy to work with" and "very, very organised".
She adds: "He told me in the beginning that he would be quick and he is, but it's not chaotic where we're all scrambling. It's all very smooth. The crew is also very laidback and easygoing.
"The weather gets so humid that it makes me sleepy sometimes, otherwise it's just been great."
Settle echoes her views, describing Tong as "precise, efficient, shoots fast and is hyper-intelligent and passionate".
"He invigorates you with a lot of steam. You get gusto from him, which makes it very easy to work with him. I would encourage a lot of actors to work with him," the American star adds.
They have also explored Singapore in their spare time. That means getting a taste of local food. Settle is obsessed with the seafood options here, as well as visiting Gardens by the Bay, which both describe as "beautiful".
He also caught the F1 race on Sunday night, which he says was "exciting".
According to Tong, the hunky actor has also been stopped by fans for autographs at his hotel lobby, at cafes and while he was getting a foot massage. Settle looks shy when asked about it, only saying that fans here have been "extremely polite and nice".
Filming for the movie ends around the middle of next month. For now, Settle and Rice slowly wander back into the oven-like warehouse, waiting to be called to film. Walking around them are various extras fully made up with white ghostly faces, hilariously fanning themselves with whatever material they can get their hands on.
Sitting in a chair is a child actor, who, going by his painted white face and dark undereye circles, should be playing a ghost, and is downing an ice cold slushie as fast as he can. Apparently, even ghosts need a cool break in the muggy heat.
The basement set is one of only two sets built for the film. The rest of the movie will be shot on location throughout Singapore, including in Chinatown, an HDB flat in Sembawang and a black- and-white bungalow, so that the film can show a "fair representation" of the country that is suited for a horror flick, says Tong.
Which means that the Merlion will not be part of this movie. "It would be a bit funny if the Merlion was in it. Unless the Merlion was spouting blood," he says with a laugh.

This article was first published on Sep 24, 2014.
Get a copy of The Straits Times or go to straitstimes.com for more stories.