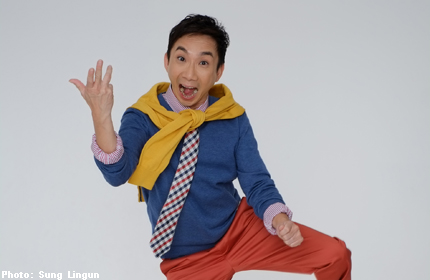 SINGAPORE - After 20 years in showbiz, entertainer Hossan Leong finally has a company of his own: Double Confirm Productions.
The 44-year-old became synonymous with the familiar local term "double confirm" after making it a catchphrase on the TV game show We Are Singaporeans, which he hosted.
He tells Life!: "A lot of my friends use the phrase, so I thought, instead of 'lock it in' - like Who Wants To Be A Millionaire - let's make it local and use 'double confirm'. And it stuck."
The new company will put him in the role of creative consultant, where he will help craft entertainment packages for clients and also provide a platform for new talent to venture into the industry.
And his first plan of action is a cosy thank-you concert for friends, family and fans. Titled Hossan-ah! Celebrating 20 Leong Years!, it will run at the Drama Centre Theatre from Aug 1 to 4.
Leong chuckles: "It all started with the fact that originally, my mother was going to call me Hosanna. As in, 'in the highest'."
In Christian lexicon, hosanna is a cry of praise or adoration.
He adds: "If it was a girl, it would have been Hosanna, and if it was a boy, Hossan. And as I grew up my grandmother, who is Cantonese, would always go, 'Hossan ah, Hossan.'"
The pun stuck.
But do not expect over-the-top giveaways and the motormouth talk-show format of The Hossan Leong Show, which has become something of a yearly fixture over the past four years.
Leong says of his upcoming concert: "It's really simple and back-to-basics. No frills, no dancing."
But he will be tickling those ivory keys. Leong, who started playing the piano when he was six, has always been adept at the musical instrument. He is taking his musicianship one step further. Apart from cycling through a mash-up of local musicals, expect a rendition of Beethoven's popular and demanding Sonata No. 8 in C Minor, more commonly known as the Sonata Pathetique, with its robust chords and streams of running notes.
Leong, who completed his ABRSM Grade 8 in piano, will be dedicating the sonata to his parents. He recalls how his mother dug into her savings to buy him a second-hand piano after he clamoured for lessons.
He laughs: "I'm actually going for piano lessons now, after 30 years. It's quite hard but, you know, it's one of those things that I quite enjoy right now. And I was thinking to myself, maybe I should just continue the lessons after the show and carry on learning the piano."
To top it all off, fans will also have the chance to ask Leong whatever they want. They can write their questions on a slip of paper before the show and drop it in a bowl, and he will pick several questions to answer at the show's end - reminiscent of The Carol Burnett Show of the 1960s and 1970s.
"I hope they don't ask stupid questions," he laughs. "I will answer them as candidly as I can."
Popular blogger Benjamin "Mr Miyagi" Lee, Leong's long-time friend, is coming on board as scriptwriter, and the concert will also draw on the artistic and creative influences on Leong's life, from local composer Dick Lee to American singer Barry Manilow.
Leong admits that it is a little more difficult to make Singaporeans laugh than it was before, given the array of choices they have, from comedy sketches on YouTube to visiting comedians such as Russell Peters.
Pondering this, he says: "I think I've realised that what makes Singaporeans laugh when I perform is when I'm true, when I'm speaking the truth, and when it's coming from a personal perspective - without being nasty."
Ever the squeaky clean Singapore Boy, he adds: "I think there's no need to be nasty when you make people laugh. Some comedians pick on people, and I'm like, you don't really need to do that lah."
He chuckles: "If you have to do that, it means you've run out of material."
Even if he has been around for two decades, it does not seem that the effervescent Leong has run out of ideas just yet.
Book it
HOSSAN-AH! CELEBRATING 20 LEONG YEARS!
Where: Drama Centre Theatre, National Library Building Level 3
When: Aug 1 and 2 at 8pm, Aug 3 and 4 at 4 and 8pm
Admission: $17 to $47 from Sistic (call 6348-5555 or go to www.sistic.com.sg)

Get a copy of The Straits Times or go to straitstimes.com for more stories.