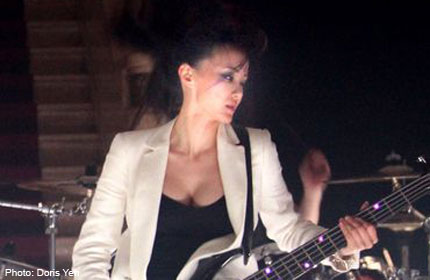 SINGAPORE - Think heavy metal and the first image that comes to mind is that of sweaty, hairy men clad in head-to-toe black, pumping their fists in the air.
With her bosomy figure, cleavage-baring outfits and penchant for posing nude for lad mags, Doris Yeh is an anomaly in the testosterone-laden world of headbangers.
The 36-year-old bassist of Taiwanese symphonic-folk metal band Chthonic has graced the cover of FHM Taiwan not once, but twice.
In 2008, she was photographed gazing forlornly into space, wearing nothing but leather tights.
Last year, she went one up by appearing in the buff.
In an exclusive phone interview with The New Paper from her home in Taipei, Yeh, who was named 2013 World's Sexiest Heavy Metal Babe by Poland's Teraz Rock music magazine, recalled how her male bandmates were "initially uncomfortable" with her getting the lion's share of media attention.
"It was some time in 2007 when overseas reporters started showing an interest in our band. It was not hard to notice that the limelight was disproportionately on me," she said in Mandarin.
"I knew it was a slight issue with the guys; we even held meetings to discuss how we could turn things around."
Gradually, the rock chick noticed a mindset change in her fellow musicians.
"The fact is, the European and US metal markets are extremely competitive. Even if you're really talented, it's very hard to get noticed," she said.
"My band members finally realised that I was playing the role of a good medium that helped to promote our music to more people."
With a chuckle, she added: "So they went from eyeing my success with suspicion, to fully embracing it and pushing me into the line of fire.
"These days, I always get nagged for wearing too much on stage.
"They'd rib, 'Hey, you should wear a sexier outfit!'"
Chthonic, formed in 1995 and with seven studio albums under their name, also consists of frontman Freddy Lim, 37, guitarist Jesse Liu, 33, drummer Dani Wang, 29, and keyboardist CJ Kao, in his early 30s.
Lim is Yeh's real-life husband of six years.
The quintet, known for their pounding, ferocious tunes like Defenders Of Bu-Tik Palace, Takao and Supreme Pain For The Tyrant, are returning here for a ticketed gig in October. They last played here in 2000 and 2010.
Taking her clothes off for FHM Taiwan was simply borne out of a desire to "have fun".
"After those pictures ran, some people did remark, 'Wow, you really challenged your limits, didn't you?'
"I did the shoot because I knew the FHM editorial team very well. It was enjoyable to be part of a project where everyone was good friends. I wasn't thinking about being bold, daring or different," she explained.
"Besides, all of us will ultimately grow old and die one day. When I'm a grandmother, I want to be able to look back on my youth and tell my grandchildren that I've done something exciting like this."
With Chthonic's burgeoning prominence in the Western metal scene, including spots on high-profile heavy metal shows Download Festival and Bloodstock, it's no surprise that she has her share of rabid male supporters all over the world.
"The fans in North America are among the most energetic and enthusiastic," said Yeh, who started her first band in high school with an aim to jam pop and R&B tunes. She now counts Nine Inch Nails' Trent Reznor and symphonica metallers Epica as her influences.
"After one of our gigs in Canada, a dude suddenly charged backstage and lifted me up... He carried me, running all the way to the front door of the venue, as the crowd cheered on.
"My band members had to come and 'rescue' me!"
Another memorable fan encounter, albeit with stalker-ish undertones, happened in Japan.
"In comparison to their Western counterparts, the Japanese are very reserved and secretive," she said.
"We had just completed an autograph signing session at a record store and were heading out to an izakaya (Japanese-style pub) for supper.
"My manager kept urging me to walk faster, which made me quite perplexed until I discovered that some fans were following me."
She might look every bit the wild child in Chthonic's music videos, but take away the dark eyeliner, mascara and low-cut get-ups and you'll get a self-professed nerd at heart.
"I was a totally shy teenager with a serious inferiority complex," Yeh said.
"Not only did I hate wearing dresses or skirts, I was bad with make-up and styling."
She has improved greatly in the fashion department since her rock-star lifestyle took off - breast shields are "a must" before every gig, stressed Yeh. But when she's not touring, she still prefers to "laze at home, in front of the computer".
"The sexed-up image you see of me on stage is part of the performance," she said.
"Like how dancers immerse themselves fully in their art, when I'm up there, it's not my body any more."
Yeh is a poster girl to her nearly 47,000 followers on Facebook, but her bandmates - husband Lim included - treat her as one of the boys.
"They constantly burp, fart and crack lewd jokes in front of me," she said with a laugh.
"On a few occasions, due to time constraints, they even changed their clothes in front of me. I've seen them in their underwear!"
Six years into her marriage with Lim, Yeh admits the thought of having children did "cross her mind".
"As our work with Chthonic's lined up till the middle of next year, I guess we can only start planning then."
FYI
What: Chthonic Bu-Tik Asia Tour Live In Singapore
When: Oct 11, 8pm
Where: Best World Hall, 26, Tai Seng Street, #04-01TICKETS: $65 from Sistic (www.sistic.com.sg or 6348-5555) or Inokii (tel: 6836-7657)

Get The New Paper for more stories.