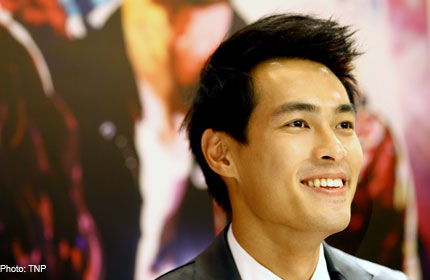 With leading roles in back-to-back films - May's madcap slapstick box-office winner David Loman and, now, hilarious culinary-themed comedy, Zone Pro Site: The Moveable Feast - Taiwanese hunk Tony Yang looks set to become the new funnyman of East Asian cinema.
The 31-year-old dashing actor, in town last Friday to promote the latter movie with director Chen Yu- Hsun, veteran actress Lin Mei-Hsiu and producer Li Lie, was all smiles as he embraced the unofficial title we conferred upon him.
"I love comedy. It's definitely one of my favourite movie genres," he told M in an interview at Hotel Fort Canning.
While others might be shy about flaunting their comedic abilities, Yang was unabashedly adamant that his humour is inborn, not made.
"As a child, I knew I was pretty funny," he said in Mandarin.
"For example, I sound terrible when I sing, but whenever my dad wants me to sing in front of family and friends, I'd still do it with glee, as it never failed to entertain them."
Misadventures
Zone Pro Site: The Moveable Feast, which opens here tomorrow, follows the misadventures of flighty actress Hsiao Wan (Kimi Hsia) as she enters a prestigious cooking competition with the help of her eccentric mother, two absent-minded hooligans and the spirit of her late father, a legendary chef.
She faces fierce competition from Master Ghost Head, a chef released from prison, and Ah-hai, his young protege (Yang).
In a separate interview with local reporters, director Chen, 51, heaped praise on his leading man.
"Tony is a rare breed. His comic timing is fantastic and reminds me of Hong Kong's Stephen Chow and Sam Hui. Like them, he's good-looking yet incredibly funny," he said.
Not bad for an actor who didn't exactly start out on the mainstream path.
Yang was the recipient of Golden Horse Awards' Best Newcomer in 2004 for his role as a gay teen in indie flick Formula 17.
He followed up with dramatic roles in Ming Ming (2007) and Snowfall in Taipei (2009).
Yang suddenly became withdrawn when the topic shifted to his much-publicised romance with Amber Kuo.
He met and reportedly fell in love with the Taiwanese actress, 27, while filming TV drama Love Forward (2012).
So, what about those rumours that he has been renovating his house to get ready for marriage?
With a wry smile, Yang said: "Of course I've thought about getting married. "It's just a matter of when."

Get The New Paper for more stories.