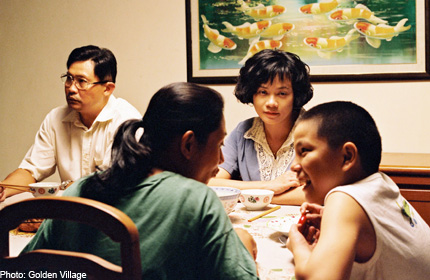 PARIS - Add another feather to the cap of local family drama Ilo Ilo. Actually, a beret might be more fitting since the film has been doing well for its commercial run in France.
It opened there on Sept 4 in 80 cinemas and made it to No. 5 on the Paris box- office chart. So far, the movie has chalked up over 73,000 admissions for a gross of around €479,000 (S$807,000).
As of Sunday, the $700,000 film has made $840,000 at the box office in Singapore. The movie is still screening in both France and Singapore.
Mr Jeremy Segay, 37, who served as a programmer of Cannes Film Festival's Directors' Fortnight section from 2003 to 2011, tells Life!: "The performance of Ilo Ilo at the French box office is quite impressive, the best by far to date for a film originating from Singapore."
Previous local films released in France have tended to be arthouse fare such as Eric Khoo's animated biopic Tatsumi (2011) and Royston Tan's intimate character study, 4:30 (2005).
Khoo's Be With Me, three stories about different aspects of love, had about 30,000 admissions in France. It had opened the prestigious Directors' Fortnight at Cannes in 2005.
At Cannes in May this year, director Anthony Chen won the prestigious Camera d'Or for best debut feature for Ilo Ilo.
Chen, 29, says: "I have no sense of the French market, to be honest, especially since it's my first film. But I realised soon when I was doing interviews in France and doing Q and A at screenings that people responded and reacted wonderfully to the film."
Mr Segay notes: "French audiences relate to the film because of the current economic crisis in Europe and the film takes place during the Asian financial crisis in 1997."
Some see a greater universality to the film about the relationship between a Singapore family and their Filipino maid. It stars Malaysian actress Yeo Yann Yann as the mother, Singaporean TV veteran Chen Tianwen as the father, newcomer Koh Jia Ler as their son and Filipino stage and screen actress Angeli Bayani as the maid.
Mr Benjamin Illos, currently on the Cannes Directors' Fortnight selection committee, says that Chen, with the help of his "terrific" ensemble cast, "has the immense talent to create empathy for his characters".
He adds: "Everyone is pictured with a dense realism, still with a humanist, hopeful mood. This vitality resonated in France as I am sure it will everywhere audiences have the chance to discover the film."
During the film's premiere at Cannes in May, the newspaper Le Monde had said the movie "recounts with infinite justice a family crisis amid a social crisis".
According to its French distributor Epicentre Films' website, daily Le Figaro said it had "explosive energy" while daily L'Humanite hailed it for being "intelligent and sensitive".

Get a copy of The Straits Times or go to straitstimes.com for more stories.