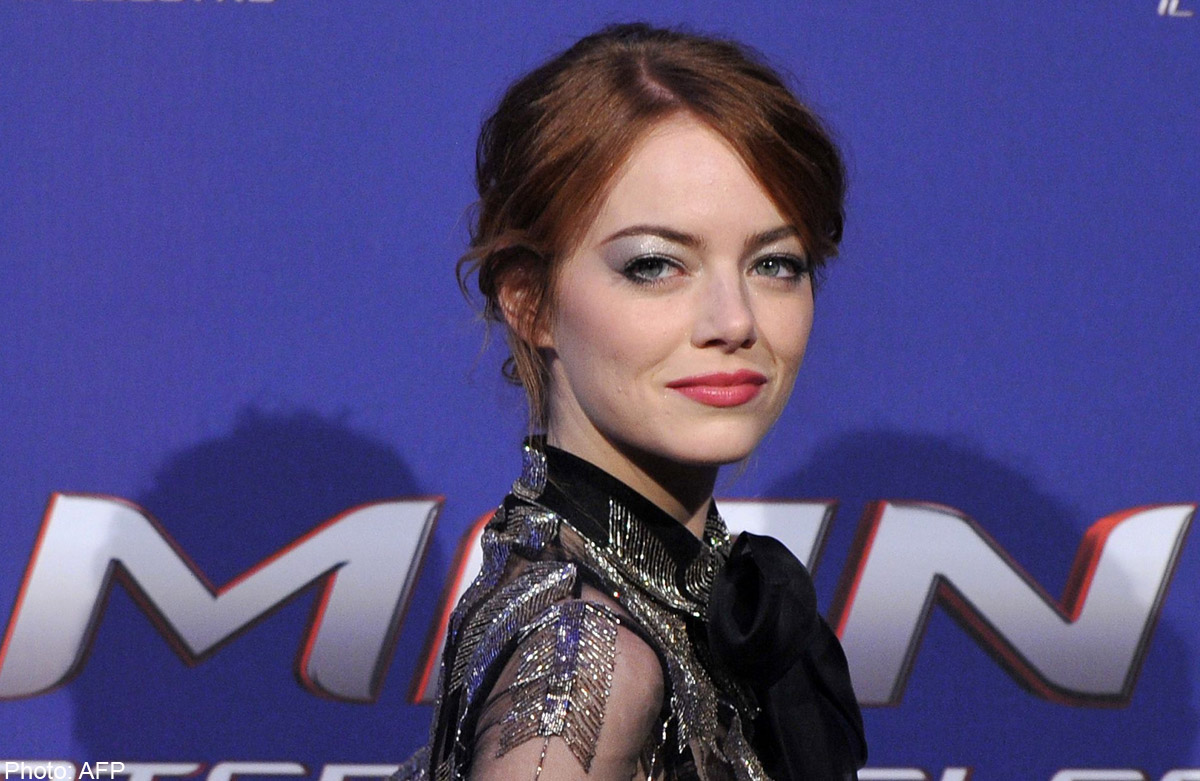 Emma Stone wants the world to know that she's no damsel in distress.
The pretty, big-eyed redhead has always taken on strong female roles in her career, including Zombieland (2009), Easy A (2010) and The Help (2011), all of which gave her much success.
"I'm always a proponent of women and their independence in my life and work," she told M when she was in town last month as part of The Amazing Spider-Man 2 promotional tour.
"I always would like to have more scenes for women in movies that don't involve men."
However, for The Amazing Spider-Man movies where she plays Gwen Stacy, the 25-year-old is willing to step behind her real-life boyfriend Andrew Garfield and be the love interest who needs to be rescued.
"Obviously this movie is a hero's journey. This is Peter Parker's story. You don't really get to see that much of Gwen outside of Peter or their relationship.
"And I don't even get an action figure!" she said in mock indignation.
"I quit!" she said with a hearty laugh.
Here, Stone talks about Stacy's evolution, women in film and her love for comedy.
HOW HAS GWEN STACY GROWN IN THE AMAZING SPIDER-MAN 2?
Gwen is going through a lot and moving along her own path in life. She's going to college. She's doing medicine. She desperately wants to study at Oxford University. She has her own goals, hopes and dreams that are independent of Peter and their relationship.
In a movie like this, it's seen through Peter's eyes, which means most of her scenes are with Peter. But I'm glad we did get to flesh out Gwen a little.
DO YOU THINK THERE ARE STRONG WOMEN ROLES IN COMIC BOOK-BASED MOVIES?
Definitely not! I don't think there are any strong female characters in any genre, not just superhero movies.
But I think that is changing. With The Hunger Games and Divergent, which aren't comic book movies but fantasy movies, (Hollywood) is starting to introduce more stronger female characters. That is wonderful.
I'm glad that the paradigm is shifting, such as comedy for women. There are positive changes.
WHAT KIND OF ROLES DO YOU SEEK?
I'm always looking for great female comedies, and dark comedies.
I adore humour. I thought Easy A had a strong female comedic role. I'm still searching for parts that are female-driven, interesting and unique.
HOW HAS YOUR LIFE CHANGED AFTER PLAYING GWEN STACY?
Being associated with a movie that's so recognised on a global scale is really interesting. I went to Bhutan two years ago and they go "Hey! We've seen Spider-Man!" We were in Bhutan! That was so surreal.
Other than that, I'd say that life hasn't changed all that much personally. I don't really experience that many differences on a daily basis. When I'm around the Spider-Man world, it's different.
This article was published on April 23 in The New Paper.


Get The New Paper for more stories.