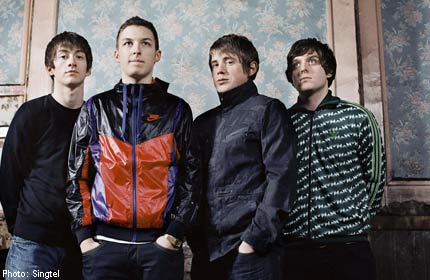 Many musicians would agree that the trigger for creativity can come in any form.
In making his latest offering Yeezus, US rapper Kanye West sought inspiration from architecture and art, specifically from homes in the style of Swiss architect Le Corbusier and Louvre museum exhibits.
David Bowie's The Next Day, in the words of the English rock icon himself, captured themes such as "indulgences", "violence", "isolation" and "mystification".
For English indie rock quartet Arctic Monkeys, their fifth and latest album AM involved a walk down memory lane.
The members were inspired by music that they and their former lovers listened to in their younger years.
With post-Glastonbury fatigue catching up with him, drummer Matt Helders told LOUD in a phone interview from London last week: "We went back to the music that we listened to in school like hip hop... (American hip hop duo) Outkast. Even songs our girlfriends in school used to listen to."
This is no surprise coming from the 27-year-old, whose drumming techniques are largely influenced by rap and hip hop.
Arctic Monkeys - which also comprises frontman/guitarist Alex Turner, bassist Nick O'Malley and guitarist Jamie Cook - are set to release AM on Sept 9.
The album, which Helders said the band started work on last August, also features Josh Homme of US rock band Queens of the Stone Age, English drummer Pete Thomas and English musician Bill Ryder-Jones.
Arctic Monkeys have previously released Whatever People Say I Am, That's What I'm Not (2006), Favourite Worst Nightmare (2007), Humbug (2009)and Suck It And See (2011).
Fans have already got a taste of their upcoming album following the release of lead single R U Mine? last year.
Turner, 27, told NME last April that he had tried to incorporate the lyrical techniques of rappers Drake and Lil Wayne into the song.
R U Mine? also sets the tone for the rest of AM, he said.
"It sets the precedent for the record. I don't mean all the songs sound the same but it has a bit of the same element - the 70s rock feel and riffs," Helders explained.
The second single Do I Wanna Know? was released last month.
More recently, fans were treated to these songs off AM, as well as old favourites such as I Bet You Look Good On The Dancefloor, Fluorescent Adolescent and Dancing Shoes, during their headlining performance at the recent Glastonbury music festival on June 28.
They joined fellow headliners like legendary English rock band The Rolling Stones and English folk group Mumford & Sons.
For the Sheffield foursome, it was a return to familiar territory, having headlined the same festival for the first time in 2007, just a year after the release of their hit debut album. "This time we were more prepared and confident in playing. We were still nervous but it was so much better," said Helders.
"Obviously when we first played we were a lot younger. For all of us, it was the first time at Glastonbury. We were new and so nervous," he recalled.
Turner had even gone as far as to deem it "one of the best gigs" they had ever done, according to NME.
At the Olympics
Arctic Monkeys also took to the stage at the London Olympic Games Opening Ceremony in July last year.
They performed their debut single I Bet You Look Good On The Dancefloor and also sang a cover of The Beatles' Come Together.
"It's amazing to have represented our country in a big way. It was incredible and with all eyes on you, it's so hard not to be nervous," Helders said.
Asked if the future looks good enough for the band to play similar or bigger stages, Helders was optimistic.
"We've all changed, the dynamics have changed. But we all grew up together and we are still happy and excited to be together," he said.