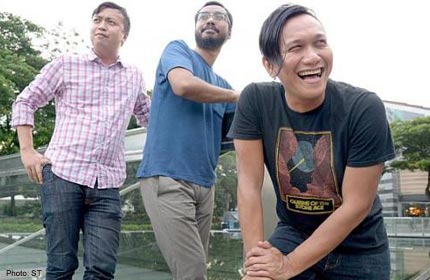 Home-grown indie-soul veterans The Stoned Revivals' songwriter Esam Salleh has been living in Australia since 2010 apart from his bandmates who are in Singapore. But the band will still have new tunes for their fans when they perform at the Singapore Night Festival tonight.
Esam, 40, says: "We don't want to be a novelty band stuck playing the same old songs again and again, it's important for us to progress and move on with new songs. So I'd record videos of myself singing and playing the guitar and e-mail them to the rest and we'll discuss and work on the songs online."
The band, which now also include bassist Kamal Yacob, 42, and drummer, guitarist and electric piano player Syed Ahmad, 38, are known for 1990s radio hits Goodil and Stoned Alleycat.
They play tonight at SMU Green, bolstered by sessionists and past members, including guitarist Syed Munir, who was active with the band in the late 1990s and early 2000s.
Performing with The Stoned Revivals at the same venue during the Night Festival are other bands including retro-rockers The Pinholes and indie-pop band Lost Weekend. All the bands, including covers act The Fast Colors, will play local compositions.
Four years ago, The Stoned Revivals went on hiatus when Esam, who is also the guitarist and singer, emigrated with his American-Australian wife and young son to Melbourne, where he now co-runs a satay restaurant and performs regularly in the city's gigging scene.
Since he arrived on Tuesday, the three have been hard at work fleshing out the new tunes in Ahmad's music studio, as well as practising the songs from their back catalogue.
Says Kamal, who has a day job as a business development executive with Sony Music: "We see one another maybe only once every two years, but, when we get together in the studio, it feels so easy to pick up where we left off. It's more than just the music, it is about our friendship as well."
Formed in 1990, The Stoned Revivals were active throughout the decade and were familiar faces in the indie/alternative gig circuit. At one point signed to now-defunct record company Springroll, an offshoot of Japanese label Pony Canyon, they also wrote and performed for the soundtrack of local movies such as Mee Pok Man (1995), 12 Storeys (1997) and Forever Fever (1998).
They released one full album, Golden Lovesongs From The Evil Island Of The Handsome Tropical Cannibals, in 1999, but also had singles such as Goodil, which charted at No. 1 on the radio stations now known as Hot FM91.3 and 987FM.
While Esam will fly back to Melbourne on Monday, Ahmad, who is music director for percussion troupe Bloco Singapura and teaches music at Lasalle College of the Arts, is confident that the band will stay active.
In fact, the frontman intends to fly back here later this year to record their new songs.
"We want to continue doing what we've always wanted to do since we were 18 years old - to write songs, play them and release recordings. It's even better now compared to back then because, these days, we have financial stability."
dinohadi@sph.com.sg

This article was first published on August 30, 2014
Get a copy of The Straits Times or go to straitstimes.com for more stories.