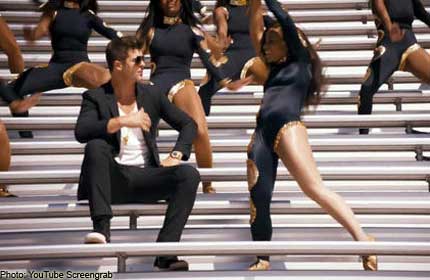 UNITED STATES - It has been over a week since Miley Cyrus shocked us with her sexed-up sideshow at the MTV Video Music Awards.
The spotlight has since shifted from the 20-year-old twerker to Mr Blurred Lines himself - otherwise known as Robin Thicke - with whom Cyrus shared the stage when they performed a duet of his hit song.
That's good news for Thicke. After all, a source had reportedly told Us Weekly that "he didn't realise how much she would overshadow him (during the VMAs)... (it) was his big night and big performance".
Suddenly, Cyrus' antics made sense.
It wasn't all about Miss Suddenly Skanky after all. Instead, it was actually an attempt to promote Thicke's music video for his latest song Give It 2 U.
Basically, it's the VMAs all over again, except there's no sign of Cyrus.
And Thicke, 36, isn't the only one who gets plenty of lovin' - so do rappers Kendrick Lamar and 2 Chainz, who also feature in it.
The concept for the provocative video is hardly a shocker, especially since its choreographer and director is Diane Martel, who was behind the videos for Cyrus' We Can't Stop and Thicke's Blurred Lines.

Get The New Paper for more stories.