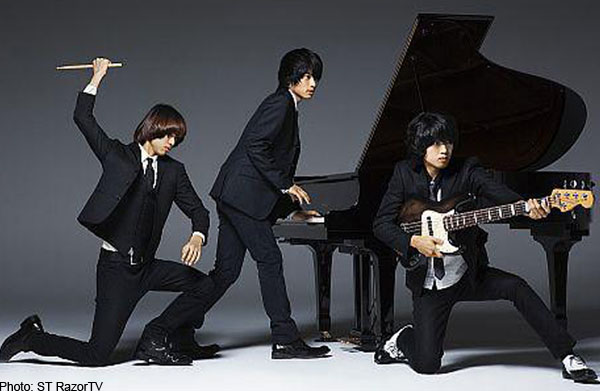 SINGAPORE - It felt like National Day had come early. When Home was played at the Skechers Sundown Festival last Saturday night at Marina Promenade, the 8,000-strong crowd rose to its feet and cheered.
Only thing was, it was not a local musician performing the popular National Day song - it was Japanese piano rock band Weaver.
The trio were among 16 artists from 11 countries to perform at the annual regional music festival, which was in its sixth year.
This year's stars included Hong Kong actress-singer Kate Tsui, Malaysian rising star Shila Amzah, Taiwan's pop rocker Chang Chen-yue and Singapore's songbird Olivia Ong and rapper Shigga Shay.
Despite showers earlier in the day, the crowd started streaming at around 4pm.
Some came prepared with foldable stools and straw mats. Others sat on plastic lawn chairs or on the ground. A few took off their shoes to settle in for a long night ahead.
There were some families with young children but the concertgoers mostly comprised youth.
Ms Rebecca Koh, 24, a client services executive who was attending the festival for the first time to "support local talent and expose herself to Asian artists", said it was a good show. "There was a good eclectic mix of artists."
The concert opened at about 6.30pm with Singapore's rapper Shigga Shay, who delivered his hit rap numbers Limpeh and Lion City Kia.
There were also appearances by girl group S.O.S from Indonesia, band Cross Gene from South Korea and British- Chinese James Yang who is based in Taiwan.
Tsui's appearance was highly anticipated and she did not disappoint.
Clad in a strapless sexy black dress and wearing a black hat, she performed songs such as Drenched and I Love You. Clearly a crowd favourite, she waved constantly at the fans and told them she loved them.
Speaking in English and Cantonese, she also thanked her fans who flew in from "all over the world". She loved Singapore food and said she ate too much that day, having just had a pandan cake and, earlier in the day, laksa and chicken rice.
Singapore's Olivia Ong, too, charmed the audience by playing the xylophone and tambourine while singing.
At one stage, she brought in a guitar and pretended to play on it while singing because she said it helped her "emote better".
Wearing a chilli-red hijab, petite Shila Amzah showed she was a chilli-padi performer, wowing the audience with her powerful vocals in Mandarin, Malay and English ballads. Demonstrating that she could also do uptempo numbers, she delivered the energetic Overdose by her favourite K-pop band Exo.
Taiwan's Chang Chen-yue and his band brought the night to a rousing end with hits including Used Guitar and Road Entry, after which all the artists went on stage for a grand finale. Streamers were popped and the audience went wild.
But the proceedings, which ended at midnight, proved too long for some.
Mr Fong Youne Kong, 36, a fulfilment executive in a manufacturing company, who was there with his wife and children, aged six and seven, left before 11pm.
"My wife and I were enjoying ourselves, but our children were tired. So we left early."
This article was first published on November 24, 2014. Get a copy of The Straits Times or go to straitstimes.com for more stories.