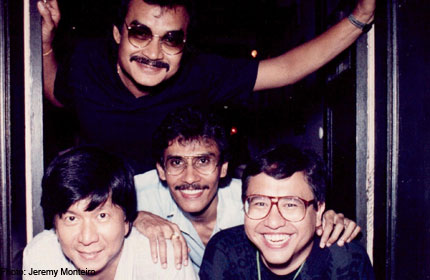 Long-time jazz fans in Singapore may remember Jeramzee, a fusion quartet that were a stalwart on the live scene in the 1980s and early 1990s.
The good news is that the band, headed by jazz pianist-composer Jeremy Monteiro, are back in action and will perform tonight and on Sept 27 at the Sultan Jazz Club.
The quartet, which also comprise home-grown veterans Tony Zee on drums, Eddie Jansen on bass and Steven Rufus on the saxophone, will also hold a free lunchtime show at Nanyang Technological University on Wednesday.
Monteiro, 53, tells Life! that tomorrow's set will be a "reunion of old friends" as it is the first time the four of them are playing together in 20 years.
"We split up in 1993 but we've kept in touch and I have played with each of them individually," says the 2002 Cultural Medallion recipient on the telephone from Bangkok, where he is on a business trip.
Because of each member's busy schedule, the quartet will only get together to jam this afternoon, before the actual show.
"I'd like to think all four of us have improved as musicians. We are playing our old songs but we will bring our current sensibilities to the music," says Monteiro, who plays the electric piano and synthesizer in the band. Guest musicians for the show include jazz flautist Rit Xu.
Formed in 1983, the band played nightly at nowdefunct nightspots such as jazz pub Saxophone at Cuppage Terrace and Marina Village amphitheatre.
They also performed in Malaysia and Indonesia.
Their first album, Back To Basics, now out of print, was released in 1986. It was the first local album to be recorded digitally, and featured Grammy-winning American jazz musicians such as Eldee Young on bass and Redd Holt on drums.
Jeramzee's second album, Faces & Places, was released in 1988 and featured celebrated musicians Herbie Mann from the United States on flute and Paulinho Da Costa from Brazil on percussion.
The songs are available digitally through iTunes, OraStream (www.orastream.com) and on the smartphone app for Monteiro's music label, Jazznote.
Back To Basics sold 3,000 copies and Faces & Places sold 11,000 around the region. Some hit songs on the second album, such as Helvetica and Soliloquy, have been covered by other musicians.
The band split up after the members decided to concentrate on their own projects.
Zee is in demand as a sessionist and music teacher, while Jansen is a familiar face at nightspots such as Crazy Elephant and the now-closed Jazz @ Southbridge. Rufus is a popular sessionist in the local scene.
Apart from getting Jeramzee back together, Monteiro has also put together a regional tour, The Jazz Organ Summit, featuring himself and organists Alberto Marsico from Italy and Tony Monaco from the US. The trio will perform at the Esplanade Recital Studio on Oct 23 and 24, as well as in Hong Kong and Bangkok in the same month.
Each organ player will play 30-minute sets, backed by Hong Kong guitarist Eugene Pao, Japanbased singer Charito, American drummer Shawn Kelley and American saxophone player Shawn Letts.
"These shows came out of my love for playing jazz on the Hammond organ. The musicians on stage will represent Asia, Europe and the US, and that's going to be interesting," says Monteiro.
dinohadi@sph.com.sg
Book it
THE SULTAN JAZZ CLUB PRESENTS JERAMZEE
Where: Sultan Jazz Club, 101 Jalan Sultan When: Tonight and Sept 27, 9.30pm
Admission: $25. To reserve tickets, go to www.sultanjazzclub. com/reservation
THE JAZZ ORGAN SUMMIT WITH JEREMY MONTEIRO, ALBERTO MARSICO AND TONY MONACO
Where: Esplanade Recital Studio
When: Oct 23 & 24, 7.30pm
Admission: $45 from Sistic (call 6348-5555 or go to www.sistic.com.sg)

Get a copy of The Straits Times or go to straitstimes.com for more stories.