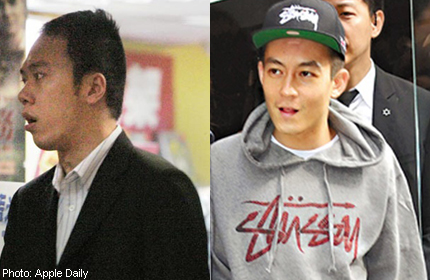 Justin Lee, 28
The son of Taiwanese billionaire businessman Lee Yueh-tsang was often photographed at nightclubs and was seen as a "golden bachelor".
Claim to infamy:
Next Magazine published an expose on Lee's sexual escapades last August.
Taiwanese police then said they had been investigating him since July 2011, after a woman reported that she had been drugged, raped and filmed by Lee.
Police found his complete collection consisted of 48 folders containing 93 videos and 176 photos, saved under the women's nicknames.
The Female Lead:
Model Maggie Wu, 29, who had a short relationship with Lee five years ago. She disappeared from public view for four months.
"There really isn't anything much to say for now."
The others:
Well-known Taiwanese models including Terri Kwan, Bianca Bai and Ruru Lin.
What happened:
Lee evaded a summons for questioning and went into hiding for about three weeks, before surrendering on Aug 22 last year.
He was sentenced to 22 years and four months in jail on Tuesday for sexually assaulting nine women and filming the acts.
He was also ordered to pay NT$14.25 million (S$612,000) to 12 of his victims, who had sued him for a total of NT$75 million in damages.
He said: He told Taiwanese media: "They've gone too far. We agreed to be filmed together. How can they go back on their word?"
Asked about the women whose eyes seem to be shut in the photos, he added: "They were sleeping. Some of them were just drunk."
What now?
Lee's lawyer told reporters that he would appeal against the ruling.
Our take:
Lee wins hands down in the douchebag scorecard. Blaming the women totally makes him a loser.
He was also made to strip in court so that a mole on his body could be identified and linked to the man in the photos and videos.
He also wins in the douchebag department for calling his sex folder "collectionz". At least spell it right.

Next page: Edison Chen


Edison Chen, 32
The Hong Kong actor is also the co-founder of fashion brand Clot.
Claim to infamy:
Sexually explicit nude photographs of Chen with several female stars were circulated on the Internet in January 2008. Police later uncovered more than 1,300 photos.
The Female Lead:
Gillian Chung, a member of the squeaky-clean Cantopop duo, Twins.
The others:
Actress Cecilia Cheung, 32, who was married to Nicholas Tse, 32. They would eventually split in 2011.
Others included Bobo Chan, Maggie Q, Mandy Chen and even his then-girlfriend Vincy Cheung.
What happened:
A jobless Chen went to the US to lie low for more than a year.
In May 2009, Hong Kong computer technician Sze Ho Chun was jailed for 8½ months for stealing the photos from Chen's laptop when the latter brought it in for repairs in 2006.
He said:
In a video statement released in 2008, a contrite-looking Chen said: "I hereby use this opportunity to apologise to anyone who has been affected by this strange, strange ordeal.
"If you ever downloaded any of these images, please do not forward them to anyone...
"If you are still in possession of these images, I urge you to please destroy them immediately."
What now?
He stars in Chinese-American Bertha Bay-Sa Pan's Almost Perfect, a romance flick which opens this week in Taipei.
He is dating Taiwanese student Ann Hong, 22, whom he met while she was working at his Taipei boutique last year.
Our take:
At least he had the decency to feel bad. But he can't be terribly smart.
He had enough mojo and know-how to bed at least six starlets, but he didn't secure or delete his computer files before sending it for repairs.
Doh.

Get The New Paper for more stories.