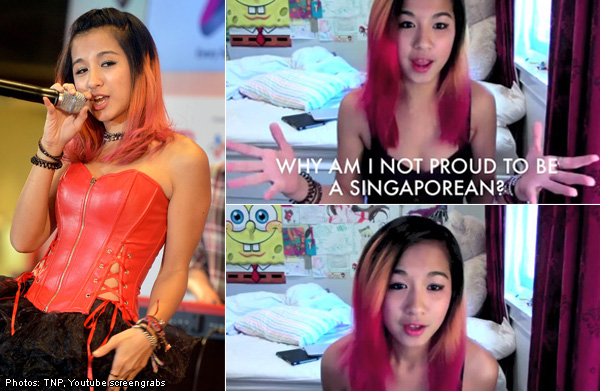 SINGAPORE - K-pop Star Hunt 3 finalist Stephanie Koh has uploaded a video on Youtube, clarifying details about a recent interview and elaborating on why she does not feel proud to be Singaporean.
Koh has recently made headlines with her controversial comments on the contest and her fellow contestants.
Koh, Singapore's representative in the Korean contest, exhibited a poor attitude in the reality talent show. She infamously said "I'll attack you, I'll scratch you and I'll kill you" when asked to surrender her mobile phone by the show's manager.
She also bad-mouthed a fellow contestant for not being talented and that she advanced to the finals by "acting cute".
After the K-pop Star Hunt 3 finals concluded in Singapore last week, she made a comment that sparked much discussion online.
She said in an interview: "I am not proud to be Singaporean".
Here are some of the reasons she listed in her Youtube video 'Why I am not proud to be Singaporean":
1. No place for artist
2. Singaporeans are narrow-minded
3. Singaporeans are not creative
4. Singaporeans are submissive
5. Singaporeans are not happy
6. Singaporeans are not nice people
7. Everybody follows the rules