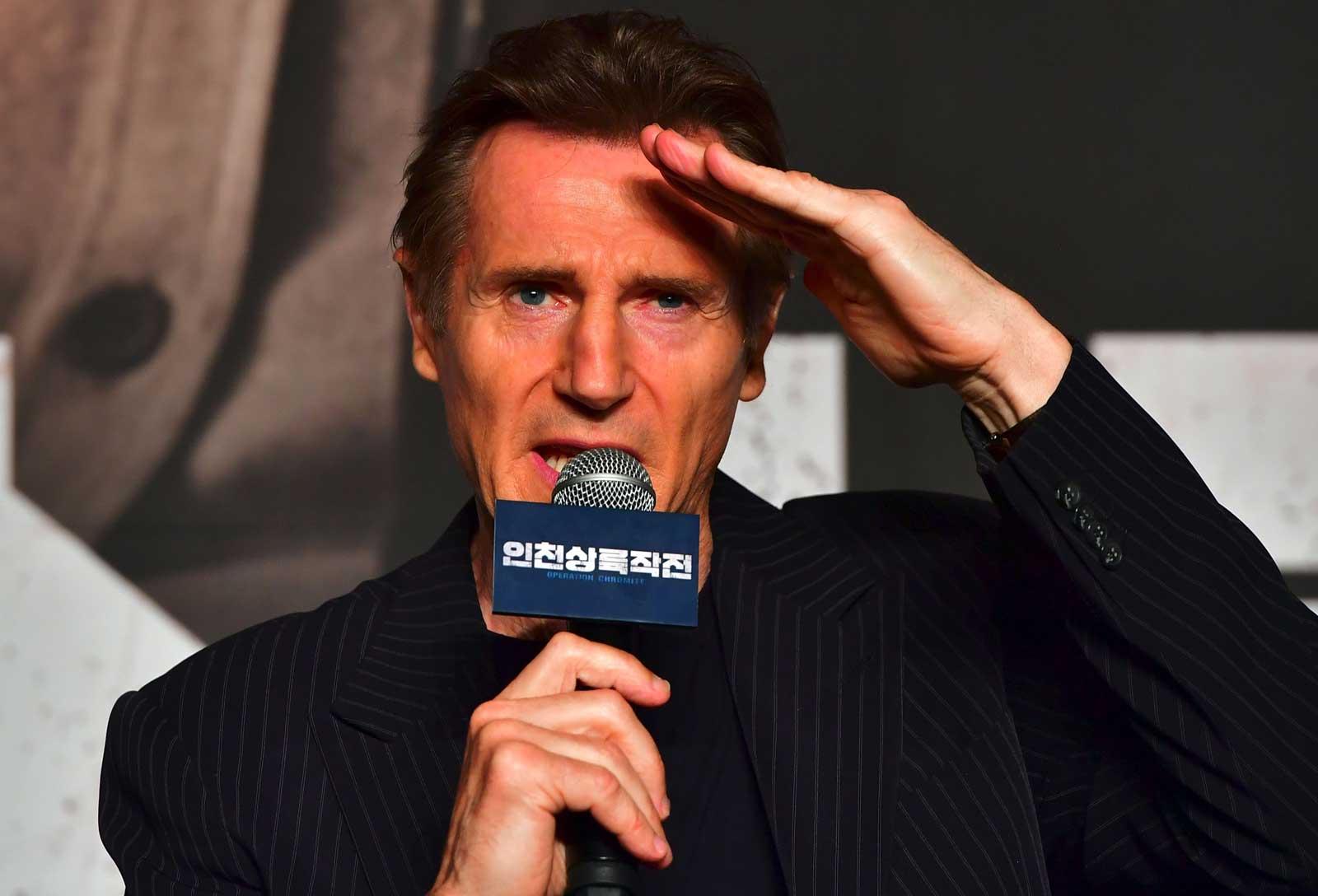 It is not every day that a Hollywood heavyweight stars in a Korean film, particularly one retracing real-life events in Korean history. But Liam Neeson, who portrays the legendary Gen. Douglas MacArthur of the US Army in the upcoming war drama flick "Operation Chromite," says he was made an offer he "couldn't refuse."
The film's director Lee Jae-han and producer Jung Tae-won, who helms the production company Taewon Entertainment, were "very, very persuasive, let's just put it that way," said the renowned Irish actor at a press conference in Seoul on Wednesday.
"But I was very aware that very few western actors had come over here ... so I felt very honoured, actually. And very privileged," Neeson said, adding he has always been interested in the Korean War.
Liam Neeson speaks to reporters at a press conference for "Operation Chromite" in eastern Seoul on Wednesday.  Photo: AFP
The 64-year-old actor, who has appeared in more than 70 films since he rose to prominence in the 1993 Oscar winner "Schindler's List," said he was drawn to the simplicity of the script of "Operation Chromite"
"I thought it told a very complex story in a very palatable and easy way to follow for audiences. And it's very emotional," he said.
There were times, however, when Neeson felt intimidated by the role of the charismatic general who has long been heralded as a national hero here. The film traces the general's much-contested, high-risk operation to land the United Nations allied forces in Korea's western port city of Incheon in September 1950 -- an operation that eventually led the Korean army to a decisive victory in battle against the invading North Korean troops.
Neeson said he read numerous biographies and visited Incheon's Jayu (Freedom) Park, which is dedicated to the general, in order to prepare for his role.
"I remember this was just before I started shooting and I suddenly got very nervous, thinking, can I do this? Am I up for this? (MacArthur) is revered. He's almost got saint-like status in the country."
The actor overcame his concerns in part by meticulously researching the general's mannerisms.
"There were certain characteristics that MacArthur had ... for example ... he always wore his hat at (an) ... angle, which pissed off other commanders. He would smoke his corn cob pipe everywhere because he felt it gave him a certain authority" he said.
Liam Neeson (left) and Lee Jung-jae pose for photos at a press conference for the film "Operation Chromite" in eastern Seoul on Wednesday. Photo: AFP
Neeson also added that his first-time experience on set with an all-Korean film crew was "mind-blowing,"
"I've never worked with a crew that was so (perfectionist), so fast. ... Their dedication and commitment to all their individual jobs was quite awe-inspiring to me."
The actor also heaped praise on his co-star Lee Jung-jae, who plays Korean intelligence captain Jang Hak-soo who infiltrates the North Korean army in an undercover mission.
"When I'm in the presence of a real actor, I can tell," he said. "I felt Jung-jae was a very, very pure cinema actor. He has this beautiful quality of stillness, deceptive simplicity. ... As a performer it made me feel ... at ease, because I was working with a wonderful professional."
Lee, also present at the press conference alongside the film's director and producer, said he interviewed surviving members of the Incheon operation to prepare for his role.
"Operation Chromite" will open in local theatres on July 27.