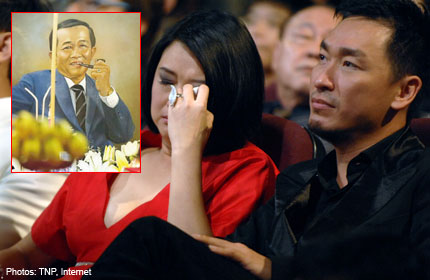 SINGAPORE - Local celebrity Rayson Tan has been branded 'heartless' for not turning up at the funeral of the White Dragon King Chow Yam Nam.
The Thailand-based Chinese mystic was famed for improving the career trajectories of celebrities who go to him for advice.
Shin Min Daily News reported that Rayson was one of the few celebrities - like Show Luo and Shu Qi - who did not pay their last respects to the Thai mystic even though they had sought help from him in the past.
In 2002, with the advice of fellow celebs, Tan had sought help from the White Dragon King when he was embroiled in the Slim 10 saga.
His wife, actress Chen Liping had controversially consumed Slim 10 diet pills in her bid to lose weight.

Tan even sold the same pills to fellow actress Andrea de Cruz.

De Cruz subsequently suffered from liver failure after taking them and the incident snowballed, landing the parties in court.
At their meeting, the mystic told Tan that all he needed to do is to 'keep quiet' because the case will resolve on its own. He did just that, and the verdict came out in his favour.
After that, he was said to have expressed a desire to repay his 'debt' to the mystic when he went to Thailand for filming.
This may explain his no-show at the wake but the appearance of stars such as Andy Lau, Tony Leung, Eric Tsang, and even the King of Thailand (via proxy) has made Tan a targetboard of ire.

Visit STOMP for more stories.