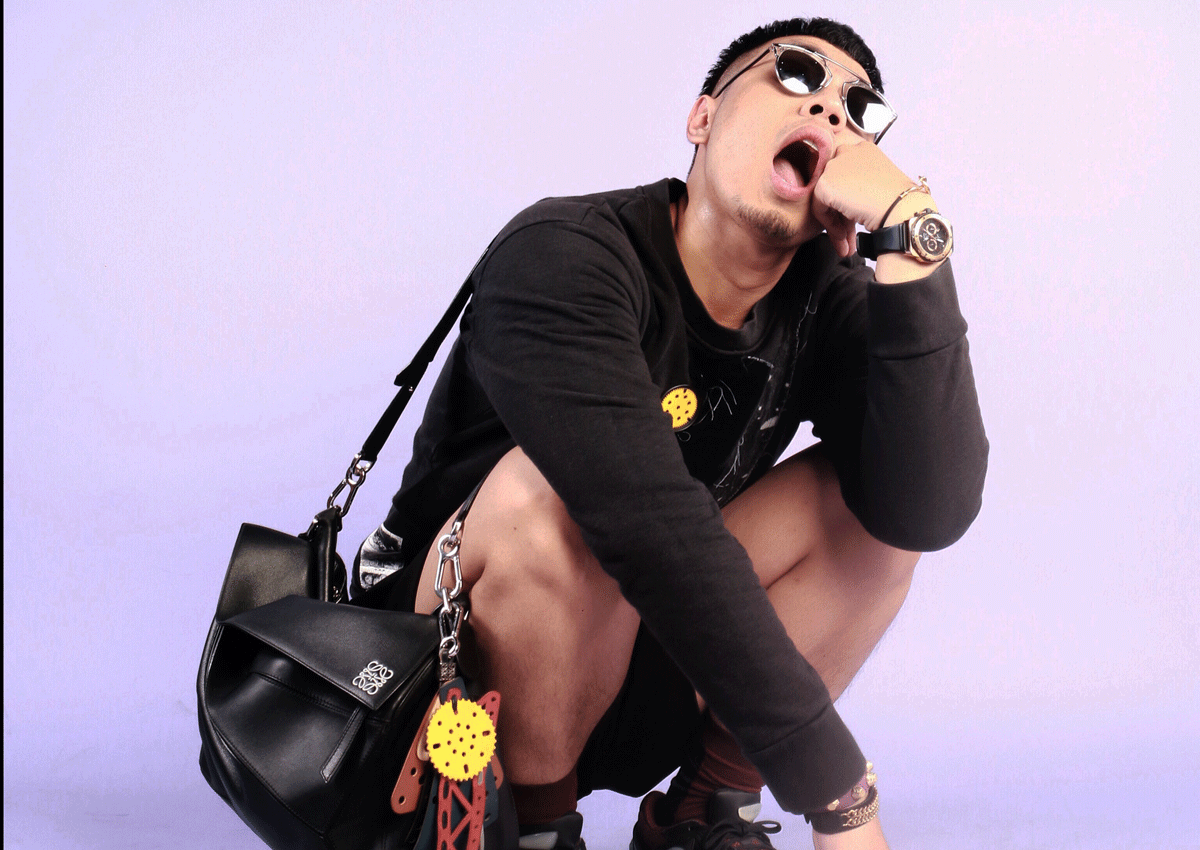 His interest in rap and hip-hop music was piqued at the age of 13, when he first saw the now-defunct local rap trio Triple Noize, who were popular in the early noughties, on television.
Inspired, rising local rapper Mean tried his hand at writing his own rhymes, but he felt that his beginner's effort did not make the cut and he gave up soon after.
For five years, he shelved those attempts and focused on being a screamer in a post-hardcore band.
At 18, he gave rap another shot during an emotional point in his life, after a break-up with his partner of three years.
Mean, whose real name is Nur Ahmad Muhaimin Jumato, is now one home-grown act to take note of in 2016.
The 26-year-old released a mixtape in 2010 and has, over the years, released several collaborative works with local hip-hop collective The.XS Collective, which he joined in 2010.
He had an EP out in 2013 and last month, he released NSFW: Not Safe For Work, his debut full-length album.
Mean is also part of a community of local producers and musicians who call themselves H Y B R D T H R Y.
HARDSHIP
The opening lines to his track Dive - "On the road to the riches/Back from a drought, now I make it rain figures" - was inspired by a trying time in his life.
Mean, who is also a visual merchandiser with a furniture company, told M: "I juggle work and music and it hasn't been easy.
"I was retrenched twice, in 2013 (while) working as a graphic designer and in 2014 as a visual merchandiser. I haven't been lucky on that end.
"I had no money then so that is what Dive is about."
He has no problems getting personal in his music.
"I feel lyrical content is important and I really want people to know it is normal to go through hardship. I want to show a side of me that is human," said Mean, who counts US rapper Young Thug, Canadian R&B singer The Weeknd and Canadian electronic duo Purity Ring as his influences.
The "dapper rapper", as he describes himself on his Instagram profile, has also grabbed eyeballs for his unique, edgy style.
He performs exclusively in outfits by his favourite fashion designer, Belgian designer Raf Simons.
"I like fashion and it has gained me a following even from the fashion community. Hopefully, one day, Raf Simons notices me," he said with a laugh.
As the year draws to an end, Mean is already busy making plans for 2016.
He hopes to release a deluxe edition of NSFW, which will include "a few surprises and collaborations".
He will perform at the Esplanade with local pop band Lost Weekend in February and in Kuala Lumpur for the Raising The Bar hip-hop music festival.
"It is a good first step and I hope I get the chance to do a regional tour as well," he said.
All things new for Cashew Chemists
Fans of local rock outfit Cashew Chemists will have quite a bit to look forward to this year - and that's after already enjoying the group's second EP, Previously On... Cashew Chemists, which was released this month.
Their debut self-titled EP came out in 2013 and the years in between saw the quintet playing several shows, including the Java Sounds Fair festival in Jakarta and Urbanscapes at Resorts World Genting last year.
Cashew Chemists plan to drop their debut full-length album next year and they are slated to perform at Laneway Festival at The Meadow, Gardens By The Bay next month.
They will join other local acts such as electronic act Intriguant and electronic pop group Riot !n Magenta at the music festival on Jan 30.
SHOCK AND AWE
Bassist Elliot Sng, 25, told M: "When we were invited, I was shocked because local acts such as .gif and Hanging Up The Moon, who have performed at (Laneway), are really good.
"It is such a big festival and we feel honoured to have been considered."
Another treat for fans: The band, fronted by vocalist-guitarist Yuji Kumagai, 26, will see full strength for the first time in three years. Brothers Brian Chia, 27, and Zachary, 20, who are the guitarist and drummer respectively, have returned from the United Kingdom, where both were reading law.
Their brother Ulrich, 25, who plays the guitar, joined the line-up in June.
This will mark the start of a new journey for Cashew Chemists, who are eager to explore a different sound for the album. Sng said: "It will be heavier, perhaps more psychedelic, drawing influences from (Australian rock band) Tame Impala and (legendary US singer) Jimi Hendrix. We can't wait to work on more music next year.

This article was first published on December 30, 2015.
Get The New Paper for more stories.