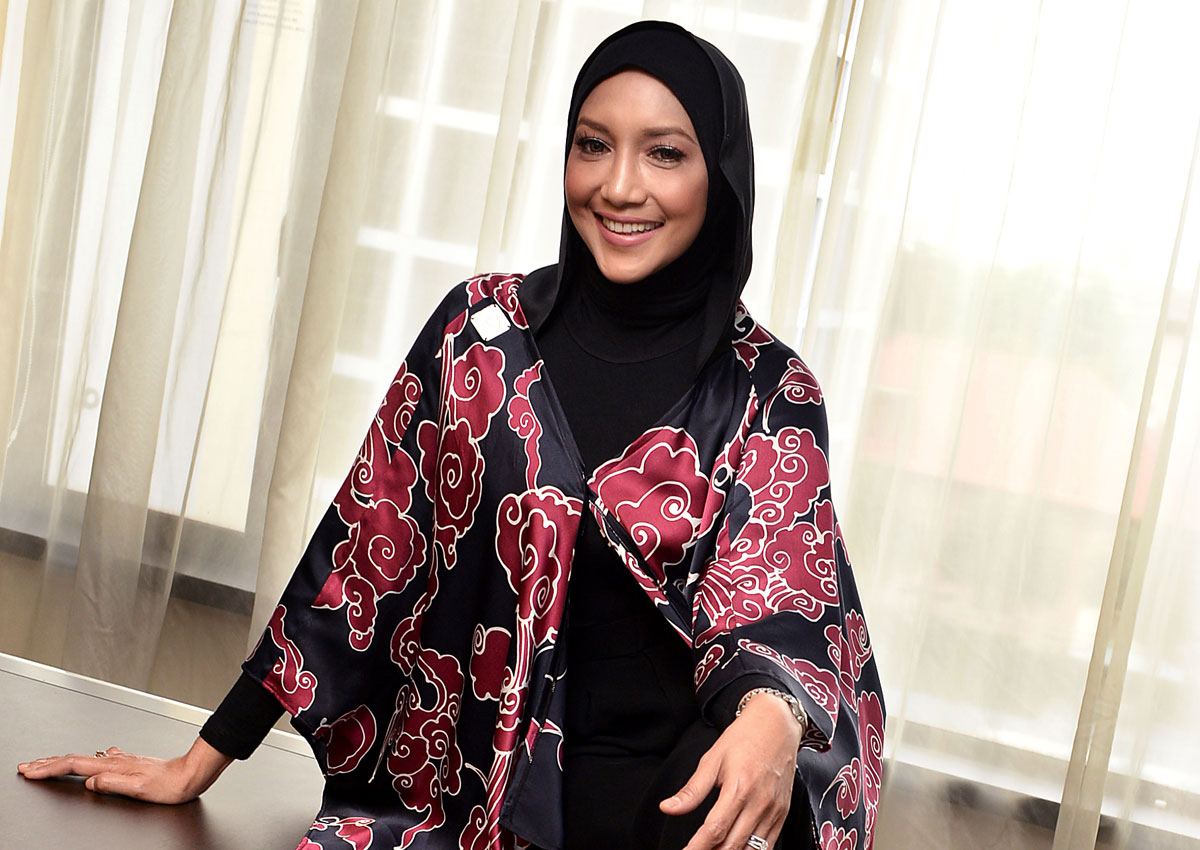 Even with over 25 years of showbiz experience under her belt, veteran singer Ziana Zain hasn't been spared the blushes.
Looking back on her stellar career as 2016 approaches, the 47-year-old Malaysian said has had several memorable experiences, the most recent one just four months ago at the Kuala Lumpur Fashion Week (KLFW).
While belting a cover of XO by US singer Beyonce for KLFW's closing show by Malaysian ready-to-wear label Rizman Ruzaini, Ziana stretched her hand out for her finale pose, sending her microphone flying into the air - a comical end to her performance.
The cause?
Hand cream, probably.
Ziana, who was in town to launch Zayyen, a clothing line collaboration with Malaysian fashion brand Zatu Emerald at the Singapore Expo, told The New Paper on Sunday with a laugh: "That day, I had thought of all the important guests I would meet and whose hands I would shake (and decided to apply hand cream).
"Amidst the crowd of people and the heat, I suppose the lotion 'melted' and the microphone went flying. Luckily, I like to joke around."
She added: "The funny thing is, days prior to that, I was reading about Madonna's fall (at this year's Brit Awards) and Beyonce's hair being stuck in a fan. To think it was my turn next!"
For the bubbly mother of four, the "flying microphone" episode was far from cringeworthy.
"People know that I'm a spontaneous person.
"In my 25 years of singing, this has never happened, so that moment was memorable, not embarrassing," she said.
In fact, Ziana's most embarrassing memory as an artist took place in the early days of her career. She recalled getting her heel wedged between the wooden planks of a stage, causing her to be stuck in one place throughout the show in Shah Alam, Malaysia.
"From song one to song five, I couldn't move at all. When fans approached me after the show, I was thinking, 'How in the world do I explain this to them?'" she said.
Ziana's accomplishments include six hit albums, several acting roles - most notably in Sembilu (1994), Sembilu II (1995), Maria Mariana (1996) and Maria Mariana II (1998) - and a number of fashion and beauty ventures.
Zayyen, her fashion line with Zatu Emerald earlier this year, has allowed her to learn more about fashion design, which she hopes to apply should she launch her own collection.
E-COMMERCE
The launch in Singapore was a collaboration with local e-commerce apparel platform RoseValley.
"I learnt which fabric goes with which design and personally picked the fabrics with Zatu Emerald. I want to give customers what they are looking for, which is comfort and style at reasonable prices," said Ziana.
It is the same principle she abides by when it comes to her own wardrobe.
"Brands or not, I don't mind. If it's $59 and the design and colour suits me, I will wear it.
"My house is next to (hypermarket) Giant where I frequent a small booth that sells Muslimah wear. The prices are reasonable and the colours nice," she said.
When asked if she wants to launch her own collection after Zayyen, Ziana said she will not jump the gun.
"I believe that if you want to do something, you should do it well and not half-heartedly. Trial and error is not for me.
"If you want to launch your own collection, you must make sure it's so impactful that people will miss it when it's not around. I still have so much to learn," she said.
What she does hope to do is stage a concert next year.
It has been 14 years since her last one, with Ziana making only guest appearances in the past few years.
"Hopefully one day, it's the right time to do it. There is a satisfaction that comes with having your own concert... The positive vibes from fans is something that fuels me," she said.
For Ziana, singing completes her.
"My first love is Allah, singing is my second. If I don't listen to the radio the moment I wake up, I go 'gila' (Malay for crazy). My world doesn't feel complete. When I wake up, the first thing I do is sing.
"My fans are still here supporting me and after 25 years in the industry, I'm still relevant. This is God's gift for me and I should cherish that," she said.

This article was first published on December 29, 2015.
Get The New Paper for more stories.