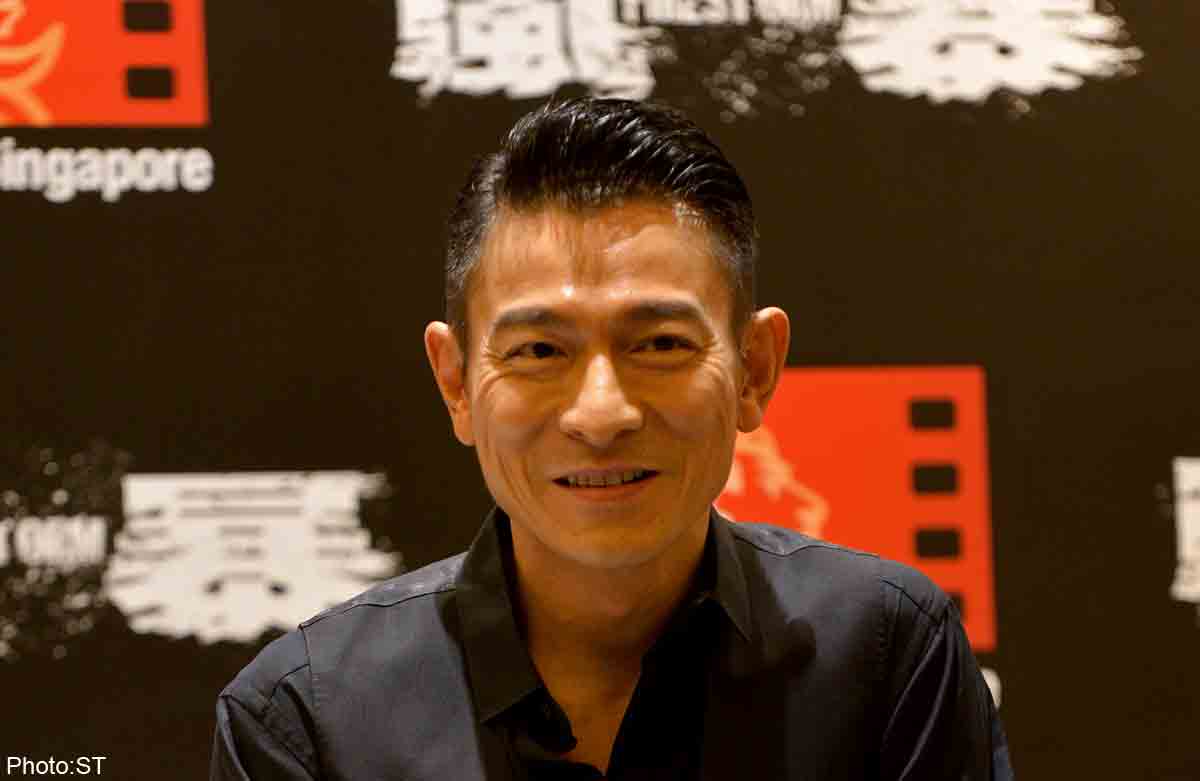 SINGAPORE - Do not call evergreen Hong Kong superstar Andy Lau "old".
During a group interview with the well-preserved 52-year-old star at Marina Bay Sands recently, a magazine reporter dared to say he is "getting old" - twice, no less - leading him to immediately sit up.
Jokingly, he looked to the security personnel present and exclaimed in Mandarin: "Who is this reporter? Get her out of here. I am not old - just mature."
He then laughed and told the reporter to go ahead with her question, as a clear gesture that there were no hard feelings.
Still, it was obvious that age was nonetheless a rather sensitive issue for him.
Earlier, the host of the press conference asked him multiple times whether he is finding it "tougher" to do action films these days.
He was quick to reply: "No, who says it's tougher? I'm very relaxed, doing action movies."
Lau was in town to promote his latest action film Firestorm. He plays the leading role of police inspector Lui, whose morals are called into question when a criminal pushes him to the edge.
The film opens in cinemas tomorrow. The actor told reporters that he undertook most of the stunt work himself, including the fight scenes and jumping off an 11-storey building.
He said breezily: "In fact, I would say that it's easier to do action movies now. Back in the day, when doing wirework, we had only one wire holding us. But these days, we have four wires holding us up. Don't you think that makes things a lot easier?"
In Firestorm, he required a stunt double for only a few sequences. "I can still do many of the action sequences myself. I'm still young, you know," he said with a chuckle.
His Peter Pan outlook is very different from that of fellow Hong Kong star Jackie Chan, 58, who openly declared himself "too old and tired" to be doing major action work.
Last December, Chan had said that year's blockbuster CZ12 would be his final major action flick, and that he would henceforth leave most of the death-defying stunts to others.
But Lau is not so eager to give up. He said: "I'm honest when I say that if I think I can still do these action movies, I will go ahead and do them for as long as I can, by myself."
Famously known as a workaholic, he still has a lot of passion for what he does, even after three decades in the business.
As he put it: "Acting and making films, to me, is a very enjoyable process. Some people like playing basketball, others like enjoying a cigar. But for me, it's acting. I consider it my hobby."
Offscreen and behind the scenes, Lau, it seems, is just as busy. Little wonder then that he has gained a reputation for being one of the Chinese language film industry's best mentors.
As the owner of film production company Focus Films, he has pumped money into many films - not just the commercial blockbusters, but also smaller, indie works. Recent examples include indie flicks A Simple Life (2011) and Gallants (2010), critically acclaimed films which he financed as executive producer and which also went on to bag several awards.
A Simple Life, about the relationship between a film producer, played by Lau, and his long-time servant, swept all the major awards at major festivals including the Golden Lion at the Venice Film Festival, and also brought veteran actress Deanie Ip, 65, back to the limelight.
Cult favourite Gallants, about two old gongfu artists trying to stop the sale of their old training school, was reportedly funded almost entirely by Lau. The HK$5-million film was named Best Film at the Hong Kong Film Awards in 2011.
Years ago, Lau also produced then little-known director Fruit Chan's films Made In Hong Kong (1997) and The Longest Summer (1998). Made In Hong Kong received the Best Picture award at the Hong Kong Film Awards, while The Longest Summer was nominated in several categories at the same awards ceremony.
Lau gave a simple explanation for bankrolling such films: "I think we should bring Chinese films to the forefront, into the international spotlight. Of course, I am only one man, but I want to do whatever I can in my own capacity to help."
For Firestorm, which cost US$20 million (S$25million) to make, he is also credited as producer. His mentoring skills are apparent, too, as he let on that he gave plenty of advice to first-time director Alan Yuen.
Yuen is primarily known as a screenwriter for action films such as Shaolin (2011), New Police Story (2004) and the recent The White Storm (2013), which is now showing in cinemas.
Said Lau: "He's a new director, so we really sat down together for days to go over his script and see which bits we need to improve on or what scenes would be harder to shoot. This kind of preparation work is tedious, but necessary."
Asked who is the real boss between the two of them, he deadpanned: "Outside of the set, he listens to me. On the set, I listen to him. I still have to give him some face on set."
Flashing his charm and charisma throughout the interview, he was, as usual, a lot less chatty when questions veered towards his personal life.
The fiercely private star, who is married to former Malaysian beauty queen Carol Chu, 47, and has a 11/2-year-old daughter, would not say more beyond the fact that he is the type who "rushes home" as soon as work is over.
"But I was like that even before having a daughter. I've always been a homely guy. Why should I loiter around after work? I have nothing to do there anymore," he said.
He dodged all other questions on his family life by changing the subject.
At one point, he said in jest: "Actually, I can share with you a lot of stories about this topic, but I'm not at liberty to share them now. Maybe, when I really turn old, I will write a memoir and I'll share all my stories then."
Going by how defiant he is about ageing, fans are going to have to wait quite a while before that happens.
yipwy@sph.com.sg

Get a copy of The Straits Times or go to straitstimes.com for more stories.