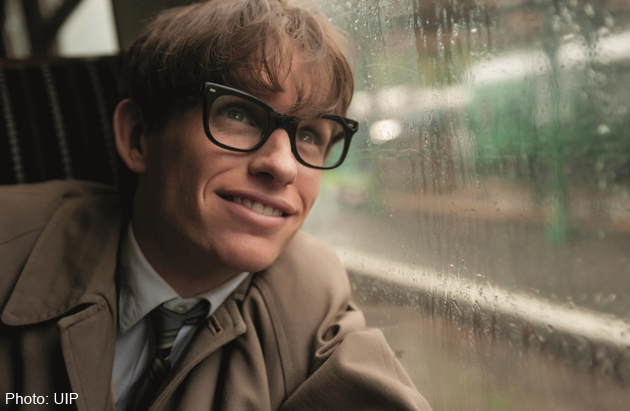 The sunshine of summer is over for Hollywood.
We're now entering the sombre, stuffy fall-movie period otherwise known as "Oscar-bait" season.
Time to set aside eye-boggling effects and nonsensical plots for actors bringing out the big guns and film-makers pushing their films at various high-brow film festivals.
But unlike this year's awards seasons, when we were treated to awesome performances by the fairer folks such as Sandra Bullock, Cate Blanchett, Meryl Streep, the 2015 party belongs to the men.
So who are the ones likely for a Best Actor nomination?
EDDIE REDMAYNE
MOVIE: The Theory Of Everything (Jan 8)
OTHER POSSIBLE NOMINATIONS: Best Supporting Actress
COULD BE THIS YEAR'S: A Beautiful Mind (inset)
Here's another biopic that could be right up the Oscar voters' alley.
The story of Stephen Hawking has everything they like: real-life personality, love against the odds and disability.
Adapted from the autobiography of Jane Hawking, Stephen's college sweetheart turned wife, 32-year-old Redmayne turns in a powerful performance in this film about the early life of the physicist and how he battled motor neurone disease.
The Hollywood Reporter likened the Brit's soulful and physically gruelling performance to that of Daniel Day-Lewis in My Left Foot (1989), which led to Day-Lewis' first Oscar.
Pundits have also placed bets that Felicity Jones will have a shot as supporting actress as the long-suffering Jane.
MICHAEL KEATON
MOVIE: Birdman (Jan 22)
OTHER POSSIBLE NOMINATIONS: Best Director, Best Picture
COULD BE THIS YEAR'S: The Wrestler
The Academy loves a comeback and Michael Keaton as an actor trying to reclaim past glory is the perfect vehicle.
Mexican director Alejandro González Iñárritu is no stranger to the Oscar game. His previous four films - Amores Perros (2000), 21 Grams (2003), Babel (2006), Biutiful (2010) - all received Oscar noms, including Best Director and Best Picture.
In the film, Keaton plays a version of himself, battling ego and family trouble. It's similar to Mickey Rourke, whose comeback in The Wrestler (2008) also had that mix of self-effacement and pathos that almost won him the Best Actor Oscar.
MATTHEW MCCONAUGHEY
MOVIE: Interstellar (Nov 6)
OTHER POSSIBLE NOMINATIONS: Best Picture, Best Director, Best Actress, Best Supporting Actress, Best Supporting Actress, Best Art Direction.
COULD BE THIS YEAR'S: Inception
As with all Christopher Nolan's projects, the impenetrable shroud of secrecy makes us all the more curious.
McConaughey headlines this space thriller/mystery/drama playing a single father who joins a group of space-faring scientists to travel beyond the galaxy in search of a new home for mankind.
Fresh off his Best Actor win for Dallas Buyers Club and aided by his critically-acclaimed performance in TV series True Detective, the McConaissance rages on.
With a cast of Oscar winners and nominees - Anne Hathway, John Lithgow, Jessica Chastain, Casey Affleck, Ellen Burstyn, Michael Caine - together with Nolan's visionary prowess, we can safely bet that this is one space flick that will truly impress the Academy voters.
BENEDICT CUMBERBATCH
MOVIE: The Imitation Game (Jan 22)
OTHER POSSIBLE NOMINATIONS: Best Supporting Actress
COULD BE THIS YEAR'S: Lincoln
Cumberbatch is versatile. He has played a super-villain, a dragon, a genius detective.
But the talented Brit has yet to have a film to call his own.
The Imitation Game sees the 38-year-old play WWII hero Alan Turing whose code-cracking skills were vital to helping the Allies win the war.
While the part-spy, part-biopic also stars Keira Knightley and Matthew Goode, it's pretty much a one-man show as Cumberbatch impresses as the closeted genius.
Hollywood loves its heroic flicks and dramas punctuated by personal anguish.
Turing's work had to be kept top secret for decades after the war, so he received no credit. He was criminally prosecuted for homosexuality and chemically castrated.
But the film has been criticised for taking liberties with the facts, making more of Turing's relationship with Knightley's character, who in that grand Hollywood tradition, is far more attractive than the woman she is playing.
But there should be enough there to tug on the heartstrings of Academy voters.
The Imitation Game recently won the Toronto Film Festival's top prize, the People's Choice Award, an honour generally considered a key indicator of Oscar success.
Plus, The Weinstein Company is behind this movie, and when it comes to lobbying for Oscar nods, there are few machines more powerful.
STEVE CARELL
MOVIE: Foxcatcher (undated)
OTHER POSSIBLE NOMINATIONS: Best Director, Best Supporting Actor
COULD BE THIS YEAR'S: The Fighter
Bennett Miller has already won the coveted Best Director laurel at this year's Cannes Film Festival and the film-maker coaxed a phenomenal performance from the triumvirate of Steve Carell, Channing Tatum and Mark Ruffalo.
Foxcatcher is the true story of billionaire John du Pont's (Carell) deluded and tragic relationship with US Olympic wrestlers Mark and Dave Schultz (Tatum and Ruffalo).
Carell is said to be uncharacteristically chilling and close to unrecognisable in look and manner. Though having a prosthetic nose a la Nicole Kidman in The Hours (2002) might be helpful. The Aussie actress won her first Best Actress Oscar with that movie.
Tatum has also wowed with his subtle performance as the isolated Mark, which makes it interesting to see who will be in the running for Best Actor or Best Supporting Actor race.
Whatever the outcome, Miller is no stranger in getting some nods for his actors. Brad Pitt and Jonah Hill received Best Actor and Best Supporting Oscar nominations respectively for Moneyball (2011), while the late Philip Seymour Hoffman won his Best Actor Oscar for Capote in 2006.

This article was first published on Sep 24, 2014.
Get The New Paper for more stories.