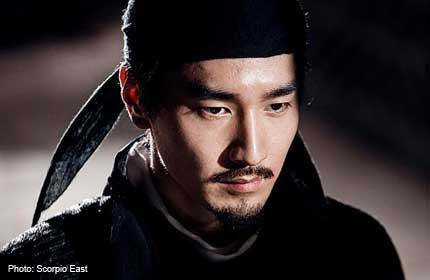 For the movie Young Detective Dee: Rise Of The Sea Dragon, actor Mark Chao has some rather big shoes to fill.
His role of the Tang dynasty investigator Dee Renjie was previously played by an actor of Heavenly King status, no less: Andy Lau. And the veteran idol turned in a relaxed performance in the award-winning mystery thriller that was Detective Dee And The Mystery Of The Phantom Flame (2010).
But, disingenuously or not, Chao, 29, professes: "I hadn't thought about the pressure that came from Andy Lau da ge (big brother) putting on such a good performance."
Dressed in a sharp get-up of blue blazer, cream pants and tan loafers for the press interviews in Hong Kong for the new movie, he looks the part of the rising hot actor.
Rather than radiating supreme confidence or youthful arrogance, however, he comes across as humble and genuine.
His comment about not having considered Lau's earlier performance as Detective Dee is not a dismissal.
Instead of worrying about something over which he had no control, his concern was simply to do a good job with the character in Young Detective Dee, a prequel to the 2010 movie. Young Detective Dee opens in Singapore tomorrow.
It probably helped him as well that Hong Kong director Tsui Hark, 63, who helmed both movies, did not want a replica of Lau's portrayal in the first movie, which won six Hong Kong Film Awards.
As Chao recalls: "He wanted a Dee that is different from Lau's, more light-hearted, less serious, with a sense of humour."
Young Dee is also more human because he is fallible. In the film, which begins with an attack at sea on a naval fleet, supposedly by the Sea Dragon, Dee gets help from young doctor Shatuo (Lin Gengxin), as well as help and hindrance from Supreme Court official Yuchi (Feng Shaofeng).
Young Dee is not as skilled as Yuchi or "as blur and adorable" as Shatuo, Chao points out.
Furthermore, he adds: "The director doesn't want this to be a regular or ordinary smart person, but someone who's a little eccentric, even to the point of being off-putting. And yet be charismatic at the same time."
This was certainly quite a tall order. And for all the differentiation in character that Tsui was looking for, Chao adds that he was not sure exactly what the veteran director, whom he calls lao ye (a respectful term of address, usually referring to a lord or master), wanted.
"He gave me a lot of leeway and didn't say too much to me. And I didn't know if I was doing a good job or not."
Regardless, he is not worried about criticisms or coming off badly in comparison with Lau: "The two films are not quite the same. People can say what they like, I've done my best and given 100 per cent."
Doing his best meant enduring an ear inflammation and nose bleeds for the tough underwater scenes he shot as Dee goes in pursuit of a half-man-half-monster creature.
Even now, he brushes off those ailments. "No problem with period action flicks, but I guess I'll be more careful when it comes to filming underwater," he says lightly.
His sense of professionalism is evident in his eagerness to learn from more experienced actors such as his Young Detective Dee co-star Carina Lau, 47, who reprises her role as the formidable Empress Wu Zetian.
In fact, Chao sounds awestruck when he says: "She's really beautiful and has this great magnanimous spirit."
What if he had to film an intimate scene with Lau, whom he calls Jialing jie, or Big Sister Carina?
He playfully draws a sharp intake of breath as if awestruck by the very thought of it and then says calmly: "An actor has to be professional and take his cue from the director and script. So I wouldn't have any difficulties in doing it."
On her part, she had reportedly said he was shy.
He admits that he is not good at socialising or taking the initiative to be chatty. "Besides, Jialing jie is a senior actor I respect, so I was very polite towards her," he adds.
His humility is refreshing given his meteoric rise to fame.
The son of singer-actor Allen Chao Shu-hai, 62, who was born in Taiwan and grew up in Canada, he told the South China Morning Post in an interview that he did not think about becoming an actor until he returned to Taiwan after graduating with a degree in economics from the University of Victoria, Canada.
He went for an audition and did not get the part. But before he left, he met the director of Black & White, Tsai Yueh-hsun, who offered Chao a part in the 2009 television cop drama.
Black & White, which was hugely popular, marked his debut and gave him the Best Leading Actor prize at the Golden Bell Awards, which is like Taiwan's Emmys.
Big-screen roles beckoned after that. He was named Best New Actor at the 5th Asian Film Awards for playing a gangster in Monga (2009) while Love (2012) and The First Time (2012) cast him in romantic leading man roles.
The drama So Young (2013) stretched him in a different direction with the character of an ambitious and nerdy China university student - a role he was hesitant to take on.
"I was born in Taiwan and grew up in Canada, and I have a Taiwanese accent when I speak Mandarin, but the role is a student who was born and raised completely in China. I didn't think the audience would accept me," he had told Life! earlier this year.
Indeed, he has a self-deprecating sense of humour that can be quite charming.
When it is pointed out that the character of the arrogant Dee was far removed from his own, he deadpans: "Personally, I'm a humble, polite, low-profile and all-round excellent youth."
One could add "forthright" to the list of his qualities.
Asked if he would be open about it if wedding bells were on the cards for him and China actress Gao Yuanyuan, 33, whom he is dating, he replies: "I can't think of a reason to hide that."
On both professional and personal fronts, it seems like the actor is in a good place.
With the role of Dee Renjie, Chao might have stepped into Andy Lau's shoes, but he wants to forge his own path as an actor instead of hankering after someone else's career path.
The next role he would like is "a meaty villain role, because I can't quite imagine it and neither can anyone else".
He muses: "My future direction is my own path. My way of doing things and attitude towards doing things are not quite the same as others'."
bchan@sph.com.sg
Young Detective Dee: Rise Of The Sea Dragon opens in Singapore on Sep 27, 2013.
Get a copy of The Straits Times or go to straitstimes.com for more stories.