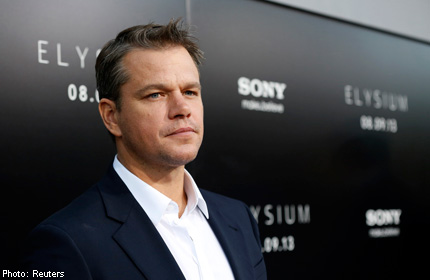 When it comes to being rich and famous, Matt Damon is a little conflicted - and maybe in a bit of denial too.
The source of his angst is largely the "rich" part. The A-list actor and star of the Bourne and Ocean's franchises is believed to have a net worth of about US$65 million (S$82 million), and this sometimes sits uneasily with his political ideals, which have made him an outspoken advocate for various political and humanitarian causes promoting social equality.
One of the biggest challenges, he says, is trying to ensure that his four daughters - who are aged three to 15 - grow up with the same progressive ideals that he did.
The added irony is that he is worrying about all this while ensconced in the plush suite of a Beverly Hills hotel, where he was recently promoting his new movie Elysium.
The movie by District 9 director Neill Blomkamp, which opens in Singapore tomorrow, imagines a future in which the super rich have abandoned the planet, which is now irretrievably overpopulated, polluted and diseased.
They live instead on a luxurious orbiting habitat called Elysium, which the poor can gaze upon from Earth, but are shot at or arrested if they try to enter.
It holds up a mirror to similarly insulated communities today that regularly turn the rabble away from their doors - a fact that is not lost on Damon, who tells Life! that he can relate to the desire to live in such places.
"And those gated communities beget more gated communities," he says, referring to exclusive residential areas in the United States that restrict access to outsiders. "The more division there is, the more fear there starts to be of the thing outside your gate."
The 42-year-old, who has campaigned on behalf of US public schools and teachers, adds: "That was what was great about the public school system in America for so long - everyone went to school together, and that did more to break down those economic barriers than anything else, because it promoted true community and citizenry.
"But now you've increasingly got people of privilege pulling their kids out of that system, me included. And that automatically kick-starts this cycle of 'Well, wait a minute, maybe I should put up a bigger wall outside of my house'."
His admission that he puts his children in private schools has attracted criticism from media pundits and politicians such as former Florida governor Jeb Bush, who recently accused Damon of hypocrisy.
But the actor - who stumped for President Barack Obama in 2008 but later criticised him for going back on his campaign promises - has defended what he says was a very difficult decision for his family.
He did it, he has said, to give his children the kind of progressive education that most closely matches the one he had, but which no longer exists in US public schools.
Asked whether he is concerned that his daughters with Argentine-born wife Luciana Barroso, 37, will be raised with the same values, he says: "That's a really good question. My wife and I talk about it a lot, and we're convinced that the answer is going to be travel - just taking them to these (less privileged) places and trying as best we can to give them a sense of the world that they live in, and their place in it."
This was the approach of his mother Nancy Carlsson-Paige, a professor of early-childhood education who raised Damon in a leftist commune in Boston in the 1970s after she divorced his father.
"She did a really great job with that," he says of Paige, who once told reporters that she was horrified at seeing her son in glossy magazines "being used to sell products" and as "just a cog in the capitalist system".
Damon recalls: "Once I was a teen, she started taking me to Mexico and Guatemala, into these rural areas where conditions were pretty rough, and just let me see it and experience it and talk to kids my age there. I think that's the best chance you have at trying to give a kid a sense of the world they live in.
"Because I can't take away the fact that they're privileged," he says of daughters Isabella, Stella and Gia, and stepdaughter Alexia, from Barroso's previous marriage.
"And I don't want to - I'm happy that they don't want for anything. But I do want them to understand the world that they live in, and how it works, and what their responsibility to it is."
Of course, he himself has not wanted for much lately, having found success at a relatively young age.
He was just 27 when he and childhood buddy Ben Affleck, 25, won the Best Original Screenplay Oscar for their 1997 film Good Will Hunting, a comedydrama about a Harvard University janitor who turns out to be a mathematics genius. Hollywood lapped up both this fairy tale and their real-life one: the story of two starry-eyed Boston boys who wrote their own movie, and then somehow convinced a studio to let them appear in it.
Each went on to have a big career. But while Affleck would briefly stumble - becoming a tabloid target because of his relationship with singer Jennifer Lopez, and an object of ridicule for box-office flops such as the 2003 film Gigli - Damon rarely put a foot wrong. He went on to appear in two successful franchises, headlining the first three Bourne movies (2002-2007) as the amnesiac spy Jason Bourne, and appearing in Steven Soderbergh's trilogy of star-studded Ocean's capers (2001-2007).
At the same time, he also did smaller and more thoughtful projects that burnished his credentials as a serious dramatic actor, among them The Talented Mr Ripley (1999), The Departed (2006), Invictus (2009) and Soderbergh's much-lauded new television movie, Behind The Candelabra, in which he plays the performer Liberace's gay lover. Behind The Candelabra also opens in Singapore tomorrow (see review on Page C3).
While Affleck dated actresses such as Gwyneth Paltrow and Jennifer Garner, eventually marrying the latter, the less flamboyant Damon fell in love with Barroso, a waitress and single mother he met at a bar in Miami and married in 2005.
They settled into family life and had three children of their own, who along with Barroso are rarely photographed - unlike Affleck, Garner and their three young children, who are a permanent fixture in US supermarket tabloids.
That may change, however, with the Damon family's recent move from the East Coast to Los Angeles and into a house up the street from the Afflecks. The move was undertaken for reasons both personal ("to just give our kids a yard and be down the street from Ben and his kids") and professional - he wants to work again with Affleck, with whom he shares a production company.
"When he won Best Picture," he says of his friend's Oscar-winning film Argo, "I was like, 'We really have to get some offices!' "Because we're in a good position: We both write, he directs and I want to direct, we both produce and we both act. So we should be able to aggregate a lot of really good material, We're just going to have to find a space to hang our shingle and do it," says Damon, who will next appear in the upcoming World War II drama directed by George Clooney, The Monuments Men.
The actor is oddly confident that he will be able to keep himself and his family out of the spotlight - a belief that seems to be based on a degree of denial about how famous he really is.
The roomful of Los Angeles-based reporters do not share his confidence that he will be able to avoid the city's notoriously persistent paparazzi, especially given his new address, which he reveals is a stone's throw from where "there are five to six cars sitting outside Ben and Jen's driveway every day".
"It's these people's full-time job, and it's her," he says of Garner, a 41-year-old actress best known for the TV series Alias (2001-2006) and movies such as Daredevil (2003) and Juno (2007).
"Ben explained it to me one night: She moves magazines in the Mid-West that you've never heard of, but those women readers are interested in her as a mother and want to know what she's up to, what she's dressing the kids in... So that completely changes everything for them.
"I was very lucky that I married Lucy," he goes on. "Because when two actors marry each other, the interest just becomes exponentially greater. Ben has a more colourful past, and what sells these magazines is always scandal or sex or anything like that.
"Whereas our narrative is considerably more boring," he insists. "Unless we did something that messed that up, there's not a story. I'm more a target of opportunity - if somebody's already there and they've got their camera, they'll take a shot." Eventually, he clocks the smiles of disbelief around the table.
"Look, I don't think it'll get bad for us, but if it does, I'll turn around and go home. I'm not doing that."
stlife@sph.com.sg

Get a copy of The Straits Times or go to straitstimes.com for more stories.