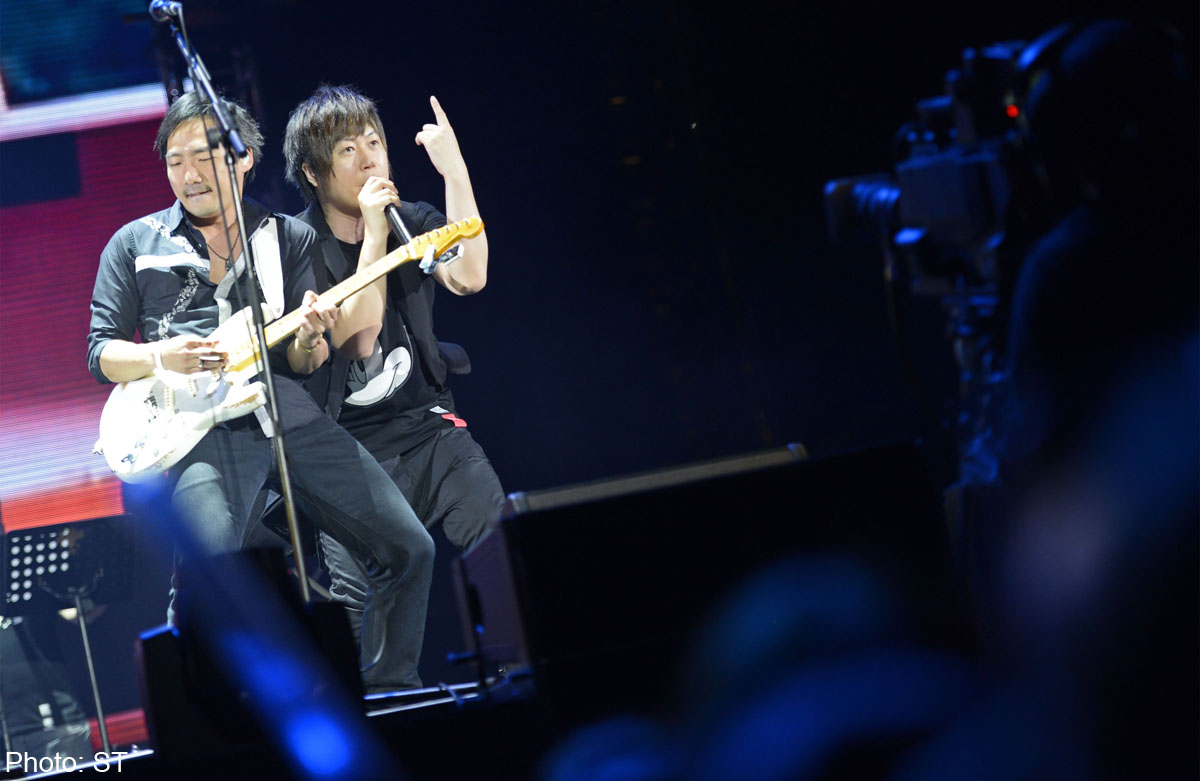 You can count on Taiwanese band Mayday to wind up the crowd when the racing winds down.
The roar of engines at the 2014 Formula 1 Singapore Airlines Singapore Grand Prix had subsided but the quintet soon had the crowd of 40,000 roaring in approval when they came on at 11.10pm at the Padang on Friday.
They kicked things off with a string of fast-paced rock tunes such as OAOA and Sun Wukong. Stageside fireworks fired up the crowd even more as they went off from time to time.
Then, like a racer taking a bend, they slowed things down for their first ballad Starry Night.
As lead vocalist Ashin crooned, coloured lights played across the stage as though the aurora borealis was dancing before our eyes.
Five songs into the set, he greeted the lightstick-waving fans and announced: "Treat this as a large-scale Mayday concert."
This flagged off the massive live karaoke session as the crowd chimed in on I'm Not Willing To Let You Be Alone.
Mayday are regular visitors to Singapore and their last concert here was at Singapore Indoor Stadium last June (2013). At their dedicated shows, the sets and effects are fancier. The last time round, the specially designed lightsticks were even programmed to sync with the songs.
The F1 gigs are more stripped-down affairs but in a way, the back-to-basics vibe can be just as entertaining. All you need is an act with a huge catalogue of hits and one that is willing to go all out. Mayday are known for doing that, once turning a free showcase here, for those who bought their CD, into a full-on two-hour-plus set.
On Friday night, they played for close to two hours, dishing out hits old and new from Tenderness to Battle Array Song to Sad People Don't Listen To Slow Songs.
To rev up the crowd, Mayday packed the set with their faster-paced numbers such as Jump and DNA and the audience showed their L.O.V.E. for the band during the fan favourite In Love-ing.
At first, on the uptempo tracks, the guitars could clearly be heard but the vocals sounded rather murky. Things improved as the night wore on. Either that, or I had become used to the sound mix.
Apart from Ashin, looking fuller in the face, holding court, the other members of the band also had a chance to shoot the breeze with their fans.
Guitarist Stone won the crowd over with his attempt to speak in English: "We're really exciting today because there's a great race there."
And for those encountering the band for the first time, he urged them to check out Mayday on Google and YouTube.
To those who were late to the Mayday party, Ashin quipped: "What were you doing before today?"
Bassist Masa, whose idea of Singlish seems to be Filipino-accented English, kept it short and sweet. Guitarist Monster hoped that "we won't lose out to the roar of the engines tonight" while drummer Guan You called Singapore a second home, a sentiment the band had expressed before.
Ashin said at one point: "Do you miss Mayday a little? After we finish all our songs, you'd miss us even more."
Right on cue, The group performed the hit ballad Suddenly Missing You So Much during the encore. No doubt fans will be feeling that way soon enough.
bchan@sph.com.sg

This article was first published on Sept 22, 2014.
Get a copy of The Straits Times or go to straitstimes.com for more stories.