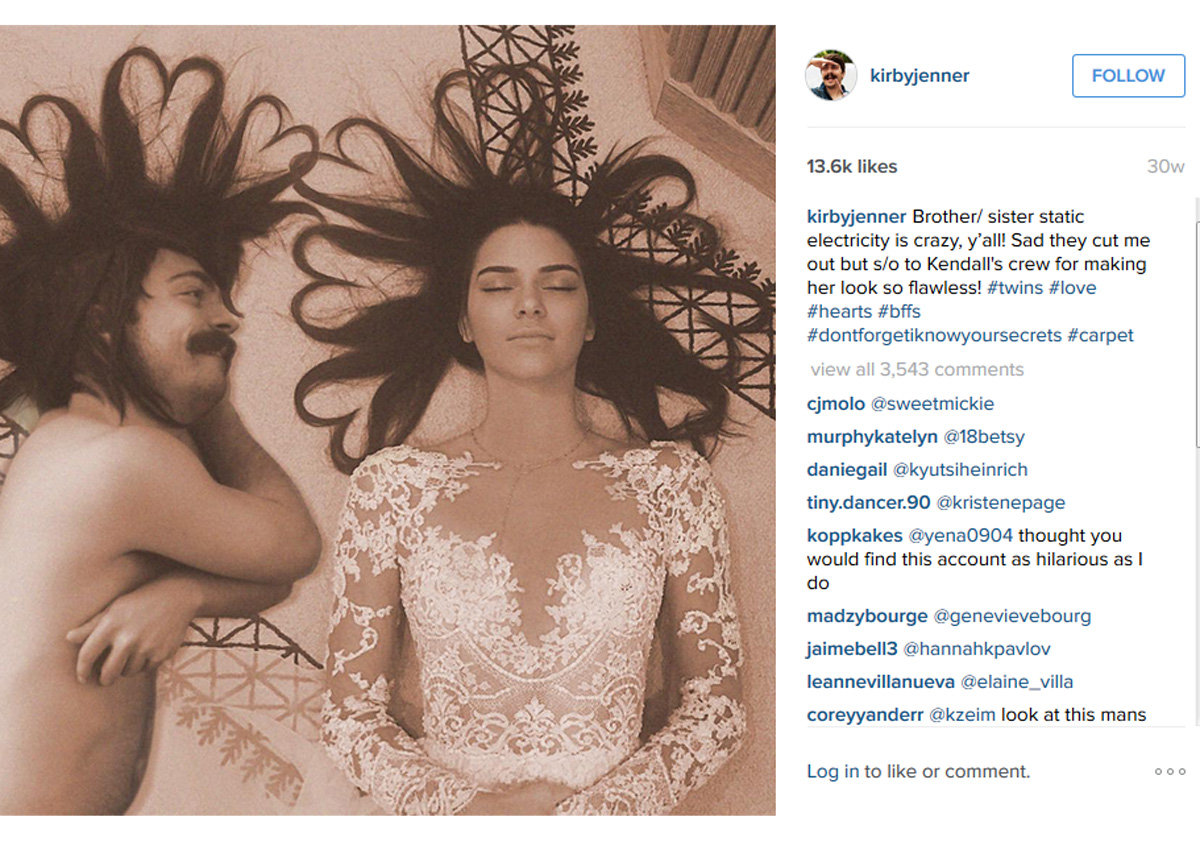 She is one of fashion's current 'It Girls' and part of US reality television's most famous family, the Kardashians, whose members are well-known for showing off their flamboyant lifestyles on camera.
But how was it ever missed that Kendall Jenner has a 'fraternal twin brother'?
Instagram user Kirby Jenner has been gaining attention for posting hilarious pictures of himself 'with' the supermodel. The doctored photos are actually digitally edited versions of Kendall's own Instagram photos, and often feature Kirby in ridiculous poses which mimic Kendall's.
The self-professed 'fraternal twin of Kendall Jenner' also describes himself as an amateur model on his Instagram profile.
With witty captions and creative hashtags (which sometimes make no sense), it is no wonder that his Instagram profile is becoming a hit online.
Since Kirby's first post about 30 weeks ago, his followers have increased in number to over 195,000. His latest three posts have each gained more than 20,000 'likes' on Instagram.
Not only does he digitally edit himself into Kendall's pictures, he also features himself in her videos.
One of the videos he used showed Kendall playing with a face-distorting effect on her camera. The digital imaging wizard managed to reproduce the video and include himself in the clip as well.
The Instagram star is so famous for his humour and digital editing skills now that he would probably still garner a strong following even if he ever grows tired of being in Kendall's photos. Still, it doesn't look like he's planning on stopping any time soon.
After all, he has already earned himself the coveted blue tick which verifies his public personality status on Instagram.
And while he might have more than 100,000 followers, Kirby is following just one person. No prizes for guessing who that is.
ssandrea@sph.com.sg