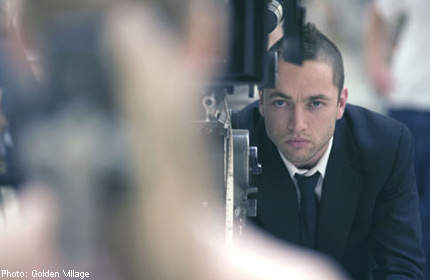 There is an extended nine-minute sequence in Metro Manila - Sean Ellis's Tagalog-language film about being down and out in the Philippines - where Oscar, the main character played by actor Jake Magapacal, is being plied with alcohol by his new colleagues on a boys' night out.
The scene is spliced with another showing Althea Vega, in the role of Oscar's wife Mai, dancing in a go-go bar and trying to ignore the clumsy advances of an alcohol-infused customer.
The scene resonates strongly with viewers (and also with director Ellis) because it makes a poignant statement - achieved entirely without dialogue - about the desperate plight of the couple, who have come from the provinces to the big city in hopes of a better life for themselves and their two young daughters. Instead, the indignities pile up for Oscar and Mai until they reach breaking point.
"That scene is the emotional spinal chord - a pivotal part of the film," says the Brighton-born, London-based Ellis, a former fashion photographer who co-wrote the screenplay with regular collaborator Frank E Flowers.
The scene also represented the make-or-break point for the filmmaker, who had arrived in the Philippines without securing financing for the film, investing US$60,000 of his own money to pay for the 35-day shoot.
Back home in England, he spent several weeks working on that single sequence. "I believed that if I failed to deliver on this, then I was prepared to dump the whole thing - it was important to make sure it was firing on all cylinders," says Ellis, who had hoped to raise about $250,000 in total. "I couldn't get anyone to finance it - I came back with a film but had no post-production budget. It was a big gamble but I showed a rough cut and got people excited."
The rest, as the saying goes, is history. The rough cut was convincing enough to drum up about $600,000 in additional financing, which went into sound design, special effects, music score and other technical aspects. "It was finished the same way you'd finish a Harry Potter movie," says Ellis in a telephone interview from Cognac, France, where he has a home.
Metro Manila won an audience award at the Sundance Film Festival this year and last week, it was selected as the British entry for foreign language film at next year's Academy Awards. Perhaps more significantly, Ellis, 42, will be in Manila when the film opens there on Oct 9, showing on a hundred screens.
The big opening in the Philippines means everything to Ellis. "I wanted Filipinos to be as proud of it as I was," he says. Metro Manila is the director's third feature length film - and first release in five years - and it was important to make a film that was well-received, he adds.
"That's why I took so much care over it; I'm very interested in what's exotic. When you look at the film, you realise you're not that different - the movie is culturally specific but there are universal themes." There are great stories to be told in Asia, says Ellis, who was in Singapore recently to check out production facilities.
By coincidence, he also met local filmmaker Anthony Chen (who has also fared well on the festival circuit with Ilo Ilo, his own take on the Filipino experience) last week at a European film festival.
Ellis doesn't speak any Tagalog, and that's why the editing process took nine months. "I find it liberating as a filmmaker (working in a foreign language) because I can see the acting," he says. "It's not what people say that's interesting, it's what they're not saying - great cinema is showing, not telling."
He says he was bored with British heist movies and gangster films and wanted to make something different. "I kind of took the spirit and transposed it to a place I hadn't seen before - it's something fresh," he says. Audiences have connected with the film and as a result of the positive response Ellis has attracted attention from the big studios and is now slated to helm a big-budget action-rescue movie, due to start shooting early next year. "I guess I'm employable - people are going to trust me with money."
Then it's back to somewhere in Asia to make another small, personal film, says Ellis, whose cinematic influences run the gamut from David Lean and Alfred Hitchcock to Stanley Kubrick, Ridley Scott and Michael Mann, and who compares making movies to a 12-round boxing match. "It's tough, and you're going to get beaten up," he says. "It's a very physical thing that has a lot of emotional impact. It's not your normal nine-to-five job and there's so much at stake - it's your future in the industry."
The chances of a Tagalog-language film making it in the international arena are - to say the least - slim, but Metro Manila has beaten the odds in style. "It's been a fantastic journey," says Ellis. "I could hope but I couldn't imagine that it would happen this way.
"What I've noticed in my career as a photographer and filmmaker is that the people who succeed are not necessarily the ones who are the most talented - it's the ones who keep doing it and learn their craft from the bottom up." He adds, "As someone once said, 'The harder I work, the luckier I get."

Get The Business Times for more stories.