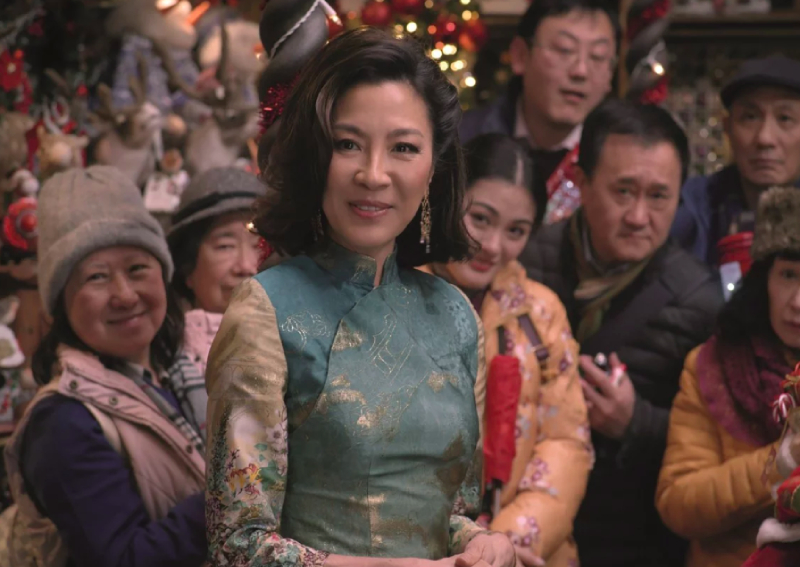 Things are changing fast in Hollywood for Asian actors, and it's about time, says Michelle Yeoh.
The Malaysian-born actress, who made her name as a Hong Kong action heroine in the mid-1980s, stepped back into the international spotlight with her performance in Crazy Rich Asians, the hit romantic movie she credits for Asian performers' increased opportunities in American film and television.
"It's been a long time coming, so let's not make it a one-hit wonder," Yeoh says in New York ahead of the release of her latest film, Last Christmas, a light romance inspired by the Wham! hit of the same name.
"There have been changes in Hollywood, and you can definitely see more Asian faces on the screen."
Those changes are evident in the casting for Last Christmas, which also features her Crazy Rich Asians co-star Henry Golding.
"If those changes hadn't happened, you would not be seeing Henry as a romantic leading man in Last Christmas - he would have been overlooked for sure. Things are looking better for Asians in Hollywood and that is the way to go," she says.
As Captain Philippa Georgiou, the central character in the television series Star Trek: Discovery, Yeoh plays a starship captain in one of the world's most respected franchises.
She likes the role, as it reminds her of her action work in Hong Kong - she gets to beat guys up again, she says.
Yet, says Yeoh, it should not be a big thing to see Asian faces in Western movies and TV shows, so it's good to be getting to the point where each appearance is not a cause for celebration.
"Doors were always closed to us, and Asians were not represented in the proper way - like a lot of minorities, we were stereotyped and shown in a cliched way. The fact that things have changed means that the audiences are demanding that things change. That's important, as change will only occur if the audience wants it to happen," she says.
"We are not asking to be treated in a special way; we are just saying, 'Give us an opportunity to go for the same things as non-Asians'," Yeoh says.
"Change has to be deep and wide-ranging, and it's not just down to Asians to make the changes. We need the studio heads to change, and we need more women writers, too, so there is a real equality."
Yeoh says she and the Crazy Rich Asians cast were surprised the 2018 movie had such a positive effect.
"When we started the film, everything was stacked against us. We were worried that, if it didn't work when it came out, it would set us back. But fortunately Jon Chu made a fabulous movie. It took the breath away of so many people and gave them a taste of the crazy rich in Asia," she says.
Producers have always been more willing to accept Asian-themed films that were set in the past, Yeoh notes. "Crazy Rich Asians was the first all-Asian cast since The Joy Luck Club in 1993. Spielberg tried to correct that when he produced Memoirs of a Geisha, and we also did Crouching Tiger, Hidden Dragon.
"If the films are set in the past, there is a bigger reason for having all the Asians grouped together. Crouching Tiger is a period piece, so there is a reason for it to be a large group of Asians. But why should there have to be a reason like that to have a group of Asian actors in a film?" she says.
Yeoh's character in Last Christmas is an eccentric woman who runs a Christmas decoration shop in London. The store is the backdrop for a romance between the film's two stars, Golding and Emilia Clarke, best known for her role as Daenerys in Game of Thrones.
Clarke's character, Kate, works in the shop while having an on-off relationship with the pleasant Tom, played by Golding.
When Yeoh was offered the role in the film, which was co-written and produced by Emma Thompson, she felt that the character was a little too stereotypical. But after discussions with Thompson she adapted the role, she says.
"She was originally written with a heavy Chinese accent, and I felt that was a bit of a stereotype," Yeoh recalls. "I really wanted to stay away from that. She was a character that really needed to have her own defining characteristics, so I made her wholly about Christmas - she really loves Christmas, and she has named herself Santa.
"She gives love to everyone who comes into her shop - she is no-nonsense and straightforward, but she is still quirky. It was interesting for me, as her character was nothing like me at all - it was certainly not Michelle." It was also a comedic role. "It was gratifying to hear that people found it really funny," she says.
Golding, who plays the romantic leading man in the film, says that he enjoyed the role of Tom because he did not have to be self-consciously Asian - he was a leading man who just happened to be Asian.
Golding's research for the role ranged far and wide, and included screen legend Grace Kelly, whose elegant demeanour impressed him.
"It was amazing to be able to portray such a whimsical character. Tom is an amazing breath of fresh air," he tells the Post. "He's everybody's best friend, and he has a lightness to him. He has the kind of energy that everyone would want to have on a gloomy day in London - he injects life into everything, as he has a lot of life in him.
"At the same time, he yearns for something, and finds something in Kate. There's an inner yearning for what Kate can give him," adds Golding of Clarke's character.
Tom is very different to Nick Young in Crazy Rich Asians, Golding says. "Nick Young had a weight on his shoulders, as he was brought up in high society. He was taught from a young age to act regally and be a gentleman.
"But I think that comes naturally to Tom, he's a nice guy by nature. His family are working class and he makes a living as a delivery man who delivers portraits, so he's blue collar, and he creates stuff to alleviate the monotony of his daily life. He has no anchors, like Nick does.
"Both of them are ideal leading men in very different ways. Nick is a storybook Prince Charming and Tom is a slightly mischievous street urchin, who is much more grounded."
Although Golding has quickly become something of a role model for Asians in Hollywood, he says that is not the way he defines himself. "I just want to be myself and represent the values that I want to uphold," he explains.
"I want to be a leading man, and if that means that I fall into a certain area, that will hopefully bring out the best of my abilities. I'm proud to say that I'm Asian, but I don't want to categorise and limit myself."
This article was first published in South China Morning Post.