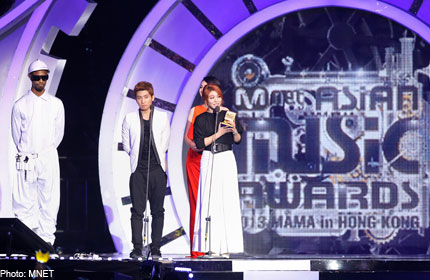 It was a night to remember. The 2013 MNet Asian Music Awards (Mama), held on Friday in Hong Kong, saw the likes of Rain and girl group 2NE1 return to the stage in a big way.
But it may have been the sweetest night of all for a star who, just last week, was caught up in a potentially careerending scandal.
Singer Ailee, 24, clinched the Best Vocal Performance (Female) award.
Her nude photos from an old photoshoot had been leaked online. Despite this, her fans voted furiously in the last week to get her the win over popular singers IU and Lee Hyori.
The demurely dressed Korean-American singer bowed to the audience and fellow artists before accepting her award.
"I'd like to thank every... fan who (has) been with me every step of the way, thanks so much," she said in English.
A day before the awards, Ailee was also in the lead for Best Female Artist, but lost to the more experienced Lee Hyori, who made her return this year after a song-plagiarism scandal forced her to put her music career on hold in 2010.
Rain's Return
One of the highlights of the four-hour show was the long-awaited comeback of singer Rain, who ended his 21-month stint in the military in July.
Clad in leather shorts and black leggings, the 31-year-old ran through some of his greatest hits, including It's Raining and Hip Song, while the girls of APink and Girls' Generation's Hyoyeon sang along in the audience.
Girl group 2NE1 were also on hand to remind fans they are back with new music - the single Missing You.
Early in the show, one comeback performance had fans gasping - duo Trouble Maker lived up to their name when members Hyuna and Hyunseung shared a kiss on stage, with Hyuna returning later to embrace Hoya from boy band Infinite.
Among those who were fighting for trophies after a year's worth of hit music videos and songs, it was Big Bang leader G-Dragon who swept it all, taking home four awards, including Artist of the Year.
"I am speechless and thankful," he said.
The rest of the night's spoils were split among the younger groups, notably rival boy bands Infinite and Exo.
Infinite took home Best Male Group, but disappointed Exo fans saw their idols clinch the award for Album of the Year.
The 12-man group, who performed at last year's awards as upstarts alongside elders Shinee, had the stage all to themselves this year to show off their hits Growl and Wolf.
In a night of several collaborations and celebrity appearances - Paris Hilton was also on hand to present an award and to deejay - it was Sistar's Hyorin who landed the sweetest guest spot of the night, helping special guest Stevie Wonder in a medley of his hits.

Get The New Paper for more stories.