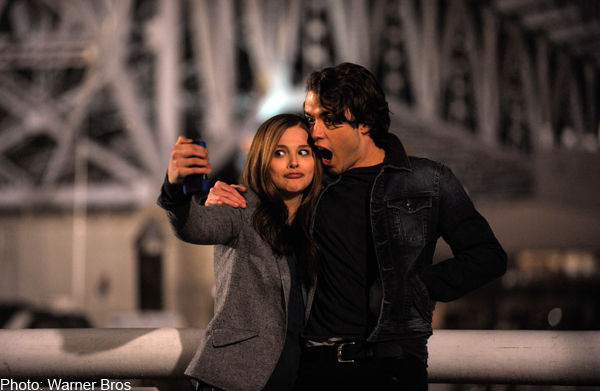 STARRING: Chloe Grace Moretz, Jamie Blackley, Mireille Enos, Joshua Leonard
DIRECTOR: RJ Cutler
THE SKINNY: Cello prodigy Mia (Moretz) falls into a coma after a car accident that also puts her family in the hospital. Now a wandering spirit, Mia thinks back over her past, trying to decide if the world is worth living in without her loved ones. Aside from her music, her rocker boyfriend Adam (Blackley) is the only thing that might lure her back to her broken body.
RATING: PG13
I dread having to go to movies that I know will make me cry.
Being moved to tears by a moment of beauty is one thing; crying because something is just sad is another.
That said, I'm glad I saw If I Stay.
Blubbering is cathartic, and in the end, it's much more than just some mawkish weepie.
The thing I loved best about the film was the intrinsic role music plays in the drama.
Moretz is a cellist. Her boyfriend Blackley is a rocker. Her father was a rocker. Her mother was a groupie.
The whole films is saturated with music, from Beethoven to Blondie.
I happen to like both, so yay!
At one point, Moretz and her boyfriend go to a Halloween party, and when I saw Hit-Girl dressed as Debbie Harry there was no way I wasn't going to love this film.
When Moretz thinks back to her happiest moment, it's a backyard barbecue during which she jams to the Smashing Pumpkins' Today with her friends and family.
There's no way I'm not going to adore that.
Basically I really appreciate the central thesis of the story, which is that music makes life worth living.
I can't think of many films that convey this idea quite so clearly and powerfully.
It's a message I can't hear often enough.
THE CONSENSUS: Some will be touched, others will feel manipulated. Either way, be prepared for tears.
jjohnson@sph.com.sg

This article was first published on September 10, 2014.
Get The New Paper for more stories.