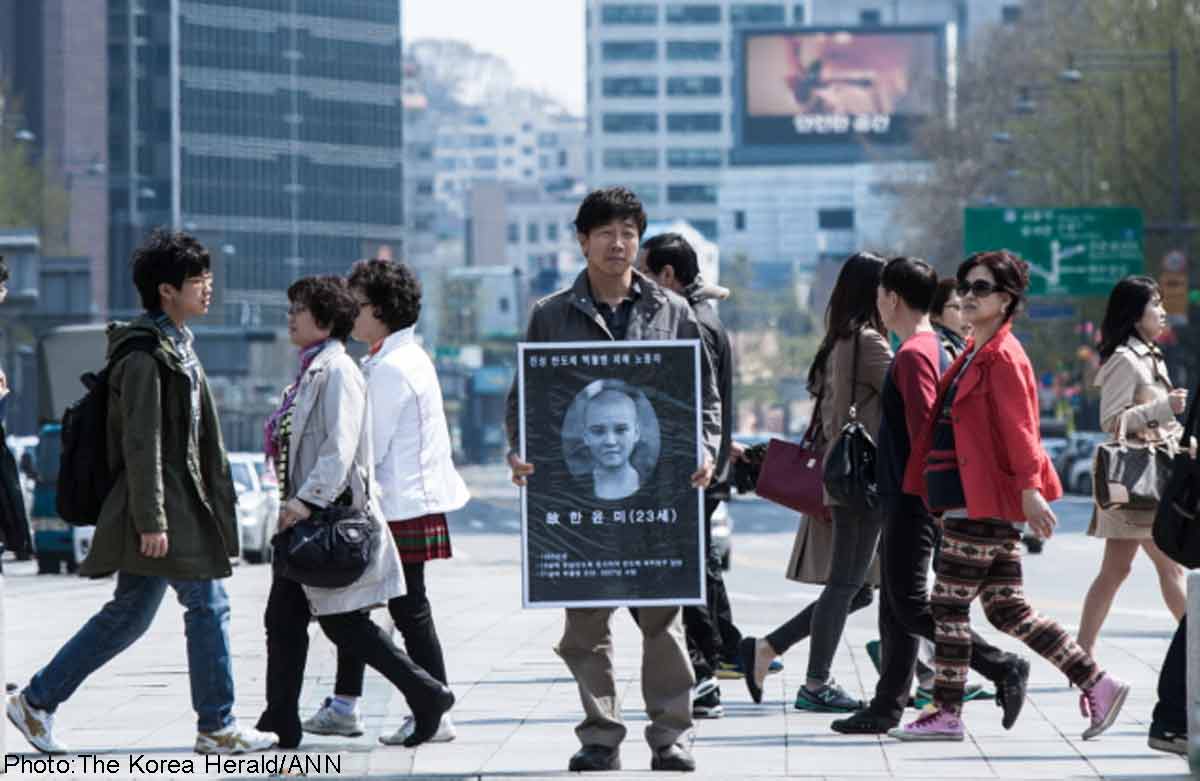 SEOUL - A film based on the death of a Samsung Electronics employee was released in South Korea on Thursday, with its producer complaining of difficulties in securing screens despite high viewer interest.
"Another Promise" is a fictionalised account of the story of Hwang Yu-Mi, a real-life employee who died in 2007 of an acute form of leukaemia after working for four years at one of Samsung's semiconductor plants.
Her father Hwang Sang-Ki believes her condition was caused by her daily exposure to harmful chemicals at the plant - a claim strongly rejected by both Samsung and the Korean Workers' Compensation and Welfare Service (KWCWS).
The father and relatives of two other workers who died of the same illness filed lawsuits and lower courts have ruled that toxic chemicals at the plant were linked to their cases.
The KWCWS has appealed the court rulings.
For legal reasons, Samsung is not named in "Another Promise" which instead revolves around a fictional company called Jinsung. The title of the film is a clear echo of a well-known Samsung slogan "Another Family."
Samsung is a corporate behemoth with interests across a vast range of commercial and industrial sectors.
The film was well received at last year's Busan Film Festival, but despite strong advance ticket sales, it is only being shown on 100 screens nationwide - a third of the expected number.
"It's quite a mystery that movie theatres are reluctant to put the film on in light of the high viewer interest", Kim told AFP.
It is the first South Korean film to be entirely financed by private donations and crowd funding, and Kim admitted people had warned him the project would run into difficulties because of the controversial subject matter.
"Friends and colleagues told me not to do the film, saying I would have problems finding investors and actors and actresses," Kim added.
A Samsung spokesman said Thursday that the company had no comment to make on the movie.
In the past six years, 39 Samsung Electronics employees have filed compensation claims with the KWCWS for job-related illness, according to industrial health rights activist Lee Jong-Ran.
Three were successful, 15 are still under review by the agency and 21 were rejected, Lee said.
In a previous statement, Samsung has pointed to independent studies that found no link between its workplace environment and employee illnesses.
It says the company has a team of trained and credentialed employees that maintains a "world-class" health, environment and safety infrastructure to ensure state-of-the-art practices in chemical management.