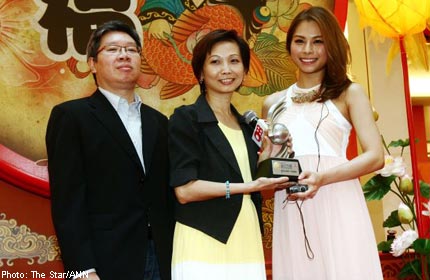 PETALING JAYA, Malaysia - Malaysian singer Gin Lee is only among a handful of local artistes trying to carve out a niche for themselves in the showbiz scene in Hong Kong.
Lee, a Johor Baru native, said it was not easy for her to stand out among the other established artistes in Hong Kong, which is one of the busiest Chinese showbiz capitals.
"I think this is what made Malaysians notice me when I won some awards there last year," said Lee on her winning the vote as the Best Performance Artiste of Malaysia by local listeners.
Lee said the award was a surprise for her as she had considered herself already having a fruitful year in 2012 by winning two Hong Kong Metro Radio Hit Music Awards for Hit Popular Singer and Hit New Media Song as well as releasing an album.
The demure-looking 26-year-old edged out 18 other Malaysian artistes in the 13th Global Chinese Music Awards (GCMA), hosted by local Chinese radio station 988.
988 marketing manager Woo Bee Ay said the GCMA was one of the biggest Chinese music awards.
The annual awards, which first started in 2000, see the participation of seven affiliated radio stations in Asia - Beijing Music Radio, Shanghai Dong Gan 101 and Music FM Radio Guang Dong (China), Taipei Pop Radio (Taiwan), RTHK (Hong Kong), Yes 933 (Singapore) and Malaysia's own 988.
"Each region hosts the awards and it is Malaysia's turn this year," she said after 988 presented Lee with her trophy at Tropicana City Mall here yesterday.
Also present were 988 programme director Lim Tock Peng and Tumasek Pewter general manager David Tan.
At the ceremony, the GCMA trophy, made by sponsor partner Tumasek Pewter, was also unveiled with Lee as its first recipient.
The actual awards night will be held on Oct 5 at the Putra Indoor Stadium in Bukit Jalil.
Woo said artistes like Joey Yung, Raymond Lam, Twins, G.E.M Tang Zhi Kei, Adason Lo, Wei Li An and IO Band will be there.
They will join Malaysian stars including Penny Tai, Michael Wong and Gary Chaw, and will be dressed according to the awards' theme of "punk fantasy".
For more information, go to www.ticketcharge.com.my or www.988.com.my. 988 is part of Star Rfm Sdn Bhd, which is Star Publications (M) Bhd's radio subsidiary.