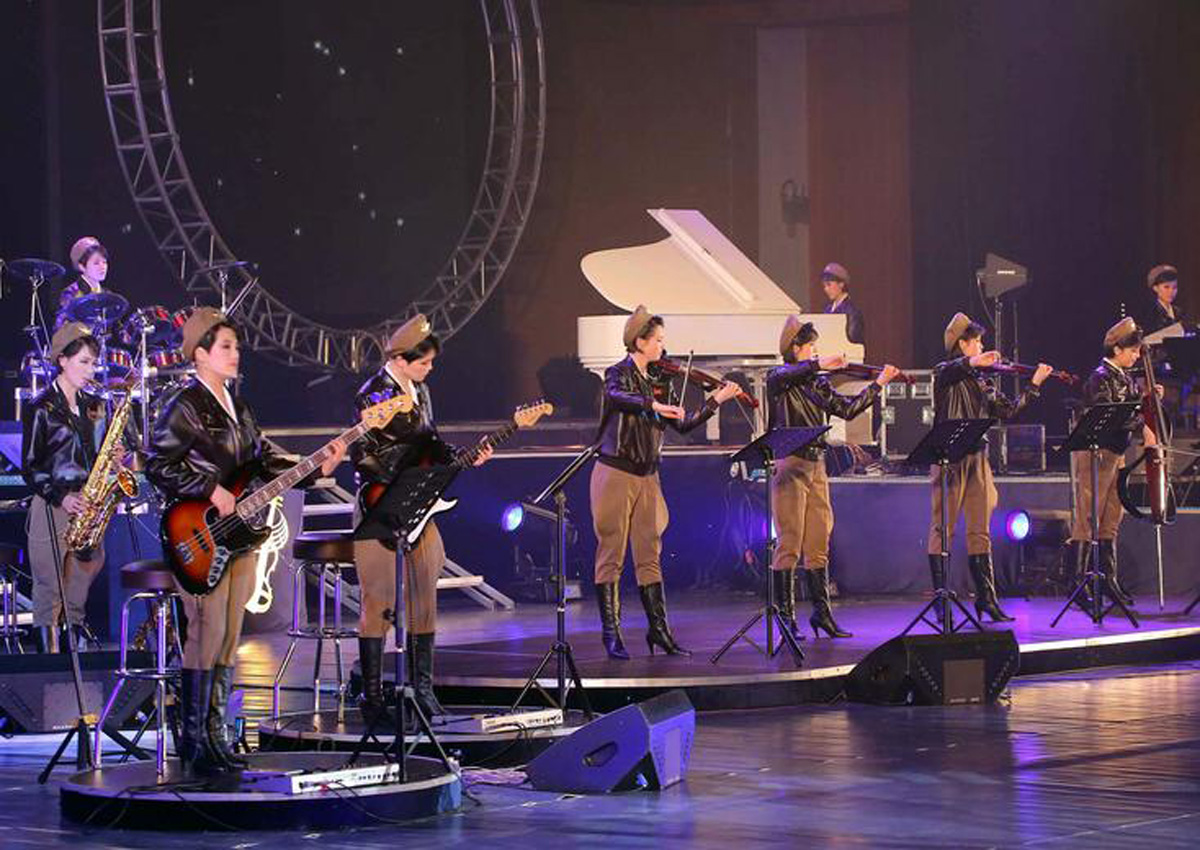 North Korea's No. 1 pop group Moranbong is set to perform in China over three days, its first concert outside the reclusive country.
The all-girl band, whose members are handpicked by leader Kim Jong Un, will play behind closed doors - the public will not be able to watch - at Beijing's National Centre for the Performing Arts.
Having made their debut in July 2012, the band has attracted widespread curiosity over their varied musical style and evolving public image.
It is led by violinist Sonu Hyang Hui and features slickly choreographed dance routines, with members - all officer-ranked members in the North Korean military - playing instruments such as the electric violin, cello, drums, saxophone and synthesizer. While the band's debut show was heavily tinged with Western influences, they are known for their nationalistic numbers praising Kim and spreading the country's propaganda.
Here's a compilation of songs from some of their previous concerts.
Rocky
The theme song from the Hollywood film Rocky (1976) was just one of the many foreign pieces performed by the band, who sported a mix of short black dresses, white wedding-style gowns and slinky numbers, at their maiden "demonstration" concert on July 6, 2012.
Frank Sinatra's My Way also featured, while the singers were joined on stage at one point by performers dressed as Disney characters such as Mickey and Minnie Mouse.
Kim's wife Ri Sol Ju made her first public appearance at this gig.
Without A Break
A military march turned into a pseudo-dance number to celebrate the successful launch of the Unha-3 carrier rocket in December 2012, the band performed the song at a New Year's Day concert to ring in 2013.
The members were clad in short black skirts, with a screen in the background showing images of the rocket launch and the world being destroyed at the song's conclusion.
Let's Support Our Supreme Commander With Arms
Dressed in army-style outfits to commemorate the 81st anniversary of the founding of the Korean People's Army, the band performed a popular number that serves as a rallying cry for the North Korean leadership.
This ballroom concert was attended by the country's high-ranking military officials and politicians.
Medley of "world famous music"
This May 20, 2014 concert, notable for the absence of several band members including leader Sonu, was held to honour North Koreans who had made a contribution to literature and the arts.
The band also performed a "world famous songs" medley consisting of European classics.
My Mind
Vocalist Ryu Jina performed a solo of the song in April 2015, the band's first concert in nine months. The members wore white ensembles with red sashes, and performed other patriotic hits such as Glorious Motherland and My Country Is The Best.
Defence Minister Hyon Yong Chol was spotted at the concert. It was his last appearance in public before being charged in May for treason and executed by anti-aircraft fire.

This article was first published on December 10, 2015.
Get a copy of The Straits Times or go to straitstimes.com for more stories.