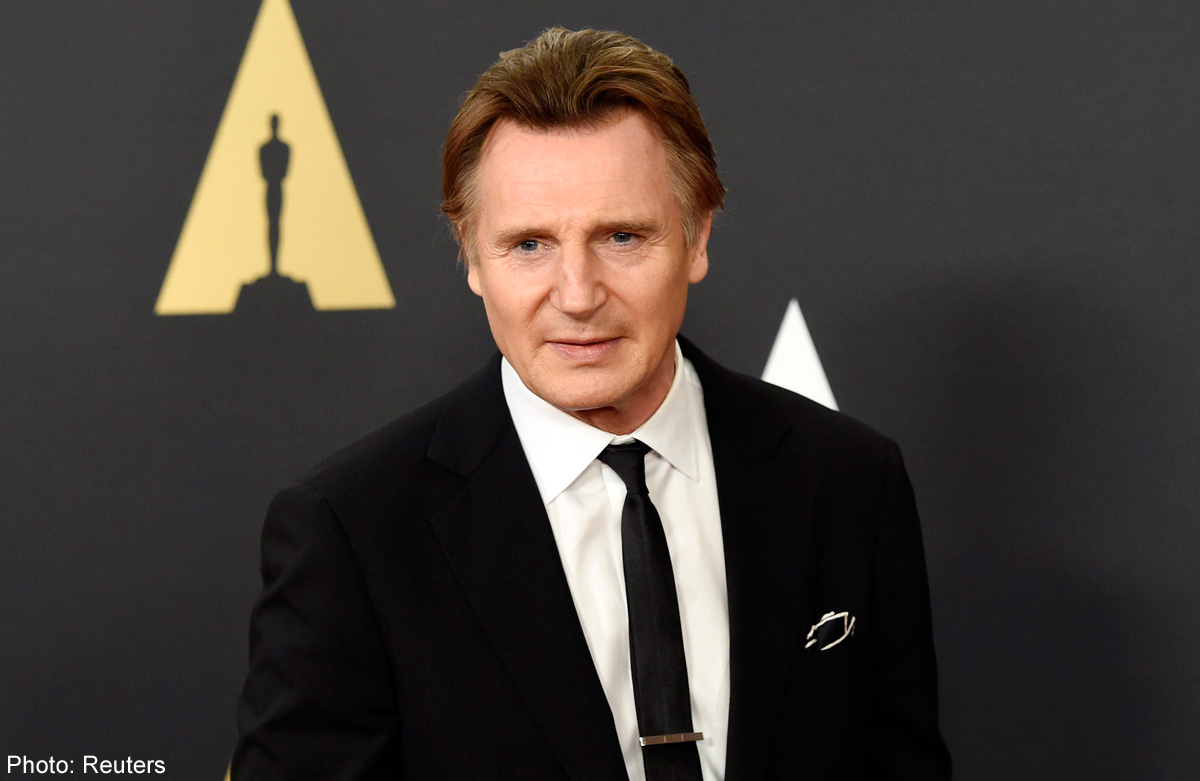 If there's one skill Liam Neeson has honed over the years, it's the art of intimidation.
After all, this is the actor whose chilling phone delivery of the line "I will find you... and I will kill you" from the action thriller Taken struck fear in the hearts of all he came into contact with, from prostitution ring mafia to teen prank callers.
Though those famous words have been parodied in thousands of Internet memes (netizens use it in response to everything from unsolicited Candy Crush invites to Sherlock spoilers), there's no doubting that Neeson means business.
At 1.93m, the Irish actor is a towering presence when he enters the room at the Marriott hotel.
Yet, his gruff, rough-around-the-edges manner belies a friendly charm.
Though he rarely cracks a smile throughout our interview, the 62-year-old displays rare flashes of deadpan humour, which has made him a regular guest on popular US comedy skit show Saturday Night Live.
"Those sketches work only because I'm so serious," he says sagely. "If I was trying to be humorous, it wouldn't be funny at all."
Neeson has certainly had his share of severe roles - he played the titular Nazi-era resistance fighter in Schindler's List, and of course, Taken's Bryan Mills, the ex-covert operative with "a very particular set of skills".
Taken was the sleeper hit of 2009. Combining gritty, realistic action with sexy French cinematography, it transformed the critically-acclaimed thespian into an unlikely action star.
"Certainly, after Taken, Hollywood sees me in a certain light now," says Neeson, who went on to play butt-kicking anti-heroes in a string of flicks like Unknown, The Grey, Non-Stop and of course Taken 2 in 2012.
While he makes swift work of villains in the Taken films - electrocuting, shooting and dousing people with kerosene are all in a day's work - he's certainly a reluctant action hero.
LAST OF THE SERIES
"Yeah, I've never been in any real physical altercation," he muses. "That's just not the kind of person I am."
In Taken 3, which opens here tomorrow, family man Mills is forced back into action when framed for the murder of his ex-wife Lenore (Famke Janssen).
While evading the police, led by Detective Franck Dotzler (Forest Whitaker), Mills has to hunt down the real killers and protect the only family he has left - his daughter Kim (Maggie Grace).
If you harboured doubts that Taken 3 is the last of the series written and produced by French filmmaker Luc Besson, its tagline - "It ends here" - sends a clear message.
Indeed, there's a palpable sense of relief, from Neeson and director Olivier Megaton, who also helmed Taken 2, that the story has come full circle.
"When the first movie came out, we said we would never do part two," Megaton admits. "Then part two came out, and we said we would never do part three!
"We weren't interested in doing the movie unless we could write a believable story. We even joked that for part three, who was going to get kidnapped this time? The dog? The grandmother?"
Eventually though, the filmmakers decided to take a different tack by using the murder of Lenore to propel the plot.
"I was convinced we had a really good storyline this time, and I trust the writers Luc (Besson) and Robert (Mark Kamen) completely," Neeson says.
He's also acutely aware that at his age, his days of gunfights and down-and-dirty wrestling are short-lived.
"I have a great stunt double who does all the hard stuff for me. I'm 62 years of age, man... I can't be doing this forever!"
While Neeson has enjoyed playing Mills, we sense his growing restlessness as he talks about the franchise.
As for upcoming movies, he is openly excited about JJ Abrams' reboot Star Wars: Episode VII - The Force Awakens. He also confirmed he'll reprise his role as Good Cop/Bad Cop in The Lego Movie sequel, and has just faced his biggest acting challenge yet - playing an ancient yew tree in the dark children's fantasy A Monster Calls.
Seems like he could really use a good stunt double again. But hey, when you're Liam Neeson, help is only a threatening phone call away.

This article was first published on January 7, 2015.
Get The New Paper for more stories.