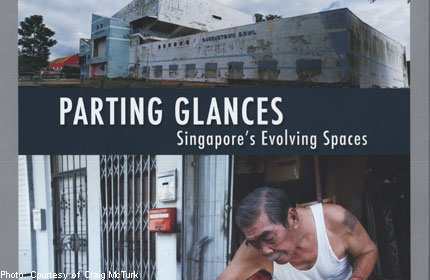 SINGAPORE - They say change is the only constant, and this could not be more true for Singapore.
Last month, the Queenstown cinema and bowling centre were demolished.
Built in 1977, the abandoned building was once a landmark structure in the neighbourhood.
It is now gone, but the building's history lives on in a newly launched book, Parting Glances Singapore's Evolving Spaces, which captures images of changing Singapore.
"Parting glances usually refers to a look exchanged between two people who have had a relationship or shared a bond and are now going their separate ways. Similarly, the book takes a wistful look at places that won't be quite the same in five or 10 years' time. I aimed to find a balance between celebration and remorse in the writing and photography," says author and photographer Craig McTurk.
In Parting Glances, the American who has lived in Singapore since 2001, set his sights on six locations - Kampong Lorong Buangkok, Seletar Camp, Pulau Ubin, People's Park, MacPherson and Queenstown. Seletar Camp was the first area he documented back in 2009, "as people were just moving out in advance of the imposed deadline to make way for the aerospace hub," says Mr McTurk, who is also a lecturer at Ngee Ann Polytechnic's School of Film & Media Studies.
Singapore's two remaining kampung communities, Kampong Lorong Buangkok and Pulau Ubin, were an easy decision for him to include. People's Park, where Mr McTurk lived for six years and MacPherson caught his eye, along with Queenstown, which appealed to him because of its historical significance.
"All six areas needed to be photogenic and have some local residents or merchants who were willing to share their outlooks and memories with a near-stranger, and in this regard I consider myself lucky," he says, adding that he took over 8,000 photos before selecting the final ones for the book. In Kampong Lorong Buangkok, he met Sng Mui Hong, the village leader who has lived there for over 50 years.
She shares with Mr McTurk that she remains cautiously optimistic about the future of the kampung.
"I feel that if the government decides to save and preserve this kampung, future generations of children will be able to see it," she tells him.
Over at People's Park, Tan Wee Meng, who runs a foot reflexology centre in the area for the last 17 years, notes that there are fewer Singaporeans in Chinatown these days, and the area is now crowded with Chinese nationals.
With only some rather basic Mandarin under his belt Mr McTurk relied on his students to serve as translators and transcribers. "Singapore has such a diversity of languages and dialects - some interviews were even translated from Cantonese. I learnt that many elderly Chinese here are fluent only in Cantonese, which is something I didn't know previously," he says.
The people he met shared more than just their stories. In Pulau Ubin, a villager gave him an aloe vera plant that had letters handcarved into the leaves.
In Tiong Bahru, he was presented with coffee powder and a sock in which to filter it. At an Indian temple in Queenstown, he was offered vegetarian food by some priests, while at Kampong Lorong Buangkok "I was invited to sit down with a family to their Hari Raya dinner". "Food seemed to be a non-verbal communication tool since there was often a language barrier between the interviewees and myself," he says.
"I gave many of the interviewees a printed photo of themselves following the shoot, and we now seem to have some kind of bond despite age and language gaps."
Parting Glances Singapore's Evolving Spaces ($49.95), published by ORO Editions is available at major bookstores.

Get The Business Times for more stories.