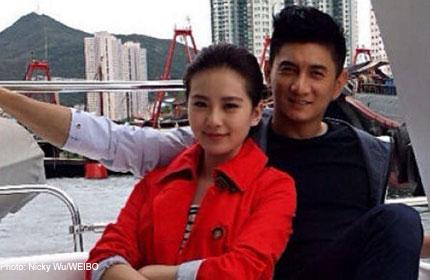 Beijing - In a dream come true for legions of fans of time travel hit Scarlet Heart, on-screen lovers Nicky Wu and Liu Shishi confirmed their off-screen relationship on Wednesday.
Wu, 43, said on Weibo that he and Liu, 26, "cherish this hard-won relationship". Posting a photo of the couple in casual clothes, he also appealed to the public to give them "time and space" in their private lives, said NetEase news website.
The confirmation came after Southern Metropolis Entertainment Weekly broke the story of their romance in August. The magazine said they had been photographed travelling together and looking intimate. This week, it said they had an eight-hour rendezvous at her home in Shanghai.
Former Taiwanese singer Wu and Chinese actress Liu have been a hot on-screen pair since playing the Yongzheng emperor and his time-travelling love, Ruoxi, in Scarlet Heart.
The 2011 television serial was the talk of Weibo in China and revitalised the fortunes of Wu, who had a sizzling pop career in the 1990s as one third of boyband Little Tigers.
He and Liu will return in a modern-day sequel next year. They also play lovers in another upcoming period serial, Incisive Great Teacher.
Wu married Chinese actress Ma Yashu in 2006, and they divorced three years later.
In her confirmation of her relationship with her co-star, Liu said: "I believe that Heaven will make the best arrangement."

Get a copy of The Straits Times or go to straitstimes.com for more stories.