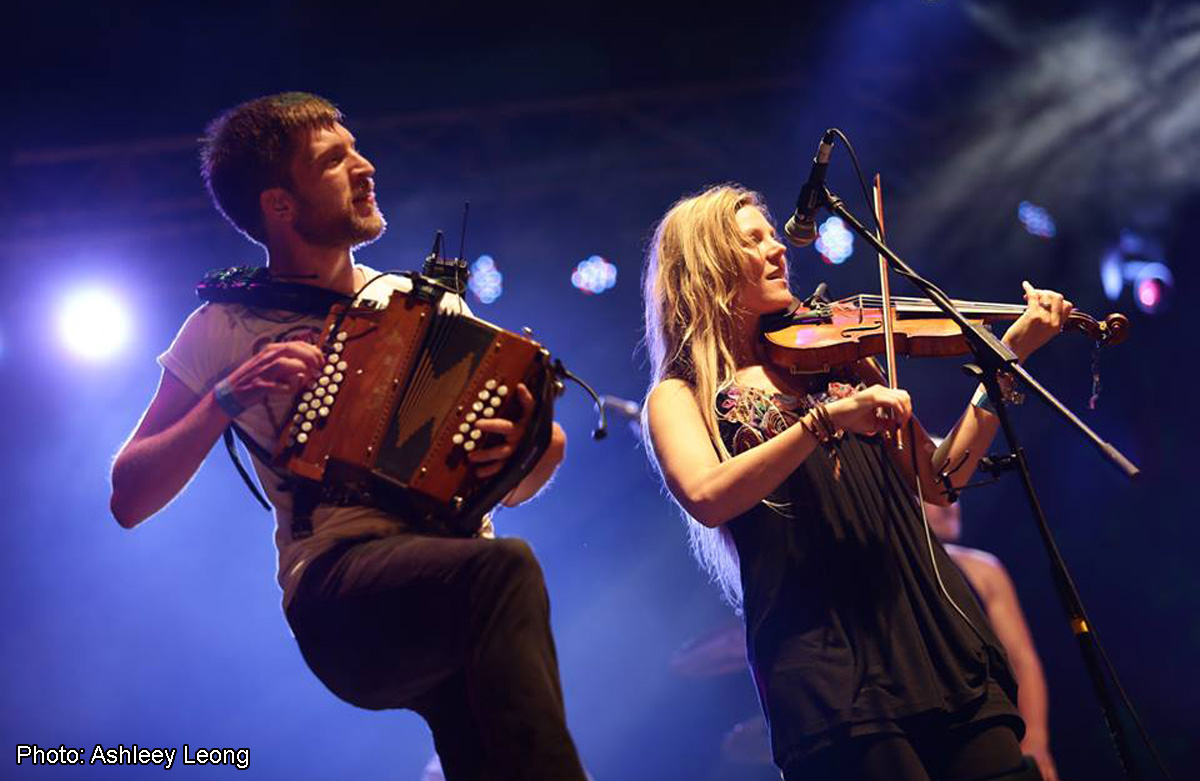 More than 22,000 festival-goers assembled at the Rainforest World Music Festival (RWMF) 2014 over the weekend of Jun 20 - 22, 2014, in Santubong, a 45-minute drive from Kuching, the capital city of Sarawak, Malaysia for a wholesome festival experience.
Slated as one of the top 25 international music festivals, the three-day celebration of action-packed stage shows featured musicians and artists from Malaysia, Spain, India, Cuba, England, Ukraine, Italy, Mali, France, Canada and Tanzania.
The evening concerts were held on two outdoor stages - Tree and Jungle Stage - enclosed within green pastures in an informal setting where music aficionados sat on the grass, danced to enticing world beats and were serenaded to classical favourites as well as contemporary tunes.
Dato' Rashid Khan, CEO of Sarawak Tourism Board said, "Over the years, RWMF has become a worldwide phenomenon and is a testament to how far Malaysia has come in attracting the world's best performers."
Traditional folk music from England was on show with Blackbeard's Tea Party who provided a tongue-in-cheek, contagious stage energy and dance grooves. This six-piece contemporary folk-rock band fused the fiddles, squeezeboxes, guitars and synth bass that provided an international percussion buffet  that played into the hours of the night.
There was also salsa music with a mishmash of Latina vocals, sweet brass and African cadence which made silence impossible as they took Borneo to the groove of the streets of Santiago de Cuba by Son Yambu.
The mysterious Ukrainian folk ladies, Dakha Brakha, had created a whole new unexpected Jagwa music with its stories of urban survival, misfortunes of daily life and voodoo. They measured the depths of contemporary roots and rhythms that inspired the cultural libration with witchy voices, compelling percussion and a combination of old and new sounds making it wild and primitive.
Gripping, irresistible and passionate tarantella music from Southern Italy, Canzoniere Grecanico Salentino was completely mesmerizing especially since much of the material was to project a traditional courtship display called the pizzica. These musicians brought the music alive ranging from tender love rhythms to pagan rites by mad dance steps played on guitar, drums, accordion and bagpipes.
Composing music with an upbeat mix of funky beats and heavy rock riffs vocal, the modern crew of Africans, Debademba, turned the music lovers into one big blissful family with good vibrations. From afro-funk and fusion to jazz and folk, the entire assortment came about with just two enthusiastic performers - a guitarist and composer and powerful voice owner who had a wealthy knowledge of instrumental music.
By far, the most tantalizing act was Gordie Mackeeman and his Rhythm Boys from Prince Edward Island, Canada. With his popular leg shake and sharp cut of his fiddle, they highlighted their high energy traditional folk music by surprising the audience with their clogging dance traditions on stage.
Malaysia had engaged their experts to deliver an impressive extravaganza during the last night of Rainforest World Music Festival 2014.
A crew of family members who were experts of Kelantan contemporary and traditional art music represented the local flavour together with Sarawak band Gema Seribu. They are an authentic Sarawakian cultural showcase comprised of distinctive drums and dancers.
The event was an exceptional festival that brought renowned world musicians and festival-goers together - all in the spirit to celebrate great music.
For more information, visit www.stdirectorytravel.com.