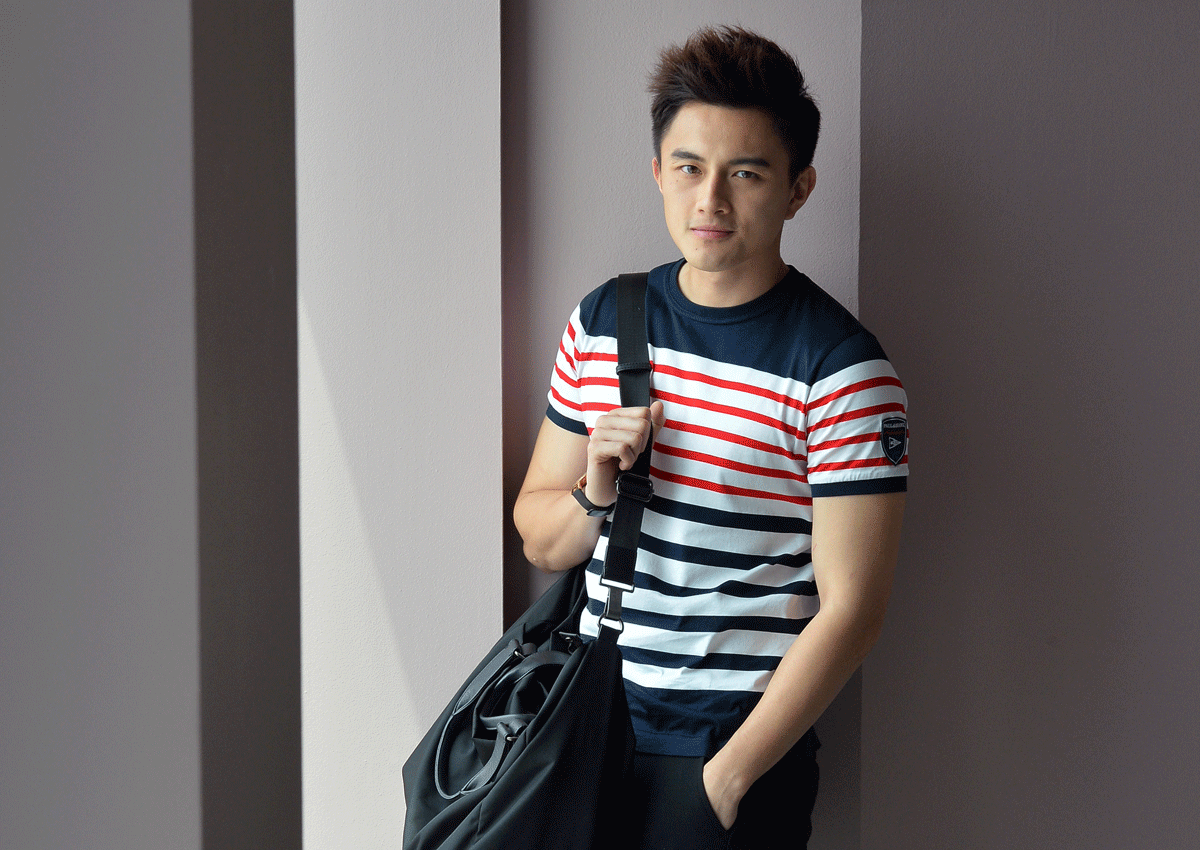 Actor and host Shane Pow 25, has had a hard time shaking off his hunky 2011 Manhunt image, but his role in Channel 8 drama Beyond Words may help him do just that.
The drama, which was filmed in Kuala Lumpur, debuts on March 17 and viewers will get to see him playing a henpecked office man. He also put on weight for the role as he "did not want the character to be too buff".
When asked what he did to put on the kilos, the actor happily replies: "I just had a bigger appetite and the food in Kuala Lumpur is so good that I could not stop eating."
While last year was relatively quiet for Pow in terms of screen time - he was on Channel U's travelogue show Super Jumbo and Celebrate 2016, the New Year's Eve countdown party at Marina Bay - he will be seen in three Channel 8 dramas in the first half of this year: Beyond Words, House Of Fortune and Peace & Prosperity.
In House Of Fortune, which is now showing, he plays a "bubbly and cheerful" volunteer who helps troubled youths. Says Pow: "I think the character is similar to my personality. I am cheerful and optimistic in real life."
In Peace & Prosperity, which debuts on April 4, he plays a rich, spoiled brat who believes he will inherit his grandfather's medicine hall and fortune.
"He does not work hard and spends his time fooling around and partying," Pow says.
He also has a role in movie anthology 4 Love. He plays a photographer and the third party in a relationship experiencing the "seven-year itch". It is slated for release in the first half of the year.
On what he loves about his job, Pow says: "I get to experiencewhat people otherwise would not get the chance to, like filming in a detention barrack and feeding emperor penguins.
"It is not repetitive and I get to be someone else through my roles."
The actor, whose parents are in their 50s and are divorced, has an elder sister in her 30s. He shot to fame in 2013 with his first major role in Channel 8 drama It Takes Two. He played a property agent and a scene in which he complained about the high cost of living in Singapore went viral. He won a Top 10 award at last year's Star Awards.
However, there is a downside to being busy. Pow cites not having time for himself and his family and friends as the worst part of his job.
"I have not spent New Year's Eve or Chinese New Year with them for the past four years because of work."
But this is a sacrifice that he is willing to make for his career, at least for the next decade.
"I am someone who is goalorientated and have a lot of dreams," he explains. "If I have not reached my goal, I feel like something is not right."
The actor declines to comment on his relationship status.
"I am at this stage in my life where I have to work hard. I will focus on my career for the next 10 years and then think about settling down and all that."
alywoo@sph.com.sg

This article was first published on February 4, 2016.
Get a copy of The Straits Times or go to straitstimes.com for more stories.