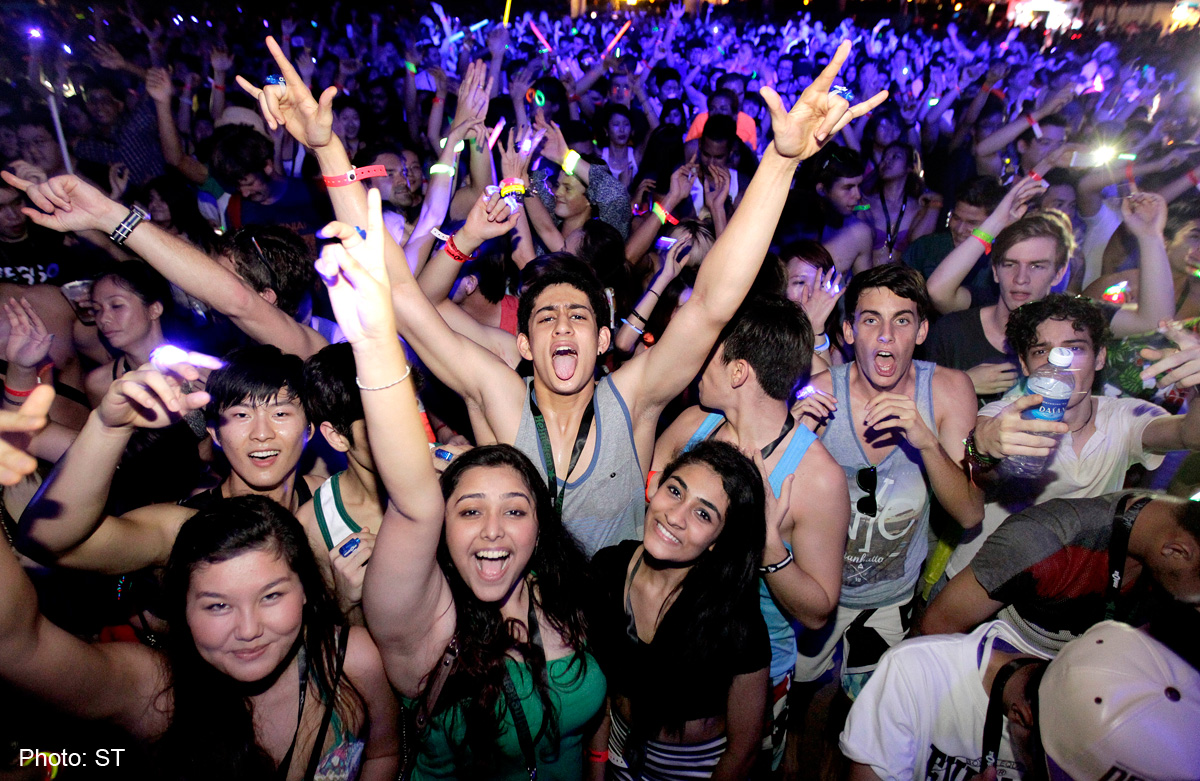 SINGAPORE - If there is no indoor Zouk, then there will be no outdoor Zouk either.
ZoukOut, Singapore's biggest annual outdoor dance music festival, will have its final run this year if the nightclub behind the event closes by the end of the year.
Zouk, which has to close for good or find an alternative location when its lease at Jiak Kim Street expires in December, tells Life! it will pull the plug on ZoukOut if it closes.
Ms Sofie Chandra, Zouk's head of business development and public relations, says it will "not be logistically possible to organise one if the club is no longer around".
She explains: "The making of the festival involves all the employees of the club, where the entire event is prepped, planned and executed internally. It involves about 500 Zouk staff to put the festival together each year."
Zouk has not yet found an alternative venue to move to, but it is hoping to be granted a three-year extension on its lease at Jiak Kim Street, which is in a zone the Urban Redevelopment Authority has slated for mixed residential and commercial use.
An online petition to save the club from closure has garnered more than 33,000 votes.
Ms Carrie Kwik, Singapore Tourism Board's executive director for arts, entertainment and integrated resorts, says the board has been facilitating talks between Zouk and various organisations to identify alternative locations for the nightspot.
She says: "We hope that there is a successful conclusion to the relocation so that they can continue to operate Zouk and ZoukOut."
ZoukOut this year will be held on Dec 12 and 13 at Sentosa's Siloso Beach. The festival's line-up will be announced within the next few weeks.
The multi-million-dollar outdoor event, considered one of Asia's biggest dance music festivals, has been around for 13 years and attracted a 41,000-strong crowd last year. This year, Zouk is spending $4 million on the event.
Former Zouk DJ and co-founder of Zouk Kuala Lumpur Cher Ng, 42, helped to organise the 2000 and 2001 editions of ZoukOut.
He says: "I have attended every ZoukOut and it would be a great loss for the city and the region's entertainment scene if the event comes to an end should Zouk close."
Mr Douglas Khee, 37, an events organiser and show producer who has attended every instalment of ZoukOut, says ending the festival would be "a shame" because it has become as iconic as the nightclub.
He says: "Singapore is not famous for a lot of home-grown things, especially lifestyle and creative things. But ZoukOut and Zouk have filled up this space. Some of these DJs who come here, they won't usually come to this part of the world to spin. They come for Zouk."
Another clubgoer, copywriter Daniel Foo, 30, says: "People will miss ZoukOut, but maybe it will open the doors to newer, better festivals."
While Zouk's future hangs in the balance, its sister club across the Causeway looks set to reopen at a new location in central Kuala Lumpur next January. With Zouk Kuala Lumpur's 10-year lease in Jalan Ampang expiring at the end of the year, its owners have decided to build a new $14.8-million home for the club, making it the most expensive nightclub built in Malaysia.
The superclub will move to a newly built lifestyle and entertainment hub called Trec (Taste, Relish, Experience, Celebrate), located in downtown Jalan Tun Razak, just a few minutes' drive from Jalan Ampang.
It will also double in size, expanding from its current 32,000 sq ft premises to 60,000 sq ft when it reopens next January.
Zouk Kuala Lumpur co-founder Ng tells Life! that the move was due to the club's current location being slated for redevelopment.
"The biggest challenge for us when conceptualising the new Zouk is to do something statement-making and bold in its approach in terms of size, programme and offerings," says Mr Ng, a Singaporean.
The new Zouk Kuala Lumpur will comprise five club rooms playing different genres of music, as well as dedicated areas for VIPs and members, a cafe and a rooftop deck.
A slew of nightclubs and bars has popped up in Kuala Lumpur in the past few years, but Mr Ng says the competition just "adds to the city's vibrancy and has no impact on Zouk KL's patronage, which continues to draw an average of 10,000 people every week".
He adds: "The vibrancy of the scene also allows us to build a bigger, new club to cater to greater demand."
melk@sph.com.sg
This article was first published on July 19, 2014. Get a copy of The Straits Times or go to straitstimes.com for more stories.