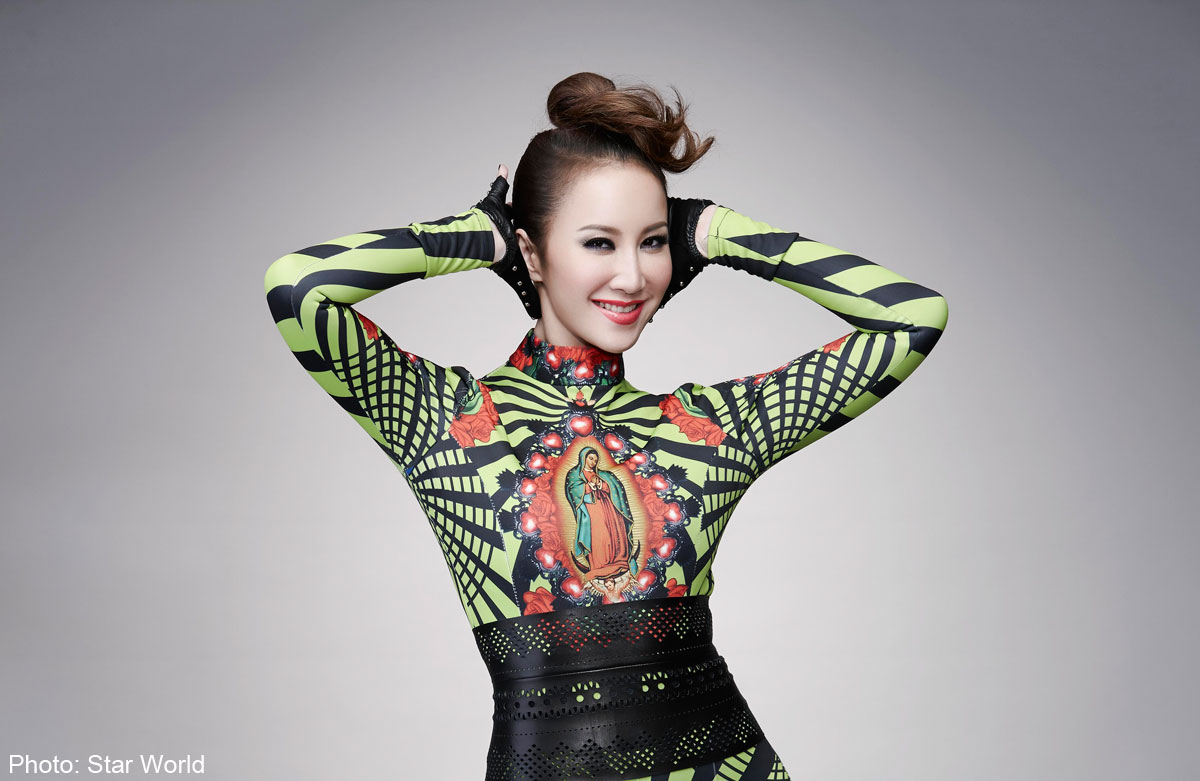 She is bold and brassy, oozing with confidence whenever she goes on stage to perform.
But there was a time when the vivacious Hong Kong-born American singer Coco Lee was a nervous young girl waiting anxiously for the crucial verdict from a panel of judges.
Speaking to Life! in American- accented English over the telephone from Beijing earlier this month, she said: "I feel like it's a journey coming to a full circle. I started out in a singing contest and now, I'm on the other side, judging somebody else.
"Because that was how I got my start. That's why I feel for these contestants, I really understand what they are going through. My decision could make or break them. That's why I want to help them as much as possible. I was that young girl once."
Lee, 39, the first runner-up at the Hong Kong TVB New Talent Singing Contest in 1993, was a judge on the first season of China singing contest Chinese Idol last year. She is also a guest judge and mentor on the second season of model search reality show Asia's Next Top Model. The episode airs on Star World (StarHub TV Channel 501, SingTel mio TV Channel 301) on Wednesday.
Ever since getting her big break more than two decades ago, the consummate singer Lee has gone on to big things.
The sexy songstress was the first Chinese to perform at the Academy Awards when in 2001 she sang A Love Before Time, her Oscar-nominated theme song from Lee Ang's martial arts epic Crouching Tiger, Hidden Dragon (2000).
Her extensive discography comprises more than 20 albums, mostly in Mandarin and a handful in English. Her latest Mandarin album, Illuminate, was released last year.
On the personal front, the lively Lee tied the knot with Jewish-Canadian businessman Bruce Rockowitz in 2011. Rockowitz, 55, has two teenage daughters from his previous marriage.
1. You've been in the industry for two decades, are you worried about being labelled as a has-been?
No. The crazy thing right now is that a lot of the older singers are hot again because they are on reality shows and singing contests.
I'm in my 30s but I started when I was really young. To still have the opportunity to do what I'm doing now, such as being on Chinese Idol and being a guest judge on Asia's Next Top Model, I feel very blessed that I'm still around and can still do what I love.
2. What kind of judge are you, more acid-tongued Simon Cowell or nurturing Paula Abdul?
I don't have a poison tongue. I like to give constructive criticism in a nice way. I don't want to hurt their feelings but I've got to be honest.
3. What kind of tips did you give to the aspiring models on Asia's Next Top Model?
I was giving the girls advice on what to do in front of the camera. I often have to do photo shoots. I try to flirt with the camera and pretend that it is someone I really want to have.
I told them to seriously look into the camera and pretend that's their lover and make love to it. I also told them to believe in themselves.
4. What do you think of the trend of an increasing number of plus-size models?
I think that's a wonderful thing, because not all women are petite, skinny and size zero. I personally am not.
I think having plus-size models makes it more realistic because that's what women are like, because women have different body shapes. I definitely am a supporter of plus-size models.
5. How does fashion influence you as a musician?
Music and fashion go hand in hand. You cannot have a great musician without great fashion. For me, fashion is important because it's part of my image, it's part of my style.
I read a lot of magazines and watch a lot of fashion shows to try and understand what the hottest trends are. But it's important to figure out your body type and what you look good in. You can't put on a look that is really hot now and look like a pumpkin.
6. This year, you mark 20 years in the industry since you launched your first Mandarin album, Love Now, in 1994. What's your secret to having a lasting career in showbiz?
It's really important to work hard. You've got to have great work ethics. For me, I've been singing for 20 years and I still practise every single day. It could be a song that I know so well, I've sung it thousands of times and I still practise. Practise, practise, practise. That's really important and that's what makes a great artist, musician or athlete.
Second, believe in yourself. Confidence is the most crucial thing. When you're up there on that stage, if you don't believe in yourself, nobody will.
7. You finally married your husband Bruce Rockowitz after an eight-year courtship. Are you guys ready for kids of your own?
That is something that I'm still considering. There's no rush. I'll probably work on getting a dog first. (Laughs)
My husband has two wonderful kids - they are 18 and 16. I was with them for 10 years, I met them when they were eight and five.Watching them grow up, I've realised it is not easy being a parent. I've got to make sure I'm really ready for that stuff before I do it.
8. How would you like to be remembered?
That's a good question. I just want to be remembered as an artist who brought entertainment to people. I want to make people happy when they watch me sing and dance. I want to bring joy through my music.
I grew up in a single-parent family and my mother raised us. My widowed mother taught my sisters and me that a woman's got to be strong and independent. I want to be a role model to women out there, to encourage them that it's possible to have a career and a family, to have it all.

Get a copy of The Straits Times or go to straitstimes.com for more stories.