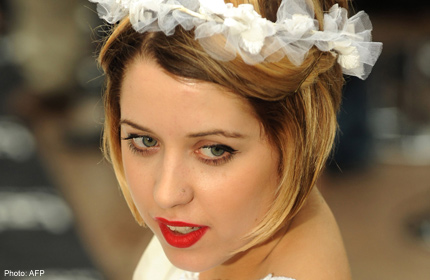 LONDON - Peaches Geldof, daughter of Live Aid founder Bob Geldof, was a heroin addict who died from a drug overdose, a coroner ruled on Wednesday.
Her husband told a hearing that the 25-year-old TV presenter had started taking the drug again in February this year, having given it up three months earlier. She had been taking the substitute drug methadone in the two and a half years before her death.
A police search of the rural family home found 6.9 grammes of "importation quality" heroin and drug paraphernalia hidden in a black bin bag in a cupboard over a bedroom door.
The officer in charge of the police investigation estimated that the drugs would have been worth between £350 ($596, 442 euros) and £550, and that they "far exceeded" the purity levels normally found at street level.
Geldof's husband Thomas Cohen, a musician, spoke of witnessing his wife flushing a stash of drugs down the toilet after a conversation about her addiction.
The 23-year-old confirmed that he had spoken to Geldof several times over the weekend before her death and that she had seemed fine, with the last call taking place at 5:40 pm on Sunday April 6.
When he was unable to make contact the following day, Cohen and his mother went to the property with the couple's son Astala, 2, where they found Geldof's body on her bed. She was pronounced dead at the scene.
After hearing the evidence, coroner Roger Hatch concluded that Geldof's death was drugs-related.
"It's said that the death of Peaches Geldof-Cohen is history repeating itself but this is not entirely so", he said to the hearing.
"By November last year she had ceased to take heroin as a result of the considerable treatment and counselling that she had received.
"This was a significant achievement for her but for reasons we will never know prior to her death she returned to taking heroin."