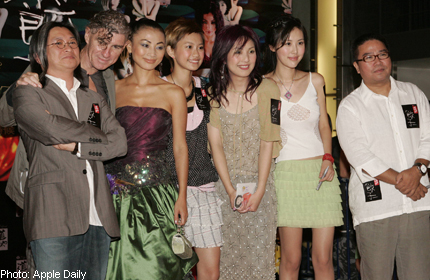 HONG KONG - Film-maker Peter Chan's relationship with a Chinese actress made the news after she called him a "bosom buddy" in a mainland magazine article.
But what set tongues wagging about the article, titled My Male Bosom Buddy - The Peter Chan You Don't Know, was Meme Tian Pujun's dishing on and showing apparent familiarity with the everyday details about Chan's life, such as the hair products and cotton swabs he uses.
Refuting the gossip, Chan, who was in Russia for a film event last Friday, said through a spokesman: "Bosom buddy or not, that's debatable. If we have to talk about bosom friends, I have only one and that is Sandra." Actress Sandra Ng, 48, is his partner of 16 years and they have a seven-year-old daughter.
Tian, 32, is a producer on his latest film American Dreams In China and whose only acting credit of little note is a small role as a princess in TV drama The Legend Of Zhen Huan.
Last year, she got the Chinese press abuzz with talk that she came between Chinese property boss Wang Shi and his wife. She had a bed scene with actor Tony Leung Ka Fai in Chan's 2004 film Three Extremes... Dumplings.
She says she has known Chan, 50, for more than 10 years, and they broke off three times, with him resuming contact with her each time.
Among her allegations: He has visited her house and "I can phone him anytime round the clock".
"Once, he thought that my photo frame wasn't nice. So he bought 12 different frames, put them in a box and gave them to me," she adds. "He bought a pair of jeans, liked it, so got someone to make 10 pairs, and wore them for 10 years."
He started swimming last year, she says, and "would be up after 15 minutes. Now he can swim for half an hour each time".

Get a copy of The Straits Times or go to straitstimes.com for more stories.