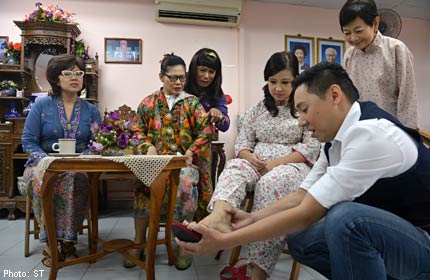 SINGAPORE - True to the spirit of fusion that is the backbone of being Peranakan, Tanda Mata Mak (Heirloom) brings together elements of the East and the West.
The play, put on by the Gunong Sayang Association, will be staged at the Drama Centre on Aug 30 and 31.
It combines the classic tale of Cinderella and elements of the popular Malay folklore Bawang Putih Bawang Merah, which refers to shallots and garlic in Malay. The folk tale also involves two sisters of opposite personalities and an evil stepmother.
The familiar tale of jealousy, deception and love is presented in colourful kebayas, baba patois - a mix of Malay and Hokkien spoken by the Peranakans - and a good dose of raucous humour.
The all-Peranakan cast banter comfortably in baba patois even when not in character. They hold day jobs, so rehearsals are fitted into their busy schedules.
"All of us did it for the love of the culture," says Frederick Soh, 45, director, co-scriptwriter and actor in the play.
"It's important we know our roots, then we know who we are."
One of the motivations for putting on the play is to reach out to younger audiences who can relate to the Cinderella storyline. Although the actors will be speaking in baba patois, there will be English subtitles projected on a screen.
The traditional 12-day Peranakan wedding ceremony will feature in one of the acts.
For audience members who might never get the chance to witness the real deal, the play will provide an insight into rituals such as the lup chai (dowry gift exchange) and cheo tau (hair-combing ceremony to signify stepping into adulthood).
Instead of a glass slipper, the protagonist loses her kasut manik, which is a beaded shoe.
Stay till the end, as there will be a surprise twist to the tale, fitting of the cheeky and boisterous nature of Peranakan households.

Get a copy of The Straits Times or go to straitstimes.com for more stories.