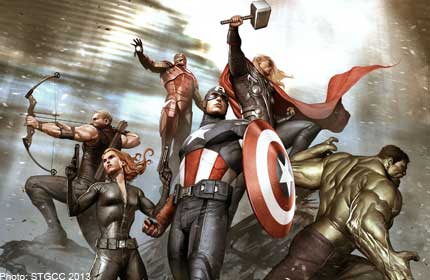 One of the heavyweights will come in the form of a 45cm-tall action figure.
Weighing between 2kg and 3kg and made of die-cast metal, these figures are one of the fastest rising stars to break into a high-end toy collection market, usually dominated by established toy-makers like Hong Kong's Hot Toys and US' Sideshow.
This is no mean feat considering that these toys are produced by local toy company Play Imaginative.
The company, which started in 2004, had surprised the toy market with a die-cast metal Batman figure last year.
The figure had a successful launch, with 1,500 limited- edition pieces snapped up, along with the normal editions. Their latest project is based on the Iron Man movie franchise.
The high end toy-making business can be very competitive, but Mr Jacky Teo, Play Imaginative's business development director, feels that healthy competition ultimately benefits the collectors.
Soon after Play Imaginative went public about their die-cast line, Hot Toys announced theirs. Said Mr Teo: "But with more choices now, buyers can afford to pick the figure they want, instead of being saddled with a limited selection."
For some collectors, forking out about $700 per piece may seem a tad expensive, not to mention that the size can be overwhelming.
Yet he remains bullish about the market and he feels that people are willing to pay for a good product that is worth its weight.
Killer idea
For Play Imaginative, it all started with a killer idea - and opportunity. In 2004, Mr Teo, then a toy retailer, and Mr Darren Gan, a product designer, proposed to Singapore Tourism Board the idea of a commemorative action figure to celebrate the nation's 39th birthday. The project didn't take off, but the duo decided to set up a company to create original toys. And that's how the Trexi was born.
Standing at 6cm tall, the Trexi is a customisable platform art figure that has became popular with companies and collectors worldwide.
Their Batman figure was another milestone. Said Mr Teo, 42: "We were chatting with some retailer friends in a Hong Kong pub about toy collecting. "We felt that the die-cast metal figures would have great potential in the collectible market, especially since there aren't many players in this market. "So far, there is Bandai, a Japanese toy-maker that produces die-cast figures based on their anime characters."
They decided to seize the opportunity to produce die-cast figures based on superheroes. To kick-start the project, they looked to Jim Lee, the famous Korean-American comic artist behind the new 52 series (Comics publisher DC revamped and relaunched its entire superhero books in 2011) to collaborate on their first Super Alloy Batman figure.
"He was very interested in the project...it didn't take him long to say 'yes' to the die-cast figure collaboration," said Mr Teo, adding that the initial sketch took only "a few days" to be done. Mr Gan, 34, now Play Imaginative's creative director, added that when it came to their pitch to sign their new 52 licence, the vice-president from Warner Bros. was interested "when I put our Super Alloy Batman figure in his hand".
He said: "He held it for a while, and we got the deal... Looks like the heavyweights have won him over."
Singapore Toy, Games & Comic Convention (STGCC)
WHEN: Aug 31 & Sept 1 WHERE: Hall B & C, Level 1, Sands Expo & Convention Centre, Marina Bay Sands
TICKETS: $19, $25

Get The New Paper for more stories.