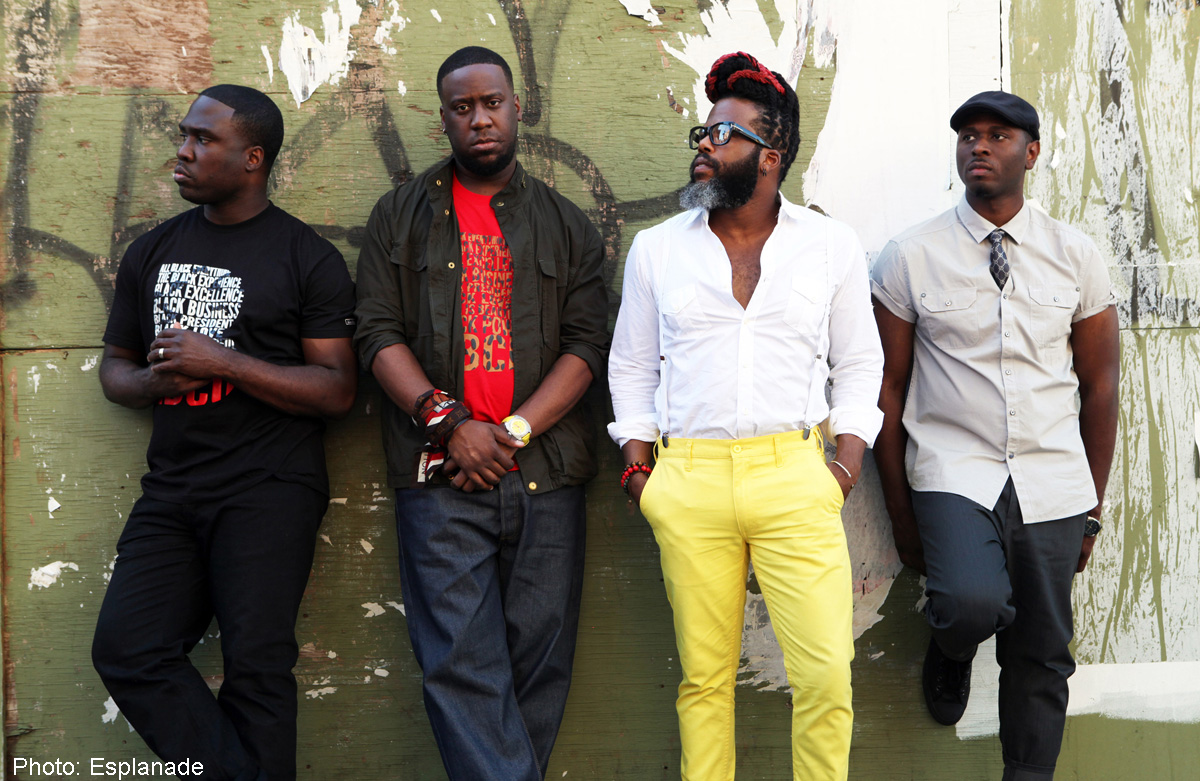 Music is in "a really bad place" now, says jazz pianist and songwriter Robert Glasper.
"We are dealing with a time when people don't play instruments any- more and if you want to get on the radio, you can't play your instruments. It's about being on the computer, making all your songs on it," says Glasper, 35.
"So the fact that we can play real instruments and succeed and receive accolades is an amazing thing," adds the winner of a Best R&B Album Grammy for his 2012 album, Black Radio.
The genre-bending album features collaborations with a wide array of artists, from rapper Lupe Fiasco to neo-soul singer Erykah Badu.
His band, Robert Glasper Experiment, is playing at the Esplanade Concert Hall on March 10 as part of Mosaic Music Festival from March 7 to 16.
Speaking to Life! on the telephone from Los Angeles, Glasper says that making Black Radio from 2011 to 2012 was "frustrating" because of the difficulties of working with so many different guest musicians, their record labels and their managements.
By the time they made Black Radio 2 last year, which featured rock band Fall Out Boy's singer Patrick Stump and singer-songwriter Norah Jones, Glasper had more experience handling the business and creative aspects, so the process was much smoother. The album, released by iconic jazz label Blue Note Records, came out last October.
Winning a Grammy helped immensely, of course. "A good thing for the second one, we won a Grammy for the first one. So everybody knew who we were. When it was time to ask artists to be part of the project, they said yes because they knew what it was and they knew it can be something great," he says.
"So it was easier for guests to say yes for no money. Because they saw, 'oh sh*t, they won a Grammy', so it's not a little pet project."
His Grammy win was important for jazz musicians like himself, he says.
"The kind of music we're doing is not very popular these days," he says. "And the band that we have are jazz musicians so I think it's great that people see us getting this kind of accolade because it motivates people and they do not feel like they have to be doing a certain kind of music to get accolades.
"It's okay to be real and honest, and do real music because you can reach a certain goal."
He made a sequel to Black Radio because he could not fit all the artists whom he collaborated with into one album.
"Most of the time, I have a big list of people and it's like throwing a net into the ocean and the people who can do it surface to the top. That's why there is a Black Radio 1 and 2 because it's impossible to choose from so many great artists."
Glasper, who is working on a new album for popular rapper Snoop Dogg, says he has no plans for a Black Radio 3. Instead, he is thinking of doing a gospel album next.
His mother, soul and jazz singer Kim Yvette Glasper, is the biggest influence on him. When he was a child, she took him to her rehearsals and gigs.
"It's an experience around music and seeing how it's made and seeing how it affects people," he says. "It helped me because I'm all about people and trying to affect people with music. It's not about 'look at me, how good I am at the piano'. My main focus is to make people feel."
He learnt to play the piano and backed his mother up in church. In church, he also learnt to mix jazz with gospel music.
He went to New York to study at the New School for Jazz and Contemporary Music. There, he started working with hip-hop and R&B artists Jay Z, Maxwell and Kanye West. His debut album, Mood, was released in 2003.
His fourth album, Double-Booked (2009), featured the two sides of the man - the first half, credited as the Robert Glasper Trio, was his acoustic piano jazz band, while the other half featured Robert Glasper Experiment's funk-influenced songs played on electric instruments like the Fender Rhodes electric piano.
One of the tracks, All Matter, earned him a Grammy nomination for Best Urban/Alternative Performance.
Glasper says he will eventually return to his roots with his jazz piano trio. But for now, he is focusing on assimilating the different genres he has taken on with Robert Glasper Experiment band.
"I was doing solely piano trio stuff for years. The Experiment is a new project that has taken the music world by storm a little bit, so I wanted to do this now, just for the sake of doing something different."
dinohadi@sph.com.sg
Life! is the official newspaper for the Mosaic Music Festival.
Book it:
MOSAIC MUSIC FESTIVAL 2014 ROBERT GLASPER EXPERIMENT
Where: Esplanade Concert Hall
When: March 10, 7.30pm
Admission: $40, $60 and $80 from Sistic (go to www.sistic.com.sg or call 6348-5555)
Get a copy of The Straits Times or go to straitstimes.com for more stories.