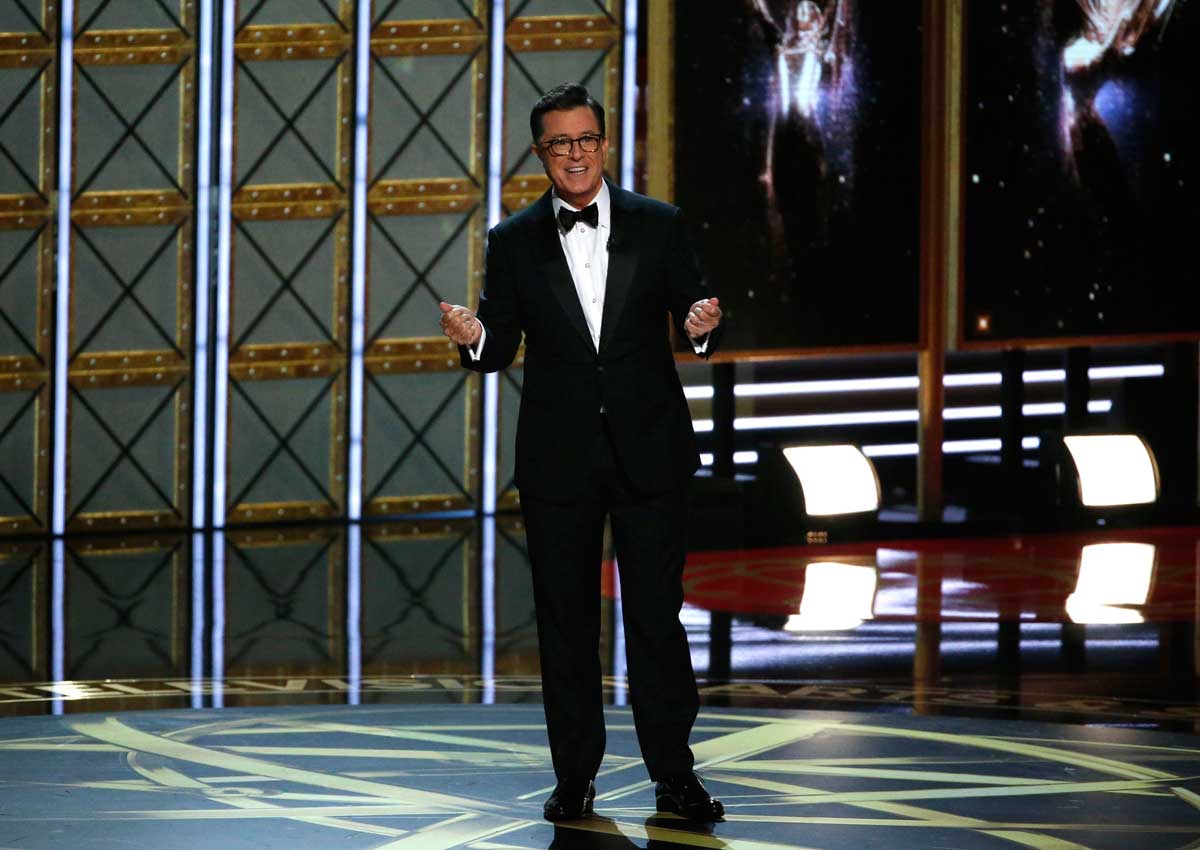 LOS ANGELES - Hollywood's elite gathered Sunday as television's glittering Emmys got off to a distinctly poltical start, in a race seen by critics as the most suspenseful in a decade.
HBO's fantasy epic "Game of Thrones" has a record 38 awards, but is ineligible for the 69th Primetime Emmys, having started its seventh season too late.
That leaves the field clear for numerous much talked-about first-timers, including HBO sci-fi Western show "Westworld," Hulu's dystopian "The Handmaid's Tale" and Netflix's 1980s-set horror series "Stranger Things."
The three series already have a huge 13 statuettes between them from last weekend's Creative Arts Emmys, which recognise behind-the-scenes talent as well as guest acting appearances.
"Not since 'Mad Men' began its... winning streak in 2008 has there been such a wide open field for the night's most prestigious trophy: best drama series," said weekly trade paper Variety.
The glitzy ceremony in downtown Los Angeles - the first under the administration of President Donald Trump - was widely expected to have a strongly political flavor, and host Stephen Colbert set the tone in his opening monologue.
"However you feel about the president, and you do feel about the president, you can't deny that every show was influenced by Donald Trump in some way," he said.
"All the late night shows, obviously, 'House of Cards,' the new season of 'American Horror Story.'"
Politics was also in the air as John Lithgow picked the up first award of the night: best supporting actor in a drama for his acclaimed turn as Winston Churchill in Netflix's British royal drama "The Crown."
"In these crazy times his life even as an old man reminds us what leadership and courage in government really looks like," the US actor said.
NBC's long-running comedy sketch show "Saturday Night Live" received 22 nominations - the joint-highest total alongside "Westworld" - after a year of mercilessly spoofing the new commander-in-chief.
Its haul of five Creative Arts statuettes included outstanding guest actress in a comedy series for Melissa McCarthy, whose "Unhinged Spicey" take on Sean Spicer came to embody early criticism of the administration.
The former White House press secretary whose full-throated defence of Trump earned him derision on television, delighted his former tormentors in a surprise appearance at the opening of the Emmys.
SNL's Kate McKinnon tearfully accepted the award for best supporting actress in a comedy series for her portrayal of Hillary Clinton and Alec Baldwin was tapped as best supporting actor in a comedy for his Trump impersonation.
The show also picked up the award for best variety sketch show, and is in the running for several more gongs at the main ceremony.
'Fabulous shows'
The outstanding drama category includes five debutants - "Westworld," "The Handmaid's Tale," NBC's family drama "This Is Us," and two Netflix shows, "Stranger Things" and British royal drama The Crown."
Birnbaum said that with such an open field this year almost no award would surprise her.
"The only thing I think is a sure thing would be Elisabeth Moss for 'The Handmaid's Tale.' I think she's beloved in the academy,'" she said.
"Veep" star Julia Louis-Dreyfus, vying for a sixth consecutive Emmy for best actress in a comedy, is the only other nominee who could be described as a shoo-in, according to Birnbaum.
Fiona Dourif, star of BBC America's "Dirk Gently's Holistic Detective Agency," told AFP she was currently watching "The Handmaid's Tale" and hoped to see Moss rewarded, as well as "Stranger Things."
"I feel like the most exciting stories are being told in the long-form way and there's also so much more investment happening in TV and digital content," said the 35-year-old actress, who also starred in HBO's "True Blood."
Lin Shaye, 73, known as the "scream queen" for her roles in numerous horror films since the 1970s, said she was rooting for Netflix's dark comedy series "Black Mirror," which is up for best TV movie for one of its episodes and for outstanding writing.
"'Black Mirror' and 'Stranger Things' were both fabulous shows and I think television is very healthy. There are so many avenues for storytelling and there are so many more storytellers than there used to be because of it," she said.