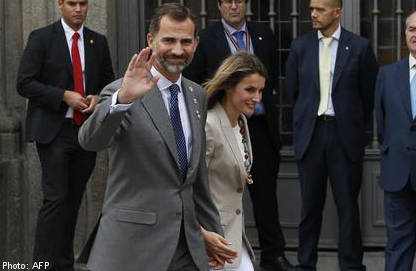 MADRID - Crown Prince Felipe will take his ailing father's place saluting military officers at Spain's national day parade on Saturday as expectations rise he may soon take over the troubled throne.
King Juan Carlos, 75, is recovering from hip surgery, his fifth operation in two years, and will miss the annual parade for the first time.
Palace officials say he does not want to abdicate. But public pressure is mounting as his health and image deteriorate.
Prince Felipe, 45, faces an uphill battle to win back Spaniards, who have soured on royals and political leaders during an economic crisis aggravated by corruption scandals and a widening gap between rich and poor.
But his low-key style could make him the perfect man to lead the House of Bourbon back into favour.
Friendly but more discrete than his jovial father, the prince has not been tarnished by a scandal that engulfed his sister Princess Cristina. Nor has he been implicated in lapses of judgment at the palace, such as the king's African safari trip at the height of the economic crisis last year.
"The king is out of action for months and meanwhile the prince will be doing all the keynote things the king normally does. The prince will become more and more visible," said a royal historian who requested anonymity.
For most of his reign, Juan Carlos has been a hugely popular figure. He played a key part in Spain's transition to democracy in the 1970s after four decades of General Francisco Franco's fascist dictatorship.
He won huge respect for his role in putting down an attempted military coup in 1981, a terrifying incident for older Spaniards marked by the 1936-39 Civil War.
Support for the monarchy is almost generational, said political consultant Rafa Rubio.
"Almost anyone of any political colour who has seen the monarchy in practice in Spain supports it, but those people are getting old and being replaced by younger people who don't understand it," he said.
The monarchy was Spain's most popular institution back in 1997. A survey last May showed it had slipped to 6th place.
Its popularity was dented by a scandal which saw Inaki Urdangarin, the king's son-in-law, charged with embezzling 6 million euros in public funds. The judicial investigation is still open and may yet implicate Princess Cristina, his wife.
In April 2012, the king broke his hip hunting in Africa just as Spain teetered on the brink of a bailout, prompting public fury. When it emerged he was accompanied by a lady friend, the uproar intensified. Juan Carlos made an unprecedented apology.
King in waiting
Felipe's lifestyle with his wife Letizia, a former television journalist, and two daughters is as muted as possible for a member of Spain's most famous family.
For example, one of the couple themselves takes the children to school, a short drive from the palace, as often as they can.
"When they go out to dinner, they try to keep it as quiet as possible to keep part of their lives private," one palace insider said.
The historian said there were many subtle signs the palace was preparing a handover, citing the prince's participation in events around the upcoming Iberoamerican Summit and his presentation of Madrid's Olympic candidacy in Buenos Aires.
Other things are slowly changing, such as the royal household's inclusion in a new transparency law that will give citizens information for the first time about how their taxes are spent to maintain the monarchy.
A poll by Sigma Dos last year showed that close to 60 per cent of Spaniards aged 18-29 no longer want a monarchy and other polls earlier this year showed that half of all Spaniards were in favour of the king stepping down.
Taking advantage
Some Spanish conservatives worry that the popular angst with most of the country's institutions could lead to discussions of abolishing the monarchy.
If politicians open the door to constitutional change in regard to the royals, the fear is that Spain's self-governing regions, such as independence-minded Catalonia, would take advantage to demand more autonomy, threatening national unity.
"There has been a kind of collusion of convenience between politicians and institutions to keep everyone in their place," said political communications consultant Antoni Gutierrez-Rubi.
Things are so bad that some people hope a new king, who has strong institutional clout even though the role is largely symbolic, could be a catalyst for other changes. The king is head of state, swears in the prime minister and his cabinet, signs laws and receives credentials from new ambassadors.
"Prince Felipe could be the person with the vision we need. If he could sit down with new leaders of the two main political parties, I'm sure he'd be capable of helping to modernise Spain's institutions as we so badly need," said a member of parliament from one of Spain's biggest parties.
Prince Felipe himself was given a warm reception at a conference of young entrepreneurs on Friday. Security was loose as he walked around booths at the event, striking up easy conversation with people thronging around him.
Women greeted him with kisses on both cheeks and people manoeuvred to get their photo taken with him.
"We need people who can adapt to the times," he said - words that could apply to himself as he tries to keep alive the monrachy's relevance for younger Spaniards who have scant gratitude for his father's role in history.