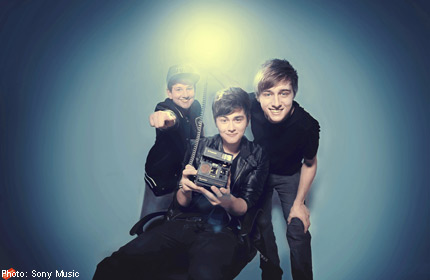 In their hit single I Like That, US pop-rock trio Before You Exit sing about objects of affection - "that smile", "that laugh" and "that face... no make-up on".
The brothers sing in the catchy hit - off their album of the same name released this year - how they are willing to cross the earth to break her fall and run the streets to prove their love.
We wonder who these lovelorn brothers are declaring their love to.
Strangely, the answer is "no one".
The teens, who are the headlining act at this weekend's The Color Run event at Sentosa, are single but not really available.
Eldest brother Connor McDonough, 19, told LOUD over the phone from their recording studio in California on Tuesday: "None of us are seeing anyone at the moment. We're always on the road."
But the vocalist/guitarist knows the kind of girl who will capture each of their hearts. "She must have a great personality and be easy to talk to. And of course, she must like the band," he said.
"If she can be with us on the road, that would be great, but it's not something that we expect."
Before You Exit - comprising Connor, lead vocalist Riley, 17, and vocalist/guitarist Toby, 15 - was formed in 2007 by Connor, guitarist Braiden Wood and drummer Thomas Silvers. Riley and Toby joined later.
The three brothers front the band while Wood, Silvers and bassist Chris Ganoudis join them only during live performances.
The brothers are also YouTube stars.
A video of their rendition of English boy band One Direction's What Makes You Beautiful has more than seven million views.
Before You Exit is really more US group Jonas Brothers than One Direction, but you won't earn a place on their hate list if you make the comparison.
"It's not a bad thing at all. Technically, we are (a boy band) because there are three boys and we are in a band. It's just that instead of dancing, we play instruments," said Connor. "We love Jonas Brothers as much as One Direction, they're pretty talented."
Before You Exit have released two EPs - Letting Go (2010) and A Short Story Long (2012).
Guest musician
One of the musicians they worked with on this album was Alex Gaskarth, lead vocalist and guitarist of US pop punk band All Time Low.
"He's awesome and really talented. He brought something new to the table. Now he's a really good friend," Connor said of Gaskarth, 25, who shared songwriting tips. For Before You Exit, I Like That feels like a "real" album compared to their previous releases, which "felt more like demos".
"In I Like That, we get to write the songs ourselves. It's more pop and definitely more fun. Each song holds its own," Connor said. The boys are already back in the recording studio, working on a new album which they hope to release "some time soon".
Their motto: "Before you exit, make a difference".
"We hope to do that through our songs and do our best. We hope other people can be inspired and do the same," said Connor.
ashikinr@sph.com.sg

Get The New Paper for more stories.