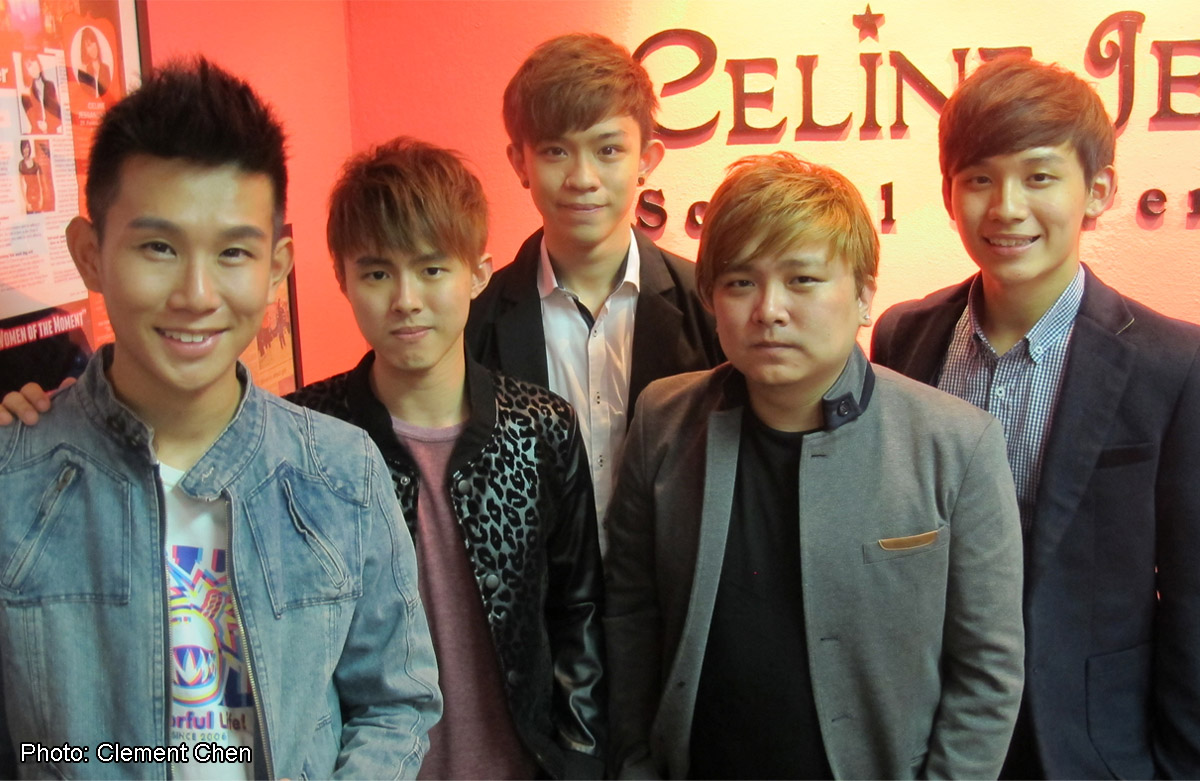 SINGAPORE - Project Superstar is back after a more than seven-year hiatus.
The local reality TV singing contest, which launched the careers of Mandopop's Derrick Hoh, Kelvin Tan Wei Lian and Kelly Poon, held its first round of auditions at MediaCorp in Caldecott Hill last Saturday. And 6,000 aspiring singers queued for hours for their stab at televised stardom.
Project Superstar premieres on Aug 18 on Channel U and will air every Monday at 8pm. The winner of the contest will be offered a MediaCorp contract and cash prize of an amount yet to be finalised.
Unlike past seasons - season one was in 2005, and season two between 2006 and 2007 - where showbiz wannabes took part as individuals, this time, auditions are open to groups too. There will be a few more rounds of auditions before the top 12 finalists will be revealed on July 5. The number of soloists and groups through to the second round was not available at press time.
Among the groups that have made it through to the second round, on June 2 at Square 2 shopping mall in Novena, are male quintet Five Shadows and girl group Mys*tar.
Five Shadows impressed judges with an a cappella rendition of South Korean boyband Super Junior-M's song, Blue Tomorrow. The group's leader, marketing and communications manager Clement Chen, 28, says: "Sometimes, as a solo singer you may not be strong in all areas. But, as a group, you can help to cover for one another."
Chen, who is also a singing instructor, is the group's strongest singer. His more boyish bandmates Alton Keh, 22, Poh Ding Chun, 23, Nigel Tan, 21, and Eric Kho, 24, have the dance grooves and draw in the female fans.
Fan support will be crucial, as winners in the later rounds of the competition are determined partly by public votes.
Mys*tar has girly appeal in spades, with their sweet faces and long tresses. An audition clip the quintet, with members aged between 16 and 24 years old, posted on Project Superstar's Facebook page on June 7 has garnered close to 250 likes so far.
The group's leader, Yap Hui Xin, 23, was a child actress in Channel 8 children's dramas and hosted a Channel 8 children info ed programme In Kids, and had a bit role as a new-fangled Lion Dance troupe member in Jack Neo's The Lion Men movies (2014). She has about 3,000 followers on Instagram.
"All five of us are part of a dance crew, so we thought it would be fun to take part together," says Yap, who recently graduated from Nanyang Technological University's Chinese studies department. "Our edge over others is our performing experience."
The solo hopefuls came with their share of talent too. Freelance graphic designer Elizabeth Low, 20, stood out with her powerhouse vocals.
Despite battling a cough and flu, she made it through the first round with her soulful rendition of Taiwanese singer Tiger Huang's hit, Not So Simple.
"Though I was really unwell, I decided to give Project Superstar a try, as I really didn't want to miss this chance," says Low, who is also in the running for Taiwan's Super Idol, another singing reality show. The Nanyang Polytechnic alumnus passed two rounds of auditions when she was in Taipei for her graduation trip last month.
For now, she is betting on Project Superstar. She is unsure when she can go back to Taipei for the rest of the other competition "due to money issues" and is saving up to fly over.
The return of Project Superstar will certainly be a much-needed platform to boost local talent.
On the long wait for this third season, MediaCorp TV's vice-president of branding and promotions Paul Chan says: "Due to the limited talent pool in Singapore, we recognise that holding Project SuperStar frequently will compromise the standard of the competition.
"We have evaluated the requests from the public for the return of Project SuperStar in recent years, and decided the time is right to re-launch it with an even bigger bang."
He adds: "We are looking for contestants who can not only sing, but also have the X factor to become an instant super star, capturing the audience with their strong vocals and unique characters."
The finals will be held on Oct 26.
nggwen@sph.com.sg
This article was published on June 14 in The Straits Times.


Get a copy of The Straits Times or go to straitstimes.com for more stories.